Materiality Themes and KPIs
SECOM's Philosophy calls for offering services that are beneficial for society as a whole. The Constitutions of SECOM Group in Business and Management sets forth our commitment to provide services and systems that deliver peace of mind and contribute to the betterment of society. Passing down this idea from one generation to the next, we continuously strive to offer forward-looking services that anticipate what is needed to ensure sustainable growth for society and tirelessly pursue service innovation.
Given the increasingly more complex and intertwined natures of social imperatives, reflecting changes in the external environment, individual needs regarding safety and peace of mind are becoming greater and more diverse. To continue creating innovative service systems that contribute to solving these issues, SECOM has identified the priority materiality themes integral to achieving sustainable growth together with society, while considering self-evaluations based on ISO 26000, GRI Standards, and feedback from our stakeholders.
Process for Identifying Priority Materiality Themes
Since our founding, we have cherished SECOM's Philosophy and kept it at our core, as we extract issues and assess the materiality of each. Through this process, we have derived three key perspectives—"Solidifying our operating foundation of society's trust," "Enhancing our ability to adapt to change and create value," and "Creating services needed by society."
Those perspectives increase their effectiveness by mutually influencing each other. Furthermore, from among the large pool of ESG issues most important for solving social issues through our business activities, we have organized initiatives in the form of six priority themes as pillars to support those three axes.
Extract components of issues
We have formed the cross-organizational Sustainability Working Group, led by the Sustainability Promotion Office, and created a list of key components for SECOM to achieve sustainable future growth together with society.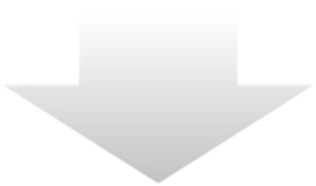 Study the importance of each component
We plot each component on a materiality matrix, with social impact as the vertical axis and company impact as the horizontal axis. we then group the plotted components to study the importance of the components of issues, using trends of social change and an opportunity/risk analysis.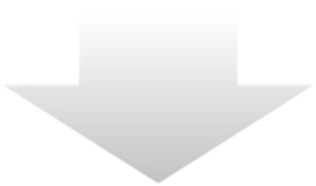 Identify priority materiality themes
Using the discussions of the Sustainability Working Group, we engage in multiple deliberations that span the headquarters'departments to identify SECOM's materiality themes.
The identified materiality themes are then reported for approval to the Board of Directors by the Director, Head of General Affairs & Human Resources Division, in charge of sustainability.
Relationship with our Business Strategy
In our mission to realize a society free from concerns, we have developed a service system that supports society by offering safety and peace of mind, as well as comfort and convenience. Formulated in 2017, The SECOM Group's Vision for 2030, sets forth four core strategies: "ALL SECOM," "Collaboration," "Connection," and "Enhanced value." With this vision, we have clarified our strategy and our image of providing service for various risks and social issues in daily life.
Currently various risks, including crimes, accidents, cyber crimes, natural disasters, illnesses, and aging, are becoming more evident. Under these circumstances, SECOM has used its vision to set forth the ANSHIN Platform concept, a service infrastructure that delivers seamless peace of mind for anyone and everyone whenever and wherever necessary. In addition, our "ideal state" for the future depicted in the vision is fundamentally connected to the SDGs (Sustainable Development Goals) stated in "Transforming our world: the 2030 Agenda for Sustainable Development," which was adopted at the United Nations Sustainable Development Summit 2015.
We believe that promoting initiatives for priority materiality themes will bring us closer to achieving SECOM's goal of realizing a society free from concerns and also lead us on a path toward solving social issues. To continue to provide "enduring peace of mind to an ever-changing society," we will delve deeper into the materiality themes we have identified, incorporate them into our individual business strategies, and promote them Groupwide.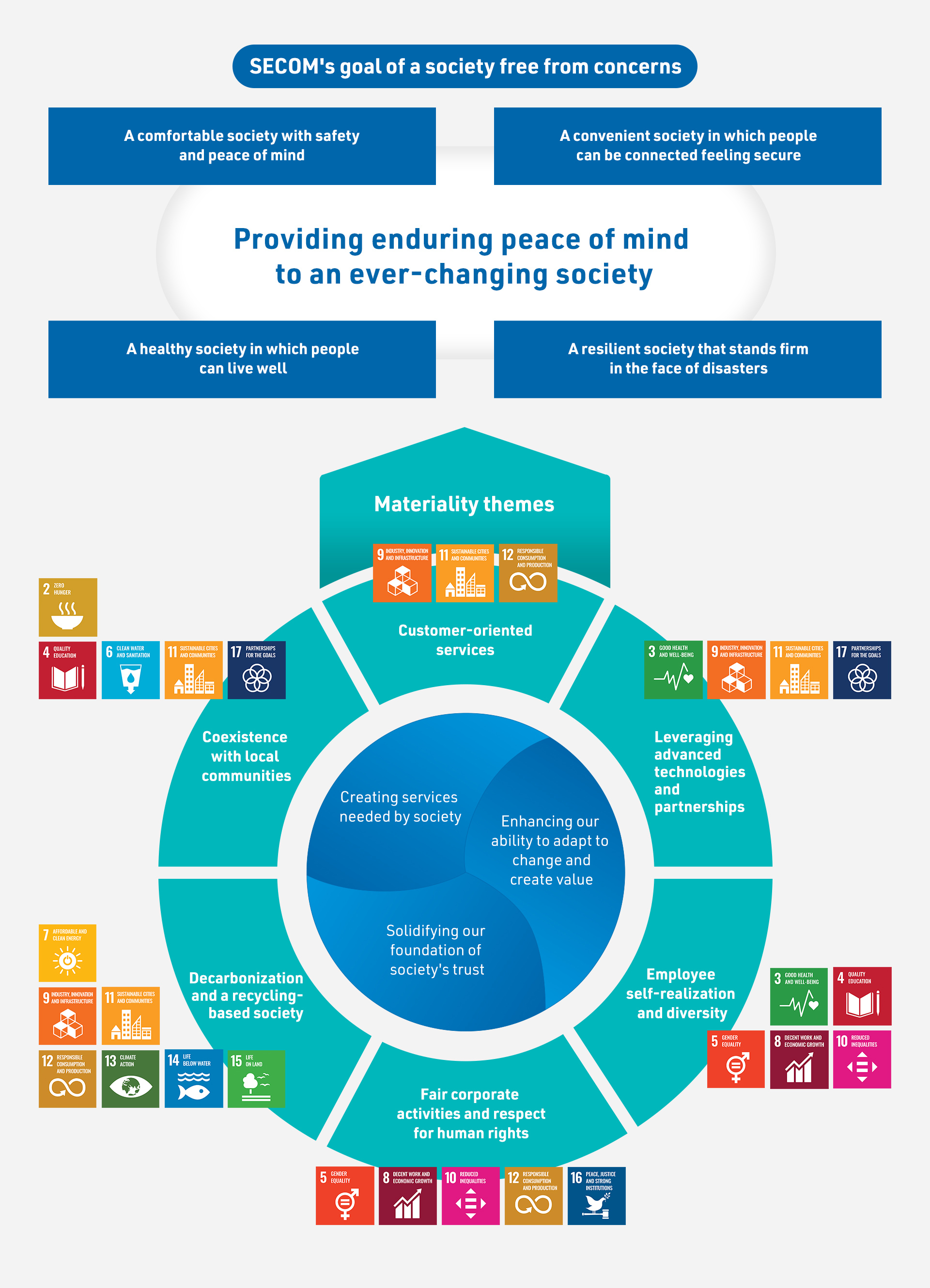 KGI/KPI Formulation Process
Using the SECOM Group's Vision for 2030, we held extensive discussions and received advice from outside experts about the specific image for SECOM's "ideal state" from a long-term perspective and established KGIs*1 (the state we aim for) for each of our six priority materiality themes. Afterward, we held more in-depth discussions from the perspectives of clarifying what actions are necessary to achieve our KGIs and what kinds of KPIs*2 are needed to achieve our "ideal state," then narrowed down the individual KPIs.
*1 KGI: key goal indicator
*2 KPI: key performance indicator
Sharing the purpose of formulating KGIs and KPIs
The Sustainability Promotion Office hosted lectures by outside experts, and managers and staff of priority materiality theme-related major divisions and the related divisions of Group companies gathered to share ideas on the significance and purpose of formulating KGIs and KPIs for SECOM.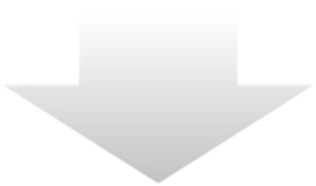 Considering the KGI for each materiality theme
The members of the Sustainability Working Group reexamined themes, held repeated discussions on the ideal and desirable state for SECOM in 2030, and set KGI proposals.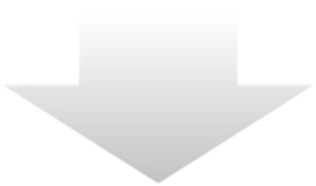 Setting the KPIs needed to achieve the KGIs
We considered the KPIs needed for the KGIs set as long-term goals for each major division and formulated final drafts of the KGI/KPIs after reaching agreement.
The Director, Head of General Affairs & Human Resources Division, in charge of sustainability, reported to the Board of Directors and discussions were held.
Materiality and the Sustainable Development Goals
Our efforts aimed at addressing these materiality themes will also contribute to achieving the corresponding SDGs. The SECOM Group is working to achieve the SDGs through our business activities.
| | | | | | | | | | | | | | | | | | |
| --- | --- | --- | --- | --- | --- | --- | --- | --- | --- | --- | --- | --- | --- | --- | --- | --- | --- |
| Customer-oriented services | | | | | | | | | ○ | | ○ | ○ | | | | | |
| Leveraging advanced technologies and partnerships | | | | | | | | | ○ | | ○ | | | | | | ○ |
| Employee self-realization and diversity | | | ○ | ○ | ○ | | | ○ | | ○ | | | | | | | |
| Fair corporate activities and respect for human rights | | | | | ○ | | | ○ | | ○ | | ○ | | | | ○ | |
| Decarbonization and a recycling-based society | | | | | | | ○ | | ○ | | ○ | ○ | ○ | ○ | ○ | | |
| Coexistence with local communities | | ○ | | ○ | | ○ | | | | | ○ | | | | | | ○ |