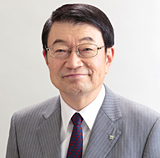 Yasuo Nakayama
President and Representative Director
Secom was founded in 1962 as Japan's first security company. By 1966, the company launched Japan's first on-line security system for commercial use, and by 1981 launched a home security system for residential homes. Our company has continued to grow and now has over 2.1 million contracts.
Furthermore, by 2001, we began offering COCO-SECOM, a service that uses GPS to protect the safety of individuals and vehicles outdoors. In 2015 we commenced SECOM Drone services, featuring the world's first small autonomous flying surveillance robots for crime prevention in the private sector. These types of services show that we have continuously been ahead of the times in developing and providing innovative services.
We are also actively expanding our business overseas, with security services available in 12 countries and regions outside of Japan. If you include our group companies Nohmi Bosai, Nittan, Pasco, and Secom Medical System, you'll see that we're now doing business in 21 countries and regions.
Today, we are aiming to build a "Social System Industry" that entails business expansion in the seven areas including security, fire prevention services, medical services, insurance services, geographic information services, information and communication related services, and real-estate services.
Through an initiative we call ALL SECOM, which generates new value by fusing together these seven businesses, we are working on creating services which resolve all of society's problems and daily insecurities with respect to three areas: (1) security, (2) our rapidly ageing society, and (3)disaster preparedness/BCP/environmental preservation.
At Secom, we have a clear philosophy acting as our corporate foundation and mission to contribute to society through the business we do. By having employees group-wide continuously put our philosophy and mission into practice within an organizational climate that is free and open, we will evolve from a "Secom offers support when you are in trouble" to a "Secom takes care of things before you know it", standing alongside our customers to provide constant peace of mind. We will ensure that we measure up to our customers' trust and expectations in us by providing comprehensive services that act as social infrastructure characterized by safety, peace-of-mind, comfort, and convenience.