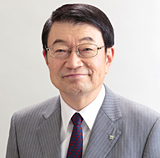 Yasuo Nakayama
President and Representative Director
Founded in 1962, SECOM is a pioneer in Japan's security industry. Beginning with Japan's first on-line security system for commercial use, launched in 1966, and an on-line home security system, introduced in 1981, we have steadily expanded our operations. Today, the number of SECOM security system subscribers in Japan exceeds 2.3 million.
In addition, we have continued to develop and market innovative services and systems that anticipate future needs. These include COCO-SECOM, a mobile personal security system for outdoor use that uses GPS signals to locate individuals, as well as vehicles and other objects, which was introduced in 2001, and the SECOM Drone, the world's first small autonomous flying surveillance robot designed for crime prevention in the private sector.
With the aim of realizing our vision for the future, the Social System Industry, we have expanded our business portfolio to encompass security services, fire protection services, medical services, insurance services, geospatial information services, BPO and ICT services, and real estate and other services. We have also expanded our focus beyond Japan. Currently, we provide security services in 13 countries and territories. The SECOM Group, including subsidiaries Nohmi Bosai Ltd., Nittan Co., Ltd., Pasco Corporation and Secom Medical System Co., Ltd., is active in 18 countries and territories.
The SECOM Group is working to realize its Social System Industry vision, operating in an environment characterized by drastic change and increasing uncertainty. In May 2017, as part of this process, the Group formulated a vision for 2030 that further defines its future direction, with the aim of encouraging pride amongst its employees, inspiring trust amongst its customers and instilling awareness of SECOM's possibilities amongst all stakeholders.
By creating its ANSHIN Platform, SECOM aims to provide enduring peace of mind to an ever-changing society.
The ANSHIN Platform is a service platform anchored in the relationship of trust that SECOM has cultivated with society. Created in collaboration with partners who share SECOM's philosophy ("co-creation" collaboration strategy), this platform is designed to provide peace of mind to people in their everyday lives, as well as to society as a whole.
SECOM will continue working to strengthen its relationship with society through the creation of its ANSHIN Platform, guided by the ALL SECOM concept (focused on rallying Group strengths) and "co-creation" collaboration strategy, and help address diverse social imperatives. In so doing, SECOM seeks to grow together with society and sustain improvements in corporate value by providing safety and peace of mind, as well as making life more comfortable and convenient.