We made our overseas debut in 1978, when we established a presence in Taiwan. Today, our overseas business encompasses operations in 12 countries and territories. A distinguishing feature of our overseas security services is that we offer on-line security systems with SECOM-style services customized to reflect local needs and sensibilities. The services we provide overseas, which are of the same high quality as those provided in Japan, continue to earn praise from overseas customers, as a result of which market acceptance is increasing steadily.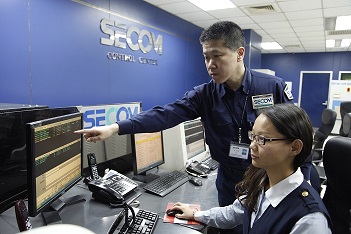 Control center of Beijing Jingdun Secom Electronic Security Co., Ltd.
In the PRC, we currently provide security services to subscribers through a network of bases in 25 key coastal and inland cities. With the aim of cultivating demand for home security services, we recently entered into a strategic business alliance with a leading local electric appliance manufacturer.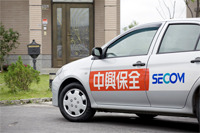 Taiwan Secom, providing on-line security systems to customers in Taiwan
Our affiliated companies in Taiwan and the ROK, both of which are publicly listed companies, provide a wide array of security services to local subscribers and continue working to expand their operations. In Southeast Asia, which continues to see economic growth, the efforts of Group companies are bolstering acceptance of SECOM-style on-line security systems in Thailand, Malaysia, Singapore, Indonesia, Vietnam and Myanmar.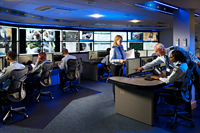 Control center (Secom plc, United Kingdom)
Group companies in Australia and New Zealand provide security services to major financial institutions and other customers, earning solid support from customers.
Subsidiary Secom plc provides security services to customers across the United Kingdom. Secom plc recently won the CCTV System of the Year Award in the International Fire and Security Conference (IFSEC) Security and Fire Excellence Awards 2017.
We recognize that the desire for safety and peace of mind, as well as for comfort and convenience, is global. Accordingly, we will continue to encourage acceptance of SECOM-style services in the countries where we have operations, as well as to cultivate promising new overseas markets.