We made our overseas debut in 1978, when we established a presence in Taiwan. Today, our overseas security services business encompasses operations in 12 countries and territories. A distinguishing feature of our overseas security services is that we offer SECOM-style on-line security systems, which include emergency response services, customized to reflect local needs and sensibilities. The services we provide overseas, which are of the same high quality as those provided in Japan, continue to earn praise from overseas customers, as a result of which market acceptance is increasing steadily.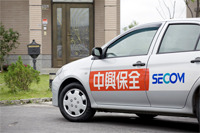 Taiwan Secom, providing on-line security systems to customers in Taiwan
Taiwan Secom Co., Ltd., a publicly listed company, offers a wide array of security services, centered on on-line security systems, to subscribers in Taiwan. In line with our goal of supporting security and peace of mind, the company provides wireless alarm systems for residential and small-scale commercial applications and has collaborated with the National Center for Research on Earthquake Engineering to develop and begin offering an earthquake alert system.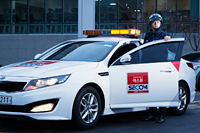 Emergency response personnel (S1 Corporation)
In the Republic of Korea (ROK), S1 Corporation, which is also publicly listed, provides on-line security systems and an extensive selection of other services that respond to diverse needs, making life more convenient and comfortable and providing safety and peace of mind. S1 continues to reinforce its building solutions business through high-value-added services that effectively address market needs, including the provision of fire protection systems that make use of advanced video analysis.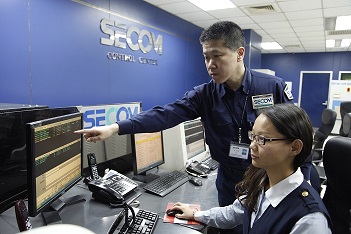 Control center of Beijing Jingdun Secom Electronic Security Co., Ltd.
We currently provide commercial security services to subscribers in the PRC through a network of bases in 25 key coastal and inland cities. With the demand for security services growing in all of these locations, the popularity of security systems is expanding, particularly for commercial subscribers and large-scale complexes.
With the aim of cultivating demand for home security services, we have entered into a strategic business alliance with a leading local electric appliance manufacturer. The agreement brings together our expertise in the provision of high-grade security services and our partner's extensive capabilities in marketing of products for high-end condominiums and detached houses. We will collaborate in such areas as product development and the formulation of sales plans. This agreement thus positions us to promote market acceptance of home security services in the PRC.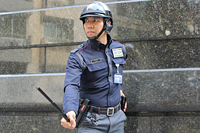 Emergency response personnel (Thai Secom Security Co., Ltd.)
In Thailand, the efforts of Thai Secom Security Co., Ltd., to provide high-grade on-line security services have bolstered awareness of "SECOM-style" services, underpinning steady growth in contracts for the provision of on-line security systems not only to corporations, but also to national government agencies, among others. The company also continues to supply a variety of merchandise to health-care facilities.
Secom (Malaysia) Sdn. Bhd. provides security systems—comprising on-line security systems and static guard services—that respond to the needs of customers across Malaysia. Underscoring the high marks accorded to the company's proposal-based services, which are tailored to the needs of prospective customers, a major financial institution recently installed SECOM on-line security systems.
In Singapore, Secom (Singapore) Pte. Ltd. boasts a diverse menu of services. These include the provision of on-line security systems and fire protection systems, as well as the leasing of safety deposit boxes.
PT. Secom Indonesia provides on-line security systems, focusing on the cities of Jakarta and Surabaya. Secom Indonesia also offers highly rated consulting services designed to help customers prevent insider crimes.
In Vietnam, Secom Vietnam Security Service JSC is working to augment its operations by providing "SECOM-style" on-line security systems that respond to the advanced needs of Japanese and other companies in the country.
Joint venture Myanmar Secom Co., Ltd., Myanmar's only provider of on-line security systems, serves subscribers in the city of Yangon. The company continues to expand its operations in this promising market, which is benefitting from economic growth, by providing SECOM-style on-line security systems to offshore (including Japanese) and local financial institutions.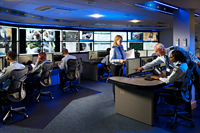 Control center (Secom plc, United Kingdom)
Our U.K. subsidiary Secom plc recently acquired Scan Alarms Ltd., a security services company in Northern Ireland, the operations of which encompass the sale, installation and maintenance of on-line security systems. With this acquisition, Secom plc has completed the establishment of an extensive configuration that enables it to provide services directly to customers across the United Kingdom, enhancing its ability to supply high-grade services, as well as to further broaden the scope of its operations.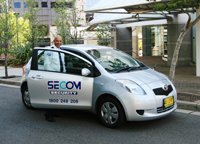 A member of the staff of Secom Australia Pty. Ltd.
Secom Australia Pty. Ltd.'s security services to major financial institutions and government agencies continue to earn positive reviews across the board. The company is working to expand its provision of security services centered on on-line security systems not only to corporate subscribers, but also to Australian defense facilities and government-affiliated service facilities.
In New Zealand, Secom Guardall NZ Ltd. continues to provide monitoring using on-line security systems and maintenance services to multiple major global financial institutions and multinational companies.