Return to Shareholders
Ensuring a Fair Return to Shareholders
The Company considers the return of profit to shareholders as one of the important managerial issues, and the Company has determined a dividend payout ratio on a consolidated basis and the level of internal reserves after making an overall judgment on the expansion of the Company's business and trends of future revenues and profits of the Company on a consolidated basis while considering the Company's basic policy that ensures the payment of continual and steady dividends.
The Company has made it a basic rule to distribute a dividend twice a year, as the interim dividend whose record date is September 30 each year, and the year-end dividend whose record date is March 31 each year. The interim dividend is determined by the Board of Directors and the year-end dividend is determined by the General Meeting of Shareholders.
Furthermore, the Company will utilize internal reserves for investments required for increased new customers, research and development and investments and the like for strategic businesses so that the Company will exert its efforts to reinforce the corporate structure and to expand its business.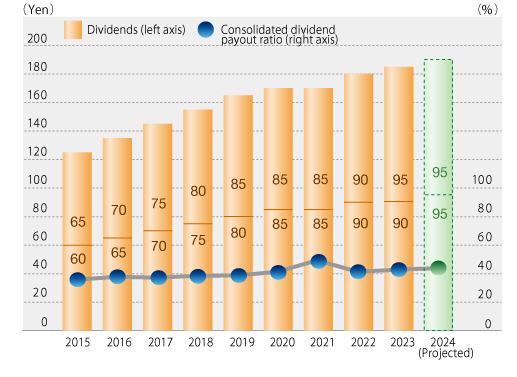 Years ended March 31
2015
2016
2017
2018
2019
2020
2021
2022
2023
2024
(Projected)

Annual Dividends (Yen)
[Interim Dividends (Yen)]

125
[ 60 ]
135
[ 65 ]
145
[ 70 ]
155
[ 75 ]
165
[ 80 ]
170
[ 85 ]
170
[ 85 ]
180
[ 90 ]
185
[ 90 ]
190
[ 95 ]
Consolidated dividend payout ratio (%)
36.2
38.2
37.6
38.9
39.1
41.7
49.7
41.7
41.6
47.3
Information for Individual Investors