Number of Shares and Shareholders
| | |
| --- | --- |
| Number of Shares Authorized | 900,000,000 |
| Number of Shares Issued | 233,288,717 |
| Number of Shareholders | 25,200 |
Shareholders by Category
Based on Number of Shareholders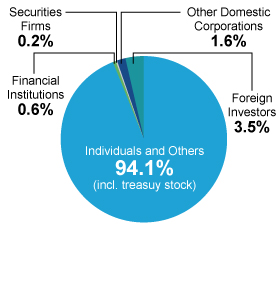 Based on Number of Shares Held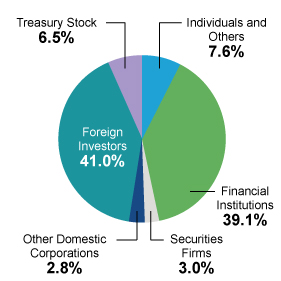 Major Shareholders
Name of Shareholder
Number of shares held
(Thousands of shares)
%
The Master Trust Bank of Japan, Ltd. (Trust Account)
24,974
10.70
STATE STREET BANK AND TRUST COMPANY
14,443
6.19
Japan Trustee Services Bank, Ltd. (Trust Account)
14,425
6.18
STATE STREET BANK AND TRUST COMPANY 505223
4,942
2.11
THE BANK OF NEW YORK MELLON SA/NV 10
4,818
2.06
Makoto Iida
4,240
1.81
The Nomura Trust and Banking Co., Ltd. (Trust Account 2052088)
4,148
1.77
Secom Science and Technology Foundation
4,025
1.72
Japan Trustee Services Bank, Ltd. (Trust Account 5)
3,992
1.71
STATE STREET BANK WEST CLIENT – TREATY 505234
3,678
1.57
Total
83,690
35.87
Note:
The percentage figures above indicate the proportion of the number of shares held to the number of shares issued. The figures are truncated to two decimal places.
The number of shares held by each trust bank above represents the shares regarding trust services.
SECOM CO., LTD. holds treasury stock of 15,028 thousand shares (6.44%) although it is not included in the table above.