Evolution and Simulation
By using agent-based evolutionary simulation, we are tackling this problem.
An agent in a simulation randomly chooses a triplet of Benefit, Cost, and Risk every day. The triplet gives them energy in the form of an extended life period, which is equivalent to the difference between Benefit and Cost, but with a mortality risk specified by Risk. The strategy of choosing the triplet is coded into the genes of the agent, and the chance that the agent can survive and leave offspring depends on this strategy. Then, the agents in the simulation evolve to those with clever strategies over multiple generations.
The life history of an agent designates the agent to be a specific species. Life history is a biological concept referring to the organism specific behaviors or strategies for natural selection throughout its life cycle. The reproduction strategies with few offspring and long gestation or many offspring and short gestation are good examples.
By evolving the agents with human-like life history, we have acquired the following gene pool.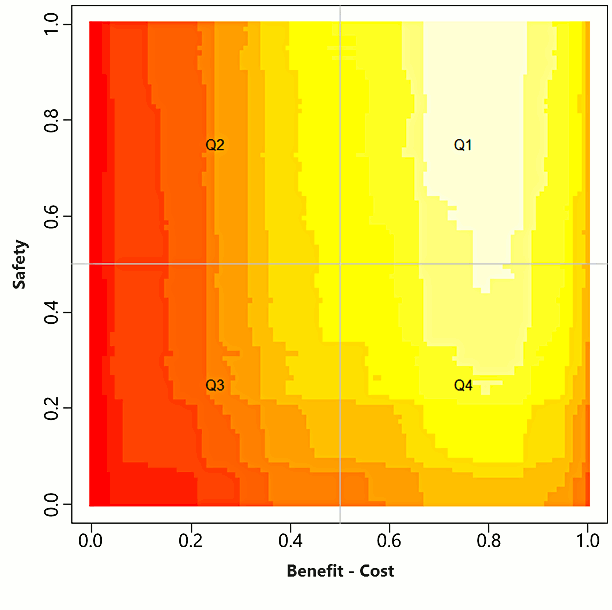 The figure above shows the tradeoffs between profit (Benefit - Cost) and safety (Risk). A brightly colored region denotes the behaviors that agents prefer to choose. The brightest region labeled Q1, with high profit and high safety, is the most advantageous for evolution, so it is natural that the agents prefer Q1 the most. It is intriguing that the second brightest region is Q4, with high profit and low safety. This may imply the reason why human irrational behavior, profit-seeking and risk-accepting, had evolved.
Multiple simulations were conducted varying the range of the values of the triplets and the results are classified into three groups: the population stable group, the population unstable group, and the extinct group. We examined all the gene pools of the population stable group and found that the same strategy had evolved, profit-seeking and risk-accepting behavior. These behaviors, which are sometimes considered irrational, are evolutionarily acquired strategies that can best stabilize our population.