Sustainability Issues (Materiality)
Since its establishment, SECOM has been implementing Corporate Social Responsibility (CSR) and Creating Shared Value (CSV) through its business activities and tirelessly pursuing innovation in its services, recognizing the importance of mutual sustainable growth for corporations and society. We have a strong desire to create services that anticipate what is needed to ensure the continuous, sustainable growth of society.
As our social environment dramatically changes, social issues such as incidents, accidents, cybercrime, natural disasters, illness and aging are becoming increasingly complex and intertwined. To continue creating innovative service systems that contribute to solving these issues, SECOM has identified the priority materiality themes integral to achieving sustainable growth together with society, while considering self-evaluations based on ISO 26000 (an international standard for social responsibility), GRI Standards, and feedback from our stakeholders.
1. The process used to identify priority materiality themes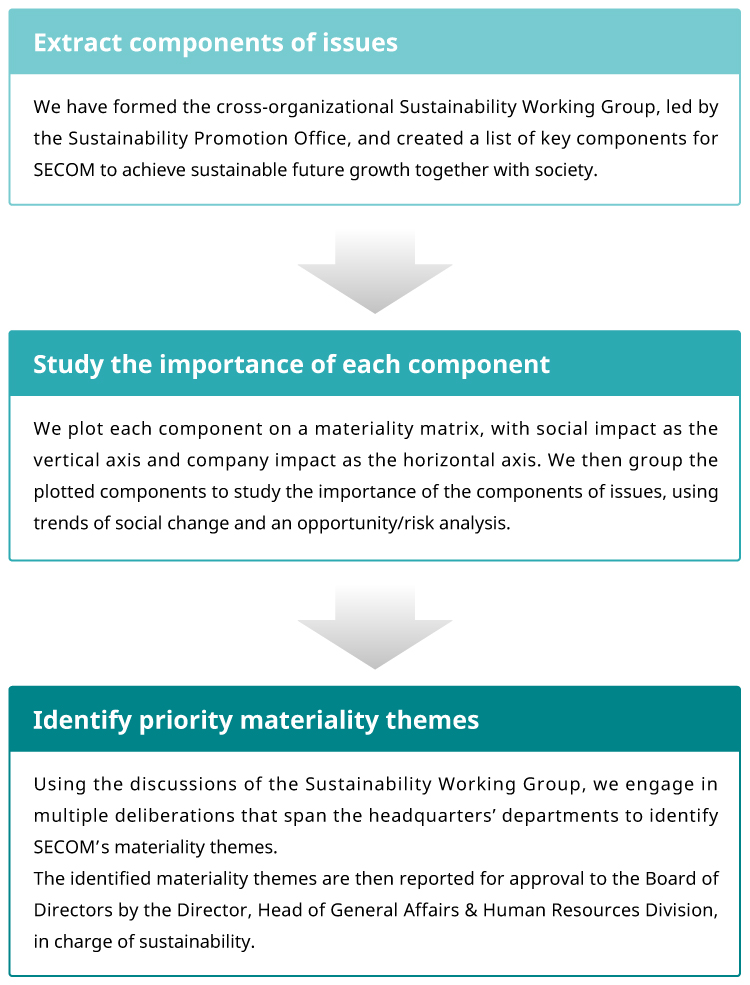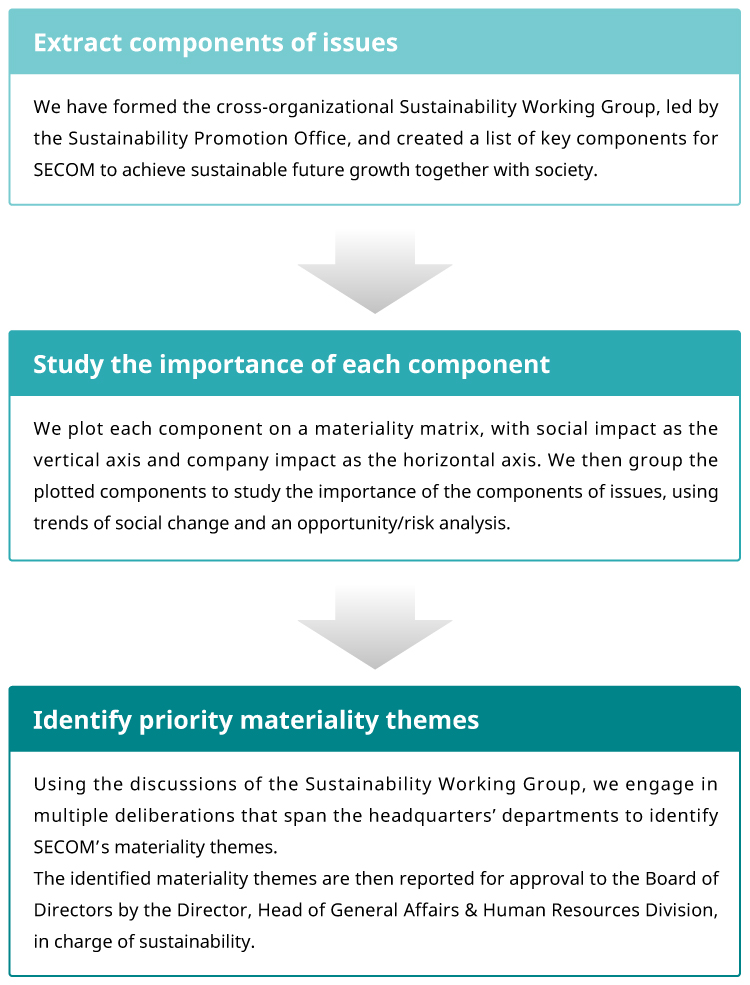 2. Integration into business strategies
In identifying the materiality themes, we employ three key perspectives based on SECOM's fundamental philosophy and the ideas that form the heart of "The Constitutions of SECOM Group in Business and Management"—"Solidifying our foundation of society's trust," "Enhancing our ability to adapt to change and create value," and "Creating services needed by society." Using these perspectives, we have identified six priority materiality themes from among the large pool of ESG issues most important for solving social issues through our sustainable growth and business activities. We believe that promoting measures to address these themes brings us closer to SECOM's ideals of helping achieve a society free from concerns and of solving social issues.
In fiscal 2019, through our efforts aimed at leveraging advanced technologies and partnerships, we launched Mago Channel with SECOM, a service that provides easy communication between senior citizens and children through the familiar medium of television. This service contributes to addressing the challenges associated with a super-aged society, and also leads to realizing a convenient society in which people can be connected feeling secure and a healthy society in which people can live well. To continuously provide enduring peace of mind to an ever-changing society, we will integrate the materiality themes we have identified into individual management plans and make Companywide efforts to promote their implementation.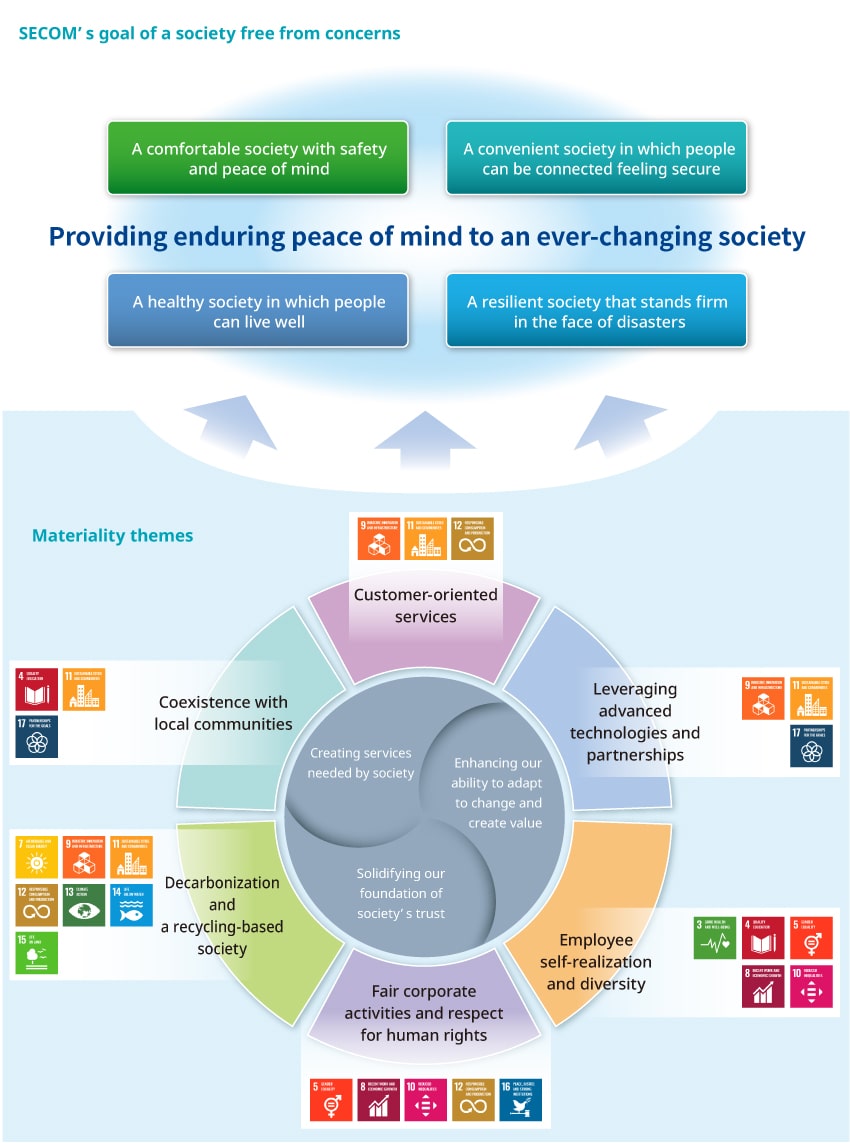 SECOM's six priority materiality themes and disclosed information items
Materiality themes
Disclosed information items
Related SDGs
Customer-oriented services
Ensuring high-quality services and products
Strengthening customer risk management
Communicating with customers
Improving customer satisfaction
Product (device) safety
Leveraging advanced technologies and partnerships
Leveraging advanced technologies
Partnerships
Open innovation
SECOM Open Labs
Employee self-realization and diversity
Human resource recruitment
Human resource development/training systems
Human resource evaluation/awards system
Work-life balance
Diversity and inclusion
Promoting the active participation of women
Promoting the recruitment of people with disabilities
Dialogue with employees
Improving employee satisfaction
Occupational safety and health
Maintaining and improving health
Fair corporate activities and respect for human rights
Education about human rights and preventing harassment
Addressing LGBT (sexual minority) issues
Establishing consultation hotlines
Corporate governance
Compliance framework
Risk management
Reinforcing the foundation for information security
Protecting personal information
Business continuity plans (BCPs)
Protecting intellectual property
Value chain management
Decarbonization and a recycling-based society
Environmental management
Compliance with environmental laws
Environmental management indicators (KPIs)
Environmental accounting
TCFD recommendations
Medium- to long-term targets for reducing greenhouse gas emissions
Greenhouse gas emission reduction results
Effective use of resources
Waste reduction and improvement of reuse and recycling rates
Green purchasing
Protecting biodiversity
Coexistence with local communities
Raising awareness of crime prevention
Cultivating the next generation
Supporting disaster relief
Supporting sports
Local community activities
Collaborating with regional governments and companies
Materiality and the Sustainable Development Goals
Our efforts aimed at addressing these materiality themes will also contribute to achieving the corresponding SDGs. The SECOM Group is working to achieve the SDGs through our business activities.
| | | | | | | | | | | | | | | | | | |
| --- | --- | --- | --- | --- | --- | --- | --- | --- | --- | --- | --- | --- | --- | --- | --- | --- | --- |
| Customer-oriented services | | | | | | | | | ◯ | | ◯ | ◯ | | | | | |
| Leveraging advanced technologies and partnerships | | | | | | | | | ◯ | | ◯ | | | | | | ◯ |
| Employee self-realization and diversity | | | ◯ | ◯ | ◯ | | | ◯ | | ◯ | | | | | | | |
| Fair corporate activities and respect for human rights | | | | | ◯ | | | ◯ | | ◯ | | ◯ | | | | ◯ | |
| Decarbonization and a recycling-based society | | | | | | | ◯ | | ◯ | | ◯ | ◯ | ◯ | ◯ | ◯ | | |
| Coexistence with local communities | | | | ◯ | | | | | | | ◯ | | | | | | ◯ |