Human Resource Management
Enabling each of our employees to constantly work vibrantly on their own initiative and to engage in self-realization will ultimately contribute to the growth of our organization. Based on our basic philosophy that "the growth of employees and the prosperity of the company are inseparable," SECOM focuses on developing human resources through an extensive training system and works to recruit outstanding human resources who possess a strong desire to contribute to society.
Basic concept and policies
Based on our basic philosophy, which emphasizes "contributing to society through our business activities," SECOM seeks to earn broad trust from society even as the world continues to change, and to be recognized as a company that does meaningful work. To achieve these goals, we work to recruit and develop human resources who possess a strong desire to contribute to society. Therefore, in addition to supporting the self-realization of each employee, SECOM strives to build a transparent organizational culture which enables us to continually offer services that provide people with peace of mind and create an even better society.
Structure
The Human Resource Division is responsible for comprehensive management of human resources and is composed of the Recruiting Department, which handles recruiting of human resources, the Training Department, which handles education of employees and the Human Resource Department, which handles overall personnel strategy. Four SECOM HD Centers (HD for Human Development) are located throughout Japan to serve as bases for skill development.
SECOM adopts a union shop system in which new employees become members of the labor union at the time they join the company. Topics such as improving the workplace environment, refining routine work and ensuring occupational safety and health are discussed in each branch, basically established in each group companies or each prefecture. Through the SECOM Employee Meeting on Organizational Culture and the SECOM Employee Central Council, the SECOM Lively Union (SECOM Employee Union Federation) exchanges opinions with company management in order to maximize the vitality of our organization.
Goals and results
Recruiting
As the result of active recruiting efforts, we hired a total of 1,106 new employees, a 20% increase from the previous fiscal year. Similarly, we plan to increase the number of employees hired in fiscal 2018 by 20%.
Recruiting/training results
| | Fiscal 2017 | Fiscal 2016 |
| --- | --- | --- |
| Number of new employees | 1,106 | 854 |
| Number of employees trained | 10,884 (total) | 10,784 (total) |
Education (training)
SECOM systematically holds training for all new employees and education for current employees. As a result, training/education was held for a total of approximately 11,000 employees.
In addition to further enhancement of training contents in fiscal 2018, SECOM has started training to prepare for the Olympic and Paralympic Games Tokyo 2020, which SECOM sponsors as an Official Partner in the Security Services and Planning category.
Data on human resources
Field
(Categories according
to ISO26000 core
subjects)
Item
Breakdown
Unit
SECOM CO., LTD. (non-consolidated)
Fiscal 2017
Fiscal 2016
Fiscal 2015
Human rights and labor practices
Employment and employment-related
Employee information*1
Number of employees
Persons
15,677
15,403
15,318
Male
Persons
13,159
13,007
12,979
Male ratio
%
83.9
84.4
84.7
Female
Persons
2,518
2,396
2,339
Female ratio
%
16.1
15.6
15.3
Number of new employees
Persons
1,106
854
947
Male
Persons
861
715
798
Male ratio
%
77.8
83.7
84.3
Female
Persons
245
139
149
Female ratio
%
22.2
16.3
15.7
Number of resigned employees
Persons
794
766
804
Male
Persons
683
691
703
Male ratio
%
86.0
90.2
87.4
Female
Persons
111
75
101
Female ratio
%
14.0
9.8
12.6
Turnover rate*2
%
5.2
5.0
5.3
Male
%
5.3
5.3
5.5
Female
%
4.6
3.2
4.4
Average age of employees
Years
42.6
42.4
42.1
Male
Years
43.6
43.4
43.1
Female
Years
37.2
37.1
36.6
Average length of service
Years
16.1
15.9
15.6
Male
Years
17.0
16.7
16.4
Female
Years
11.8
11.8
11.3
Management composition*2
Number of managers
Persons
5,071
4,973
4,888
Male
Persons
4,661
4,583
4,534
Male ratio (overall)
%
91.9
92.2
92.8
Female
Persons
410
390
354
Female ratio (overall)
%
8.1
7.8
7.2
Female ratio
(other than security services field)
%
11.0
10.7
9.9
Employment of persons with disabilities*3
Employment ratio of persons with disabilities
%
2.09
1.96
2.02
Employee education
Employee training hours
Hours
203,699
183,971
186,783
Employee satisfaction survey
Response rate for employee satisfaction survey
%
83.5
81.4
Work-life balance
Childcare leave
Number of employees taking childcare leave
Persons
137
126
143
Male
Persons
10
4
3
Female
Persons
127
122
140
Number of employees returning after childcare leave
Persons
124
118
121
Male
Persons
8
3
5
Female
Persons
116
115
116
Retention rate after 12 months
%
-
96.6
95.9
Family care leave
Number of employees taking family care leave
Persons
6
5
6
Male
Persons
1
2
4
Female
Persons
5
3
2
Paid leave
Paid leave usage rate
%
49.7
47.9
45.3
Working hours
Average overtime hours (monthly)
Hours
25.1
26.1
27.0
Occupational health and safety
Industrial accidents
Frequency rate of industrial accidents*4
-
1.87
1.02
1.26
Number of employees participating in training for prevention of industrial accidents
Persons
2,015
1,824
2,136
: Figures are for the final day of each fiscal year.
: Employees retired during each fiscal year (including retirement upon reaching mandatory retirement age) / Number of employees at the end of the previous fiscal year
: Figures are current as of June 1 of the following fiscal year.
: Number of employees on leave for occupational accidents / total working hours X 1,000,000 hours
Human resource development/training systems
Training/education systems
SECOM has established a unique education and training system to ensure that employees inherit our corporate philosophy such as "contributing to society through our business activities," "be innovative," and "commitment to doing what is appropriate."
Training for new employees
Induction training is held in order to instill new employees with SECOM's basic corporate philosophy, the appropriate attitude as SECOM employees, knowledge and skills required at each workplace, which are all basic knowledge for assisting in the realization of the Social System Industry.
In fiscal 2017, induction training was held for 1,106 new employees.
Group training
After being assigned to a workplace, employees learn basic work duties and other important matters through OJT*1. SECOM also holds group training as a form of OFFJT*2.
This training offers a variety of programs for instilling employees with the latest knowledge and skills that will benefit their careers. Through unique curriculums for each department and occupation, employees can further deepen practical abilities useful for the front line of their occupation.
In fiscal 2017, we held training for a total of 10,884 employees with 270 courses. We also used VR technology in some of the courses as an improvement to ensure greater retention of knowledge by each participant.
OJT (On the Job Training): Education in which employees acquire knowledge and skills through actual duties in the workplace
OFFJT (OFF the Job Training): Education through training, etc., held outside of actual work duties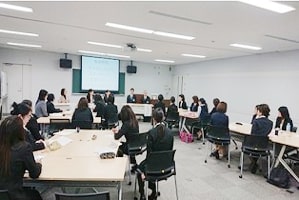 Training specific to individual departments/occupations
Various training systems
Support for career formation
The concept of our personnel system is "evaluation and development" and "transparency and fairness." An evaluation is made of work responsibilities, results, and areas requiring improvement as reported by the employee and of rational evaluation items that have been optimized for each occupation. Each evaluation is conducted via a fair and open system that is disclosed to employees.
Evaluations are not held simply to determine occupational rank or the amount of salary bonuses. Instead, the evaluation results, reasons, future work targets, and areas requiring improvement are explained in detail to the employee during an interview, in order to develop each employee.
Moreover, employees report their own future goals and aspirations to their supervisors once a year, which is called the "Self-Reporting System" and is an opportunity for self-realization through work. SECOM has also established a "Challenge Support System" which enables employees to request the type of work challenges they want to take on at any time.
Personnel system for fair evaluation of employee efforts and for supporting self-directed growth
Self-Reporting System
Once a year, employees can use the Self-Reporting System to inform the company of their impressions about work and their desired future job, as well as the time and reason for that. Using this system prevents employees from becoming content with the status quo and encourages employees to seriously consider their own ideal future. It is an opportunity for employees to achieve self-realization through work.
Challenge Support System
The Challenge Support System goes one step further than the Self-Reporting System by supporting employees who wish to immediately take on the challenge of trying a different position. In this system, employees report their desired field, job, and duties, as well as the skills or certifications they possess. If the desire and skills of the employee match the needs of the company, SECOM will accept the request, which consequently creates powerful vitality in our company.
Education for managers: Manager Navi
With the aim of educating managers who have supervisory duties, SECOM has established the section "Manager Navi" on our company intranet. By using Manager Navi, all managers can, at any time, review the four abilities required for managers; "ability to operate an organization," "ability to manage work," "ability to instruct subordinates" and "ability to develop subordinates." Managers can also review the "manager principles" which are required in order to fulfill the duties of their position.
Manager Navi
Overseas Study Program
The Overseas Study Program, started in 1979, is intended to develop personnel who possess a clear vision for the future and a broad perspective. In order to broaden knowledge and experience and to learn new ways of thinking in an overseas environment, this program supports employees to study at universities and graduate schools (MBA courses) in Europe, America and Asian countries.
In 2016, a new program started, which is for intensive acquisition of the local language in order to become expert personnel in the foreign country where they are assigned.
Subsidy System for Correspondence Education
In order to support active self-improvement by employees, SECOM offers a variety of correspondence education courses.
Employees can take as many courses as they want. Upon completing a course which is directly related to their work, a "self-improvement subsidy" is provided by the company. This system encourages employees to seriously consider improving their skills for the future and responds to the desire of employees who seek self-realization while working.
In fiscal 2017, SECOM expanded our lineup of courses which are directly beneficial to work and related to English conversation skills, and as a result, approximately 400 employees took courses. SECOM will continue to revise the contents of correspondence education in order to construct an environment which makes learning easier.
Operation of the ALL SECOM FOCUS website
We established ALL SECOM FOCUS, an information-sharing website that can be accessed by all SECOM Group employees. The site allows the approximately 60,000 group employees to deepen mutual understanding and to maximize utilization of SECOM Group capabilities.
This site provides information essential for all group employees, such as SECOM's Philosophy and product information and proposals from each group company. The site also provides other resources including information on employment opportunities at group companies for senior employees.
"Best of SECOM Award" and other award programs
SECOM recognizes outstanding individuals through our main award programs including the "SECOM Grand Prize," "Outstanding Salesperson Award," "Outstanding Employee in Administrative Departments," and "Outstanding Staff in Customer Satisfaction Promoting Department." From among these award-winners and employees recommended from group companies, the "Best of SECOM Award" recognizes overall outstanding employees.
Award winners are able to participate in facility tours and training held at SECOM Group companies throughout Japan, providing them an opportunity to foster their ability to view matters with an even broader perspective.
In fiscal 2017, a five-day group training was held which included a lecture on the SECOM Group's Vision for 2030, a tour of the IS Laboratory, discussions of ideas with facilitators from the open innovation promotion section and on-site tours of a group company in Shanghai, China.
Furthermore, as an award program for branch offices, the "Outstanding Office of the Year Award" recognizes outstanding offices in the categories of sales, operation and administration. The "Overall Best Office of the Year Award" recognizes the most comprehensively outstanding office among the outstanding offices selected for each of the above categories.
Winners of the "Best of SECOM Award" and SECOM Group executives
"Security Driving" and the award for safe drivers
Traffic accidents and violations of traffic rules threaten the safety of society and place lives in danger, thus they must be dealt with severely as antisocial behavior and completely eliminated.
On the other hand, the essence of the security services business is to drive vehicles to the customer's site as quickly as possible. Therefore, in the SECOM Group, all employees who belong to security services fields and drive vehicles in daily basis participate in Security Driving training with the aim of eliminating traffic accidents which threaten the safety of society. Employees who have driven a certain distance without any traffic accident or violation are recognized with the award for safe drivers.
In September 2016, the Safe Driving Promotion Office was set up as a section dedicated to eliminating traffic accidents and violations of traffic rules. In addition to strengthening activities for safe driving, the office promotes the implementation of drive recorders and vehicles equipped with automatic brakes.
Training for Security Driving