Human Resource Management
Basic policies and structure
Basic concepts and policies
SECOM focuses on human resources above all else. This is because every service of the SECOM Group businesses is provided through our employees and is based on gaining trust from our customers. To develop further as a leading company in the midst of drastic changes in society, we believe that it is essential to provide working environments where all employees can fully demonstrate their passion and ability through their work.
In human resource management, following SECOM's basic philosophy of contributing to society through our business activities, we seek to earn broad trust from society and be recognized as "a company that makes valuable contributions." To achieve these goals, we work to secure and foster human resources who seek to contribute to society.
To address the issue of a decreasing labor force, we are implementing measures to improve productivity while promoting investment in both our people and our systems, ensuring that SECOM remains the choice of human resources with critical capabilities that cannot be replaced with technology, such as the ability to adapt to change and create value.
Structure
The Human Resource Division is responsible for management of human resources and is composed of the Recruiting Department, which handles recruiting of new employees, the Training Department, which handles education of employees and the Human Resources Department, which handles overall personnel strategy. Within our Human Resources Department, we have assigned D&I Promotion staff, who specialize in promoting diversity and inclusion.
Four SECOM HD (Human Development) Centers are located throughout Japan to serve as bases for skill development and provide various types of training year round.

In conjunction with the reorganization in October 2020, the "Human Resource Division" has been renamed the "General Affairs & Human Resources Division."
Results
Recruiting
We aim to secure human resources with diverse values and careers, regardless of whether they are new graduates or mid-career entrants. As the result of active recruiting efforts, we hired a total of 1,432 new employees in fiscal 2019.
In addition, to promote recruitment, we adopted a system in fiscal 2019 that allows employees to choose the geographic location to which they are assigned to suit their career phase or personal preference.
Recruiting results
Fiscal 2017
Fiscal 2018
Fiscal 2019
Number of new employees
1,106
1,169
1,432
New graduates
195
292
283
Mid-career entrants
911
877
1,149
Education (training)
SECOM systematically holds training for all new employees and education for current employees. Furthermore, we have also provided training in preparation for the Tokyo 2020 Olympic and Paralympic Games, as an official partner (Security Services and Planning category). As a result, training/education was held for approximately 16,000 employees in fiscal 2019.
In fiscal 2020, we aim to further enrich our education system by further expanding our training to midlevel and managerial personnel and to prepare for the postponed Tokyo 2020 Games, and by increasing the number of opportunities for training via e-learning.
To combat the spread of COVID-19, we also utilized remote training for new employees in fiscal 2020.
Training results
| | Fiscal 2017 | Fiscal 2018 | Fiscal 2019 |
| --- | --- | --- | --- |
| Number of participants in training programs | 10,884 | 11,461 | 15,884 |
| Training hours | 203,699 | 243,993 | 289,364 |
Human resource development/training systems
Training/education systems
To achieve sustainable growth as a strong and flexible company, it is important for SECOM to train professionals who will carry on SECOM's Philosophy and take responsibility in the next generation. We have established a unique training and education system that promotes further employee growth and self-realization by conducting introduction training for new employees, follow-up training, and department- and job-specific training, while also offering a subsidy system for correspondence courses.
Various training systems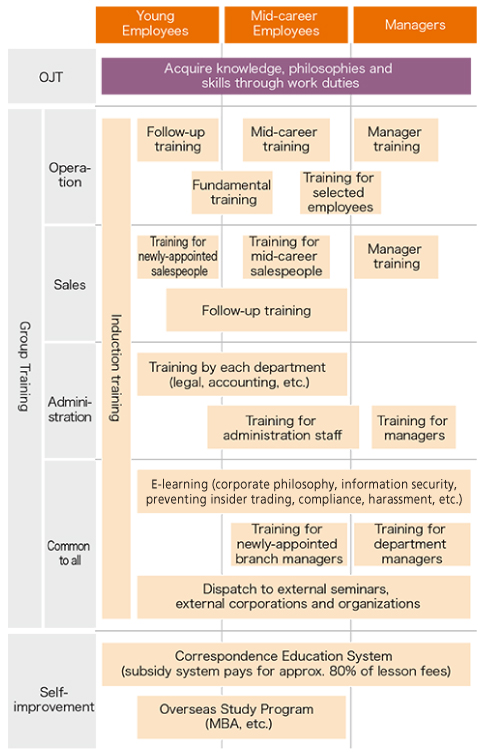 Training for new employees
Induction training is held to instill new employees with aspects of SECOM's Philosophy such as "refusing to be content with the status quo" and "being committed to doing what is appropriate," ideas that indicate the appropriate attitude for SECOM employees, as well as the knowledge and skills needed at each workplace. These are all basic requirements for SECOM's goal of realizing the Social System Industry.
In fiscal 2019, induction training was held for 1,105 employees (1,647 employees if training for affiliated companies engaged in the security business are included).
Group training
After being assigned to a workplace, employees learn basic work duties and other important matters through OJT*1. SECOM also holds group training as a form of OFFJT*2, which offers a variety of programs for instilling employees with the latest knowledge and skills that will benefit their careers.
Through unique curricula for department- and job-specific training, employees can further deepen practical abilities useful on the front lines of their occupations.
In fiscal 2019, we held group training for a total of 15,884 employees in 316 courses. We have also introduced VR technology for educating security personnel and are expanding our training to ensure employees acquire discernment and know-how.
OJT (On the Job Training): Education in which employees acquire knowledge and skills through actual duties in the workplace
OFFJT (OFF the Job Training): Education through training, etc., held outside of actual work duties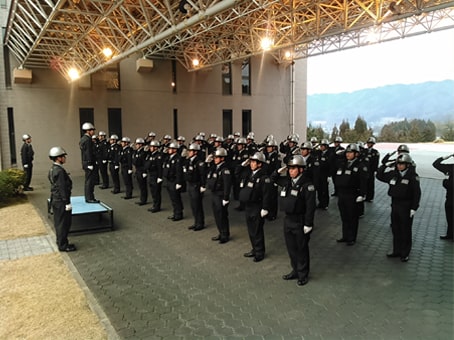 Department- and job-specific training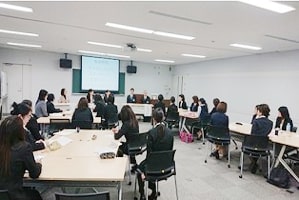 Group training for female control center staff
Subsidy system for correspondence courses
In order to support active self-improvement by employees, SECOM offers a variety of correspondence education courses.
Employees can take as many courses as they want. Upon completing a course which is directly related to their work, a "self-improvement subsidy" is provided by the company. This system encourages employees to seriously consider improving their skills for the future and responds to the desire of employees who seek self-realization while working.
In fiscal 2019, SECOM further expanded its lineup of courses that are directly beneficial to work or related to English conversation skills, and as a result, approximately 300 employees took courses. This has also assisted us in smoothly handling overseas visitors at events such as the Rugby World Cup 2019™, Japan. We will continue to revise the content of correspondence courses to create a more convenient learning environment.
Overseas study program
The overseas study program is intended to develop personnel who possess a clear vision for the future and a broad perspective. In order to broaden knowledge and experience and to learn new ways of thinking in an overseas environment, this program supports employees to study at universities and graduate schools (MBA courses) in Europe, America, and Asian countries. This program was introduced in 1979, with four or five employees sent overseas each year. After studying overseas, these employees are assigned to locations where they play active roles in various fields, such as international and management departments.
In 2016, we created a new program aimed to develop personnel specializing in a foreign country. In this program, the employees concentrate on learning the local language, etc., of the country where they are to be assigned. The application process is open to all employees, focusing on their motivation to work overseas and future vision. Thus far, this program has been used by five employees to study in China, Indonesia, and Thailand. After completing the program, participants, both men and women, work actively in local Group companies. In fiscal 2020, we plan to dispatch employees to China, Indonesia, and Vietnam.
Human resource evaluation system
System to support career formation
The concept of our personnel system is "evaluation and development" and "transparency and fairness." An evaluation is made of work responsibilities, results, and areas requiring improvement as reported by the employee and of rational evaluation items that have been optimized for each occupation. Each evaluation is conducted via a fair and open system that is disclosed to employees.
Evaluations are not done simply to determine occupational rank or the amount of salary bonuses. Instead, evaluations are intended to assist self-directed employee development, and the evaluation results, reasons, future work targets, and areas requiring improvement are explained in detail to the employee during an interview.
Moreover, employees report their own future goals and aspirations to their supervisors once a year, an initiative called the "Self-Reporting System." We have also established the "Challenge Support System," which enables employees to request the type of work challenges they want to take on at any time.
Self-Reporting System
Once a year, employees use the Self-Reporting System to inform the company of their impressions about work and their desired future job, as well as the time and reason for that. Using this system prevents employees from becoming content with the status quo and encourages employees to seriously consider their own ideal future. It is an opportunity for employees to achieve self-realization through work.
Challenge Support System
The Challenge Support System goes one step further than the Self-Reporting System by supporting employees who wish to immediately take on the challenge of trying a different position. In this system, employees report their desired field, job, and duties, as well as the skills or certifications they possess. If the desire and skills of the employee match the needs of the company, the request will be accepted, consequently creating powerful vitality in our company.
Personnel system for fair evaluation of employee efforts and supporting self-directed growth