SECOM has developed japan's first*1 security drone, "SECOM DRONE XX" for patrol and intrusion monitoring using AI
SECOM Co., Ltd. (Headquarters: Shibuya-ku, Tokyo, President: Ichiro Ozeki) has developed the "SECOM DRONE XX (Double X)," a security drone that utilizes AI for patrol and intrusion monitoring, the first of its kind in Japan. The release is planned for the spring of 2024.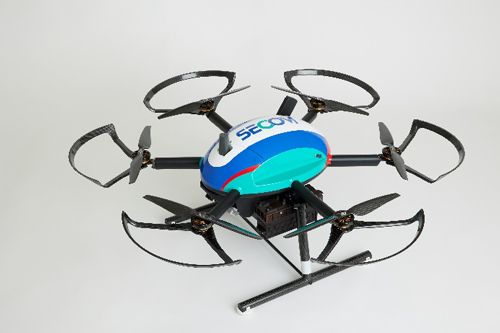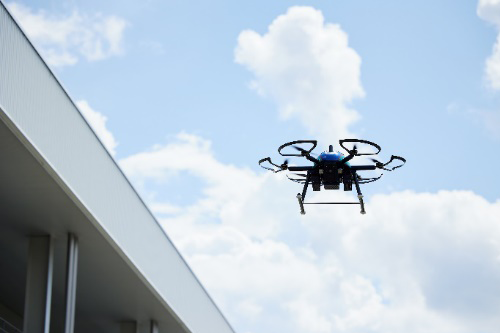 Japanese society is facing a serious labor shortage, and efforts using robots for labor-saving and efficiency are accelerating. The government is also promoting legislative measures towards an "aerial industrial revolution" with small-scale unmanned aerial vehicles (UAVs), drones have been adopted and are being utilized in various fields such as inspections, surveying, agriculture, and logistics.
The domestic drone business market is expected to grow from 308.6 billion yen in fiscal 2022 to approximately three times that size, reaching 934 billion yen in fiscal 2028*2, suggesting further market expansion.
In December 2015, SECOM commercialized the "SECOM Drone" as the world's first private drone for crime prevention, which autonomously tracks intruders on site and transmits the footage to SECOM's control center for a quick and accurate response. They were the first in Japan to realize commercial services with Level 3 flight*3 within the premises of their clients, accumulating operational performance and know-how for almost eight years.
The newly developed SECOM DRONE XX evolves these functions, equipping AI-based video analytics that detect people and vehicles, automatically tracking and filming objects deemed suspicious by security personnel.
Flight time and speed have been significantly improved, enabling the drone to secure any area within a radius of approximately 6km. Also, with enhanced wind resistance and the addition of infrared cameras, surveillance capabilities have been substantially improved even during inclement weather or at night. Since the drone can use LTE communication, the installation of on-premises Wi-Fi communication equipment is not required, making it easier and more cost-effective to introduce the drone.
The newly developed hangar allows for fully automated storage, take-off and landing, battery swapping/recharging, and self-checks of the drone. In particular, the ability to automatically change batteries enables quick, successive flights.
The SECOM DRONE XX offers "patrol monitoring," flying pre-determined routes for safety confirmation, and "intrusion monitoring," tracking intruders detected by sensors or surveillance cameras installed on the premises.
It can also be used for various purposes beyond security, such as for inspecting public facilities, safety confirmations during disasters, and patrolling of rivers*4.
Furthermore, the SECOM DRONE XX is based on the contents exhibited in the Acquisition, Technology & Logistics Agency's new technology short-term demonstration project "Automation and Efficiency of Surveillance and Inspection Using Drones," and local demonstration tests for defense facility surveillance systems for the Air Self-Defense Force and Maritime Self-Defense Force are underway.
*1 As of October 2023 (according to SECOM)
*2 Source: Impress Corporation "Drone Business Survey Report 2023"
*3 Defined as: Beyond-visual-line-of-sight flight in unpopulated areas without placing auxiliary individuals for third-party entry restrictions (for details, please see the website of the Ministry of Land, Infrastructure, Transport, and Tourism)
*4 Available only when flight permission/approval is obtained based on the Aviation Law.
Features of SECOM DRONE XX
1. Diverse Functions Utilizing Image AI:
In "patrol surveillance" mode, the drone flies along a predetermined route. If intruders are detected during the patrol, the operator can designate targets for the drone to automatically track.
"Intrusion surveillance" activates when peripheral sensors detect an intrusion on the premises. The drone then takes off and approaches the area, detects the intruder through AI, and automatically tracks them while allowing real-time video confirmation.
Integrating with surveillance cameras is also possible. For example, if a monitor at a disaster prevention center spots an intruder with the surveillance camera, the center staff can designate the target, and the drone will then rush to the scene and pursue the individual.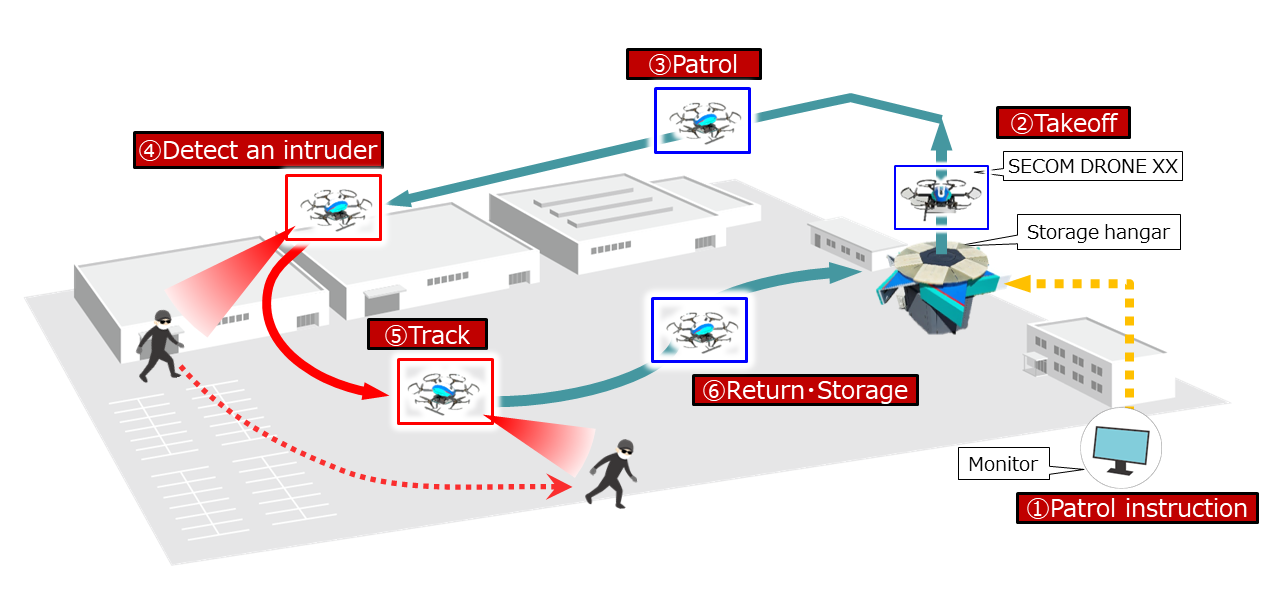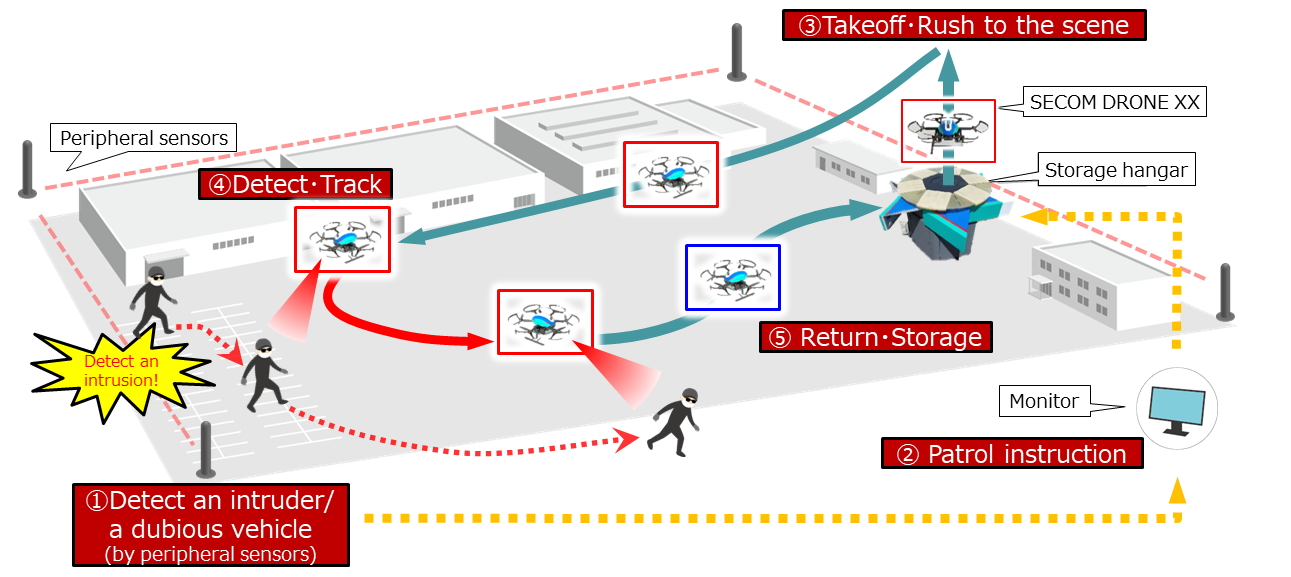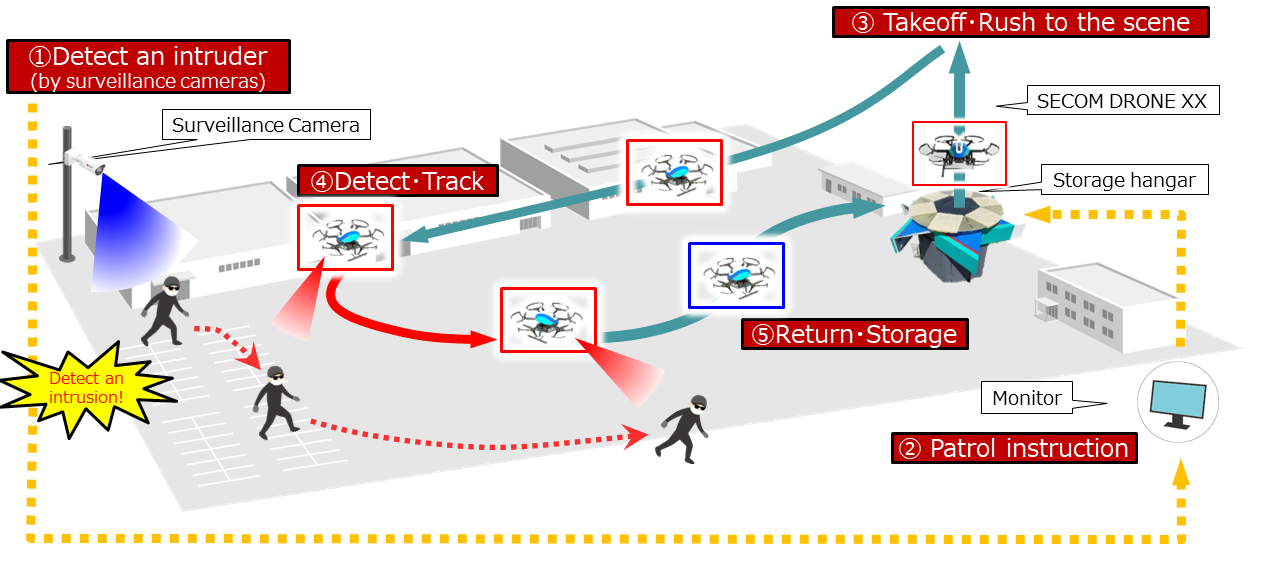 2. Significantly Improved Drone Performance:
The flight time is approximately double, and the maximum speed is about four times that of the conventional SECOM Drone, allowing it to guard an area up to 6 km in radius, which is about 50 times larger than before. Its wind resistance has also improved, making it usable even during inclement weather. While the traditional SECOM Drone required the installation of Wi-Fi communication equipment in the drone flight area within the premises, the use of carrier LTE communications has eliminated the need for Wi-Fi infrastructure, enabling easier and more cost-effective implementation of the SECOM DRONE XX.
By utilizing the 3D stereoscopic maps provided by the SECOM Group's geospatial information service subsidiary PASCO Corporation, it can handle complex terrain that includes slopes and buildings.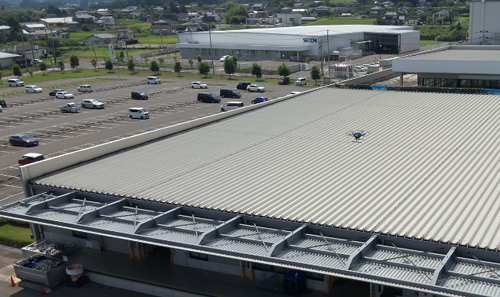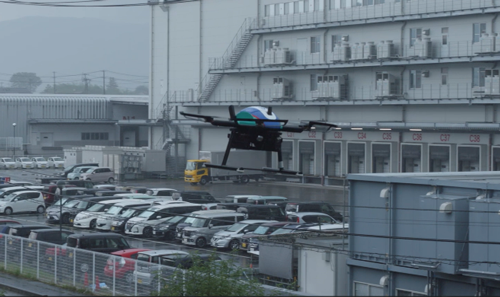 3. Fully Automatic, High-quality Security Operations:
The newly developed storage facility automatically conducts all processes—drone storage, takeoff and landing, automatic battery swapping/charging, and self-checks.
Unlike traditional models which can require nearly 2 hours of charging time before redeployment, the new system allows for a battery swap, making re-flight possible in about 3 minutes, enabling more flexible and high-quality security operations.
High definition footage captured by the drone is transmitted in real-time to disaster prevention centers as well as stored internally within the drone. Quick decisions and responses are possible with real-time situations, and in cases where SECOM's security system is implemented, emergency staff can respond immediately. The high definition footage stored in the drone can also be transmitted to the disaster prevention center via the storage hangar after the drone returns, aiding in incident resolution.
■ SECOM DRONE XX Specifications
Size
(W) 1,223mm x (D) 1,117mm x (H) 503mm (including propeller guards, excluding protrusions)
Weight
9.8kg (including two batteries and monitoring equipment)
Flight Time
Up to 20 minutes
Speed
Maximum of 36km/h (during autonomous flight)
Flight Range
Up to approximately 12km
Wind Resistance
Average 10m/s
Surveillance Features
Color video surveillance and AI object detection with a visible camera
Thermal imaging surveillance and AI object detection with an infrared camera
Night illumination with white LEDs
Object tracking function
Communication Features
Video and data transmission via LTE communication
Safety Features
Rotor fault tolerance system
Parachute system (optional)
Propeller guards
Anti-collision beacons (optional)
Waterproof structure
Other Features
Real-time route navigation using a 3D map
Compatibility with fully automatic storage hangars
Loudspeaker function (optional)
Remote ID module
Note
The body being used by the drone was co-developed with ACSL Ltd. Specifications may differ in the official release.
■ Overview & Specifications of the Storage Hangar
Designed for the storage, takeoff, and landing of the SECOM DRONE XX, with functions for automatic battery swapping/charging and drone self-checks, the hangar lifts the drone and unfolds the landing pad automatically. After flight, the drone's position is adjusted and stored. The battery is swapped automatically, allowing for quick redeployment. Regular self-checks are conducted before the flight.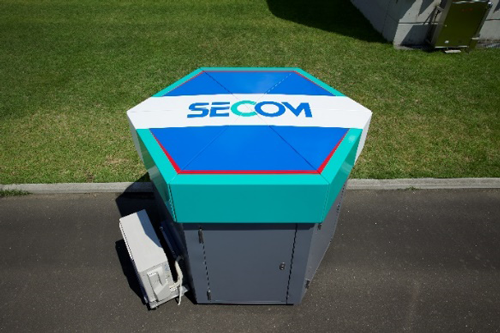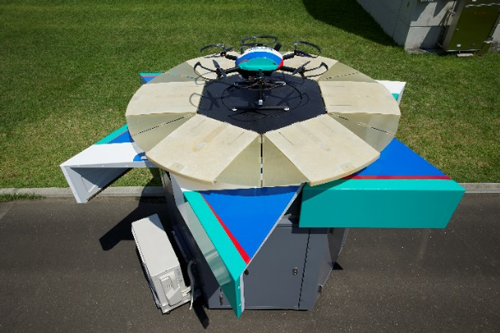 Size
Storage: (W) 2,420mm x (D) 2,120mm x (H) 2,000mm
Takeoff/Landing: (W) 3,350mm x (D) 3,650mm x (H) 2,130mm
Main Functions
Drone storage
Drone positioning
Deployment/retraction of drone landing pad
Drone battery replacement
Drone battery charging
Internal temperature management
Note
Specifications may differ in the official release.
■ About the name
SECOM DRONE XX will be used not only for "Security" applications such as "Safety," "Patrol," and "Surveillance," but also for "Photography," "Checks & Inspections," and "Disaster Prevention." SECOM is committed to making transformations (Transformation=X) in a variety of applications (X).
The name SECOM DRONE XX expresses this determination.
■ Relationship with Civil Aeronautics Law
Due to its ability to fly at night, beyond line-of-sight, or at a distance of 30 meters or more from the building where it is contracted, SECOM DRONE XX is classified as a Category II (Level 3) flight*5 as per Civil Aeronautics Law and related enforcement ordinances effective as of December 5, 2022.
Since the launch of the SECOM Drone service in December 2015, SECOM has built up a track record of service provision by combining: an aircraft suitable for private security purposes, hangars, proprietary flight manuals, and a 24/7 monitoring system cultivated through its security services. Utilizing this know-how, SECOM will coordinate with customers in advance regarding the location, radio wave conditions, entry control measures, and other aspects of the SECOM DRONE XX service. An application for flight permission and approval from the Ministry of Land, Infrastructure, Transport and Tourism is also required for the launch of this service.
Please refer to the website of the Ministry of Land, Infrastructure, Transport and Tourism for more details on small-scale unmanned aircraft systems.
Ministry of Land, Infrastructure, Transport and Tourism HP: https://www.mlit.go.jp/koku/koku_tk10_000003.html
※5: Category II (Level 3) covers flights specifically conducted under the flight path of a UAV with entry control measures (i.e., not flying over a third party).
■ About the "SECOM AI Ethics Principles"
In October 2022, SECOM established the SECOM AI Ethics Principles as a guideline for the responsible use of AI, in order to further contribute to society through the development of security services. By utilizing AI in accordance with the SECOM AI Ethics Principles, we aim to not only contribute to the happier lives of our stakeholders, including customers and employees, but to continue growing sustainably together with society as well.
( SECOM AI Ethics Principles: https://www.secom.co.jp/english/news/2022/nr_20221020.html )