2001
April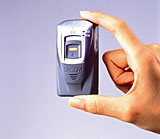 The Company launches COCO-SECOM, a mobile security system that uses signals from Global Positioning System (GPS) satellites and cellular phone base stations to accurately pinpoint the location of portable transmitter devices to keep track of people and vehicles, among others, and if requested dispatch emergency response personnel.

October
SECOM introduces MEDCOM, Japan's first unrestricted cancer treatment policy, which provides coverage for all hospitalization and medical treatment costs.
2002
January
The Company capitalizes on its know-how in security services for large-scale commercial facilities and advanced network capabilities to launch TOTAX ZETA, a new total security system.
February
Subsidiary Secom Joshinetsu Co., Ltd., lists on the second section of the Tokyo Stock Exchange.
March
The medical services businesses of the Company, Secom Home Medical System Co., Ltd., Secom Care Service Co., Ltd., and Secom Kampo System Co., Ltd., merge to form Secom Medical System Co., Ltd.
May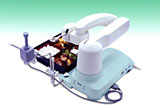 Sales commence for My Spoon, Japan's first robot designed to enable people with impaired upper body mobility to eat with minimal assistance.
2004
September
Sales of SECOM AED Package Service, a comprehensive automated external defibrillator (AED) service, begin.
2005
September
SECOM begins offering SECOM Home Service, a suit of convenient lifestyle support services.
October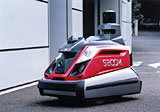 The Company launches SECOM Robot X, Japan's first outdoor surveillance robot.
2006
October
SECOM opens Comfort Garden Azamino in Yokohama, Kanagawa, a new-concept senior residence that brings together the Company's expertise in such areas as security, medical care and personal care. (In June 2009, the Company also opens Comfort Hills Rokko, in Kobe, Hyogo.)
December
Nohmi Bosai Ltd., a leading provider of fire protection services, becomes a consolidated subsidiary. SECOM has been the principal shareholder in Nohmi Bosai since 1974. The aim of consolidation is to reinforce this relationship, facilitating the integration of the two companies' expertise—SECOM's in security and Nohmi Bosai's in fire protection—and the development of new products that will help SECOM to cultivate a new market.
2007
April
Construction is completed and operations commence at Mine Rehabilitation Program Center, Japan's first private finance initiative (PFI) correctional facility, in Mine, Yamaguchi. A private-sector consortium led by the Mine SECOM Group secured the contract for the facility through general bidding in 2005. Working in collaboration with the Ministry of Justice, SECOM provides security services and support for operational and correctional services. (SECOM subsequently secures contracts for two additional PFI correctional facilities, Kitsuregawa Rehabilitation Program Center and Kurobane Prison, located, respectively, in Sakura and Ohtawara, Tochigi. Operations at both facilities commence in October 2007.)
2008
August
The Company establishes the Environmental Management Department and steps up its environmental initiatives.
2010
September
SECOM launches the Intelligent Emergency Alert System, which automatically detects abnormal or suspicious situations and alerts a SECOM control center without the need for anyone to press an emergency alarm button.
2011
December
The Company launched SECOM Home Security G-Custom, which combines features of SECOM Home Security with a data storage service that enables subscribers to entrust key data such as family photographs and identifications.
2012
April
Nittan Co., Ltd., the number three fire protection services firm in Japan, becomes a consolidated subsidiary.
October
At Tokyo Corporation, Japan's leading data center services firm in terms of facility floor space, becomes a consolidated subsidiary.
2013
April
The Company launches SECOM My Doctor Plus, an emergency medical alert system for seniors, through a business alliance with two major nursing care service providers.
September
SECOM introduces the Real-Time Disaster Information Service, a next-generation disaster mitigation service that capitalizes on its proprietary capabilities in Big Data analysis.
December
Secom Trust Systems launches the SECOM Premium Net, a system designed to protect against online banking scams.
2014
March
Operations commence at Sakra World Hospital, the first hospital operated by Japanese companies in India.
December
Sales of stereoscopic image-based Walkthrough Face Recognition System commence.
2015
May
SECOM begins offering the SECOM Anshin My Number Service, which enables companies to entrust their employees' My Number information to SECOM for storage at the highest security level.
August
Kumalift Co., Ltd., Japan's top manufacturer of small freight elevators in terms of market shares, becomes a consolidated subsidiary.
December
Asahi Security Co., Ltd., Japan's leading provider of cash collection and delivery services, becomes a consolidated subsidiary.
The Company launches the SECOM Drone, the world's first autonomous small flying surveillance robot for the private sector.
2016
February
The Company introduces the SECOM Airship, the world's first dirigible designed for surveillance for the private sector.
July
Secom Trust Systems commences sales of the SECOM Premium Net Remote Browser, a cloud-based service designed to protect information assets against targeted cyber-attacks.
September
SECOM launches the SECOM 3D Security Planning based on high-precision 3D images for security planning, which is Japan's first-ever.
November
SECOM begins offering the SECOM Anshin Guesthouse Owner Package, a comprehensive set of essential support services for minpaku guesthouse operators.