2001
April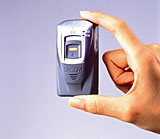 The Company launches COCO-SECOM, a mobile security system that uses signals from Global Positioning System (GPS) satellites and cellular phone base stations to accurately pinpoint the location of portable transmitter devices to keep track of people and vehicles, among others, and if requested dispatch emergency response personnel.

October
SECOM introduces MEDCOM, Japan's first unrestricted cancer treatment policy, which provides coverage for all hospitalization and medical treatment costs.
2002
January
The Company capitalizes on its know-how in security services for large-scale commercial facilities and advanced network capabilities to launch TOTAX ZETA, a new total security system.
February
Subsidiary Secom Joshinetsu Co., Ltd., lists on the second section of the Tokyo Stock Exchange.
March
The medical services businesses of the Company, Secom Home Medical System Co., Ltd., Secom Care Service Co., Ltd., and Secom Kampo System Co., Ltd., merge to form Secom Medical System Co., Ltd.
May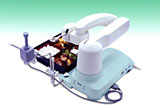 Sales commence for My Spoon, Japan's first robot designed to enable people with impaired upper body mobility to eat with minimal assistance.
2004
September
Sales of SECOM AED Package Service, a comprehensive automated external defibrillator (AED) service, begin.
October
The Company introduces SECOM Safety Confirmation Service, a disaster management support service that assists an initial response for large-scale disaster, developed by Secom Information System Co., Ltd. (currently Secom Trust Systems Co., Ltd. )
2005
September
SECOM begins offering SECOM Home Service, a suit of convenient lifestyle support services.
October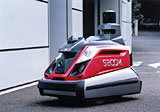 The Company launches SECOM Robot X, Japan's first outdoor surveillance robot.
2006
October
SECOM opens Comfort Garden Azamino in Yokohama, Kanagawa, a new-concept senior residence that brings together the Company's expertise in such areas as security, medical care and personal care. (In June 2009, the Company also opens Comfort Hills Rokko, in Kobe, Hyogo.)
December
Nohmi Bosai Ltd., a leading provider of fire protection services, becomes a consolidated subsidiary. SECOM has been the principal shareholder in Nohmi Bosai since 1974. The aim of consolidation is to reinforce this relationship, facilitating the integration of the two companies' expertise—SECOM's in security and Nohmi Bosai's in fire protection—and the development of new products that will help SECOM to cultivate a new market.
2007
April
Construction is completed and operations commence at Mine Rehabilitation Program Center, Japan's first private finance initiative (PFI) correctional facility, in Mine, Yamaguchi. A private-sector consortium led by the Mine SECOM Group secured the contract for the facility through general bidding in 2005. Working in collaboration with the Ministry of Justice, SECOM provides security services and support for operational and correctional services. (SECOM subsequently secures contracts for two additional PFI correctional facilities, Kitsuregawa Rehabilitation Program Center and Kurobane Prison, located, respectively, in Sakura and Ohtawara, Tochigi. Operations at both facilities commence in October 2007.)
2010
August
Secom Trust Systems opened and commenced operation of New Secure Data Center which boasts top-level security capabilities.