1991
April
SECOM acquires the Carroll Security Group Ltd., a U.K. security services firm. (The firm merges with Ambassador Security Group PLC acquired in 1995. The resulting entity is established in 1996 as SECOM Plc and provides on-line security systems across the United Kingdom.)
June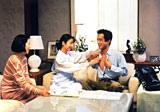 The Company opens SECOM Pharmacy, which is equipped with a clean room, and becomes the first company in Japan to offer full-scale home medical services, including prescription pharmaceutical delivery and home nursing services.

1992
December
SECOM (China) Co., Ltd., is established in Beijing, becoming, in July 1993, the first officially sanctioned Japanese-owned holding company in the PRC. (Efforts focus initially on establishing security services companies and marketing on-line security systems in major cities in the country's high-growth coastal areas. The company later expands its network to include cities in key inland areas.)
1994
April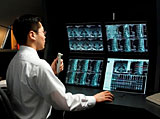 SECOM begins offering Hospinet, a remote image diagnosis support service. Hospinet transmits magnetic resonance imaging (MRI), computed tomography (CT) and other images to SECOM's Hospinet Center for examination by expert radiologists, who then provide consultation to the primary physician.
1998
July
The Company launches SECOM AX, a revolutionary on-line security system with on-site image sensors. If the sensors detect an intruder, a signal and images are transmitted to a SECOM control center, thus facilitating prompt assessment and a swift and accurate response by control center staff.
September
SECOM enters the insurance business by making an equity investment in non-life insurance company Toyo Fire and Marine Insurance Co., Ltd., which later changes its name to Secom General Insurance Co., Ltd. The new company capitalizes on SECOM's distinctive capabilities to introduce such innovative offerings as SECOM Anshin My Car, a comprehensive automobile insurance policy that includes on-site emergency services; Security Discount Fire Policy, a commercial fire insurance policy; and SECOM Anshin My Home, a comprehensive home fire insurance policy.
December
The Company establishes its first visiting nurse station, which is approved under Japan's National Health Insurance (NHI) scheme. (SECOM visiting nurse stations are subsequently set up in the Tokyo Metropolitan Area, the Kansai region, Nagoya, Sendai, Sapporo and other major Japanese urban centers. These stations dispatch experienced nurses who also complete rigorous in-house training programs, enabling SECOM to provide high-caliber home nursing services.)
1999
July
SECOM launches SECOM IX, an interactive remote imaging security system for commercial facilities designed to help prevent burglaries.
August
SECOM takes an equity stake in Pasco Corporation, Japan's leading purveyor of mapping and Geographic Information System (GIS) services and enters the geographic information services market.
2000
June
SECOM Group real estate development companies Eclairer Co. Ltd. and Secom Asahi Co., Ltd., merge. The resulting entity begins operating as Secom Home Life Co., Ltd.