1981
January
The Company launches Japan's first home security system, My Alarm (currently SECOM Home Security).
March
Nihon Keibi Hosho and the Samsung Group establish joint venture Korea Safety System Inc. (currently S1 Corporation), which becomes the first company in South Korea to offer on-line security systems.
1982
January
The Company declares 1982 "the first year of Japan's security services industry."
October
Nihon Keibi Hosho acquires the Westec Security Group, Inc., of the United States. (In 1987, SECOM establishes Secomerica Inc. to oversee its U.S. operations.)
1983
August
The Company establishes community cable television provider Miyagi Network in Sendai, Miyagi, marking its debut in the information services field. (The company is divested in 2006.)
December
The Company's name is changed to SECOM Co., Ltd. (The name SECOM was coined as a contraction of "security + communication.")
1984
May
SECOM participates in the establishment of DDI Corporation (currently KDDI Corporation).
1985
August
Subsidiary Secomnet Co., Ltd., is established to provide value-added network (VAN) services. In October 1985, computer security services subsidiary Nippon Computer Security Corporation is established. (These two companies/businesses and Secom Information System Co., Ltd., later merge to form Secom Trust Systems Co., Ltd. in May 2006)
1986
January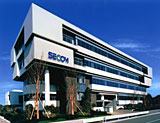 The Company completes the Secom TE Center, a laboratory equipped with facilities for evaluating and testing sensors. The Secom Development Center, as part of the TE Center, engages in development of innovative systems that satisfy SECOM's own rigorous quality and performance standards.

June
SECOM lists on the first section of the Osaka Securities Exchange.
December
The Company establishes the Secom Intelligent Systems Laboratory to conduct research with a medium- to long-term perspective aimed at developing proprietary platform technologies. The laboratory also conducts technological research for cutting-edge security systems and medical fields.
1987
September
Subsidiary Thaisecom Pitakkij Co., Ltd. (currently Thai Secom Security CO., LTD.), is established in Thailand.
1988
April
SECOM launches SESAMO ID, Japan's first fingerprint-based individual identification system.
April
U.S. holding company Secomerica acquires the emergency medical care unit of hospital management company Hospital Corporation of America and begins operating the United States' largest emergency medical care company. (The company is divested in 1994.)
December
The Company opens Japan's first specialized home security shop in Jiyugaoka, Tokyo.
1989
January
SECOM declares 1989 the first year of its drive to realize a new corporate vision, the Social System Industry. This vision describes the creation of a new framework of service systems by utilizing SECOM's information and communications network—cultivated through the provision of security services—to combine and integrate its products and services into comprehensive packages that make life more secure, convenient and comfortable.
September
Secomerica acquires HMSS Inc., the United States' third-largest home health care services provider. (The company is divested in 1994.)