The original Company name was Nihon Keibi Hosho Kabushiki Kaisha
On July 7, 1962, Japan's first security services company was established under the name Nihon Keibi Hosho Kabushiki Kaisha. The Company began by offering guard patrol services and static guard services.
The name Nihon Keibi Hosho combines "Nihon," i.e., "Japan" —because it was the first such company in the country—with "keibi," or "security," and "hosho," meaning "security" and incorporating the nuance of "guarantee," which is pronounced the same way. "Keibi hosho," invented by SECOM's predecessor, has since become an accepted term in Japanese.
In 1964, Nihon Keibi Hosho secured the contract to guard the athletes' village at the Olympic Games in Tokyo. This success inspired a hit 1965 television drama called The Guardman. These two successes greatly enhanced public recognition of the Nihon Keibi Hosho name. In 1966, the Company developed and marketed Japan's first on-line commercial security system. In subsequent years, the Company promoted efforts to build up a nationwide network while at the same time actively marketing the system to companies across Japan.
1973: Establishing the SECOM Brand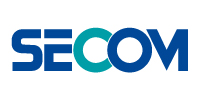 With on-line security services beginning to catch on as a concept in Japan, in February 1973 Nihon Keibi Hosho launched the SECOM brand. One result of this was that people began to refer to the Company simply as "SECOM."
The name SECOM was coined as a contraction of "security + communication." The concept behind the SECOM brand was to create a "revolutionary security system that brings people and science together." Capitalizing on its nationwide network, the Company worked to broaden acceptance of on-line security systems and developed a steady stream of attractive security services.

1983: Becoming SECOM
In the decade following the launch of the SECOM brand, Nihon Keibi Hosho essentially rebranded itself as SECOM, using the name for both itself and its service brand as it sought to expand both the scope and scale of its operations. In 1975, the Company introduced the world's first computerized security system (CSS), following in 1981 with the launch of Japan's first home security system. After 10 years of calling itself SECOM, in December 1983, the Company officially changed its name to SECOM Co., Ltd.
As the world entered the information age, in 1989, SECOM introduced a new corporate vision, the Social System Industry, which describes the creation of an integrated framework of products and services that heighten convenience and deliver peace of mind, and began taking decisive steps toward its realization.