Global Expansion—Providing ANSHIN Worldwide
The SECOM Group's global expansion
The SECOM Group has expanded operations overseas, offering security services, fire protection services, medical services, geospatial information services, and BPO and ICT services, providing safety and security in 17 countries and territories. In response to the growing demand for "peace of mind" overseas, we are introducing services tailored to individual regions by utilizing the expertise we have developed in Japan, aiming to make ANSHIN* a universally recognized and accepted term.
ANSHIN is a Japanese word for "peace of mind."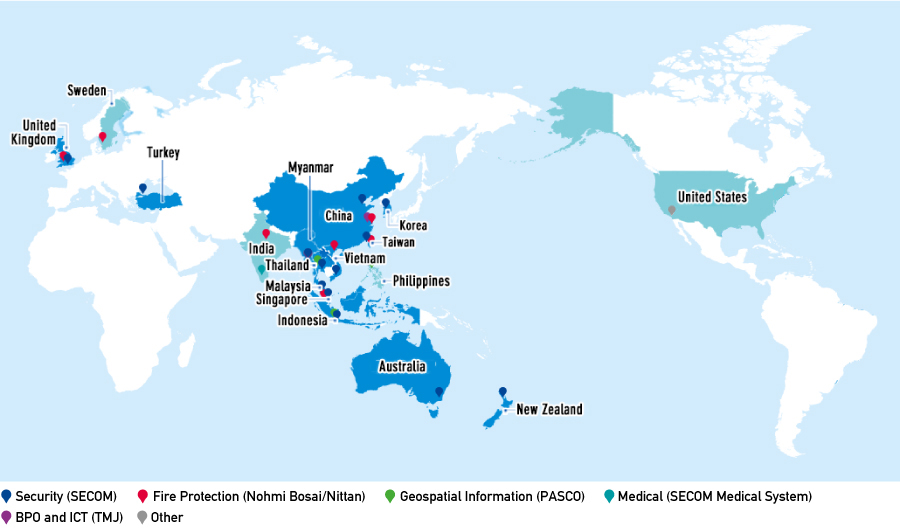 Creating services that meet local needs
SECOM utilizes marketing studies and other methods to accurately assess local needs, and actively promotes open innovation with manufacturers and IT companies around the world. SECOM also coordinates with overseas partner companies, and works to create innovative services that meet local needs.
Established the China Innovation Center
SECOM has created China's largest security network, with an equipment-manufacturing facility in Shanghai and 13 company bases in 25 cities nationwide. In addition, in June 2019 in Shanghai, we established the China Innovation Center, a facility for developing new services.
In the global market, where service and product development take place at blinding speed, it is essential to grasp the currents of change and swiftly engage in creating innovative services. In the Chinese market, where the latest technologies such as AI and IoT are proactively used, we have collaborated with partner companies such as major local electric appliance manufacturers, real estate management companies, and telecommunications firms to create a system for utilizing new ideas to actively develop services that help address social issues.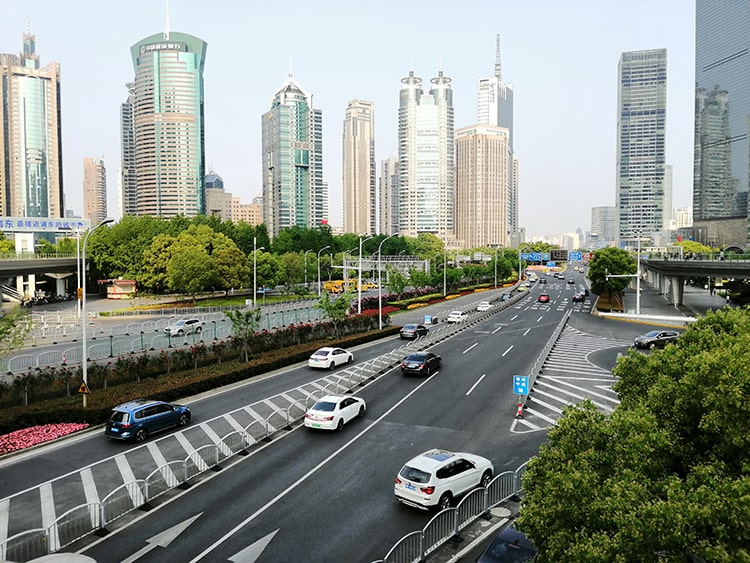 Studying local needs and the latest technologies in Shanghai, a city receptive to the latest trends in technology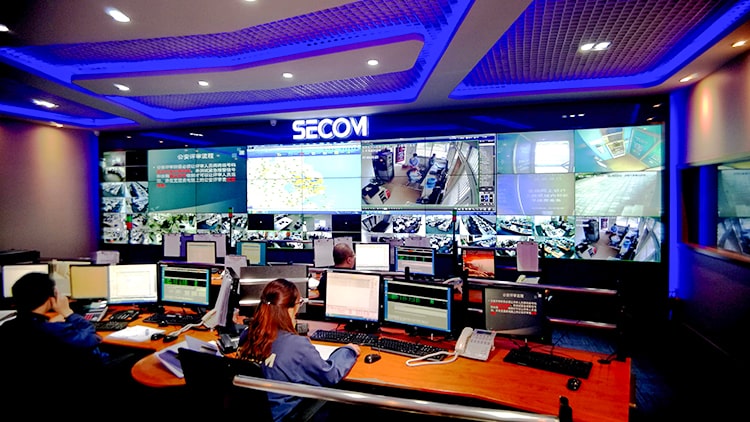 Staff performing monitoring at Shanghai Secom Security Co., Ltd.'s control center
Launched a new project in Thailand
Since its establishment in 1987, Thai Secom Security Co., Ltd. has actively offered services in the capital of Bangkok, as well as in province cities such as Chiang Mai and Hat Yai, growing to become one of Thailand's leading security companies.
In Thailand, where the number of middle-income earners continues to rise, a rapidly decreasing birthrate and aging population have become new social issues. To address these issues, we commenced sales of the SECOM Home Security service in July 2019, achieving full-scale entry into the residential security market.
We are also collaborating with partner companies in Thailand and will inaugurate a project to develop and launch new services. We are localizing our services and products in Thailand ahead of other Asian countries, with plans in place to establish the ASEAN Innovation Center in Bangkok, which will support efforts to expand our presence in other Southeast Asian markets, going forward.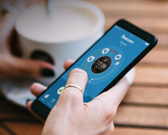 Thai Secom Security Co., Ltd.'s home security system can be operated from a smartphone
Started security services in Turkey
In February 2019, we established a joint venture, Secom Aktif Guvenlik Yatirim A.S., with the leading Turkish conglomerate Calik Group, and started providing security services in Turkey.
Turkey is a large nation with a population of 82 million and an area roughly twice the size of Japan. Although alarm monitoring security has spread rapidly over the past decade, it still has a low level of overall market penetration, and the security market is expected to grow. We will combine the high-quality security services developed by the SECOM Group with new initiatives that meet the needs of local customers to provide a wide range of security services together with safety and peace of mind rooted in the community.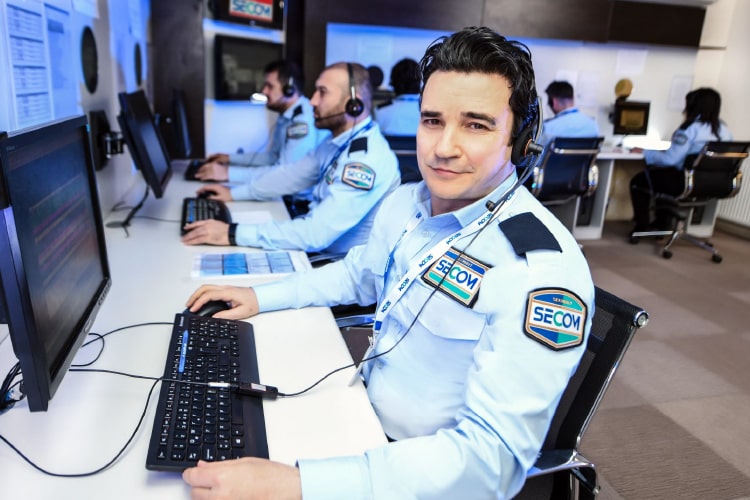 Security services have also started in Turkey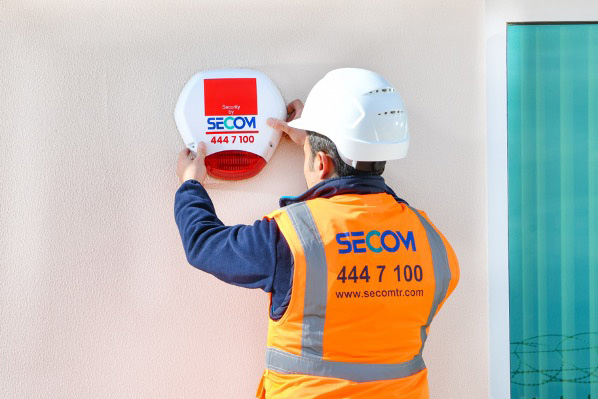 A local staff member installing equipment
Collaborating with AED manufacturers
We began selling AEDs in China in July 2020. In recent years, there has been a rapid increase in the awareness of the need for pre-hospital care in China, including first aid during transportation to a medical institution. The Chinese government has been leading activities such as AED promotion, and we are enjoying excellent responses to our AED sales.
In response to the lifting of the ban on the private use of AEDs in Thailand, Malaysia, and Indonesia, we are providing AED services in collaboration with AED manufacturers and other local manufacturers. We are also preparing to start selling AEDs in Vietnam.
Going forward, SECOM will continue to leverage its extensive experience with AED sales and promotion activities in Japan to deploy services in other countries.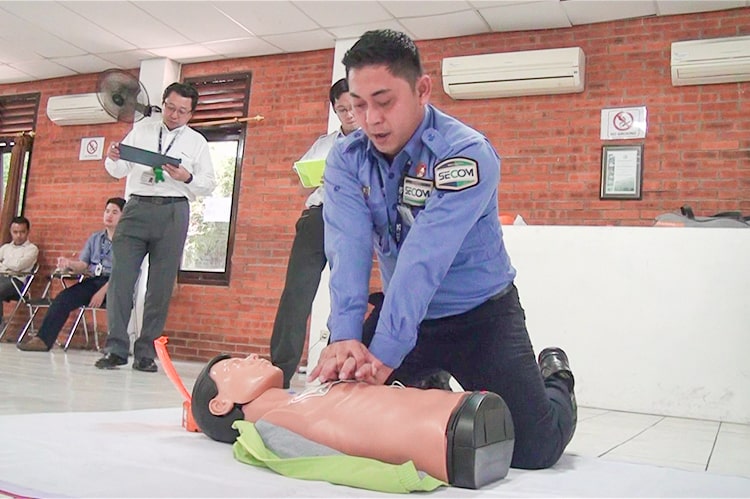 Lifesaving training using AEDs at PT. Secom Indonesia
Enhancing our governance system and risk control
Unique overseas management systems
A solid business foundation is essential for continuing to provide services that are also trusted by overseas customers. SECOM is striving to strengthen the foundation of its systems and information security management at our overseas offices to improve operational efficiency and productivity.
Specifically, we have expanded use of the overseas administrative management systems introduced in Thailand and Indonesia for purposes such as customer information management at some offices in China. At the same time, we are also gradually integrating SECOM's Centralized Monitoring System (CMS) with local CMSs. In the future, we aim to migrate the systems used by overseas offices into the cloud.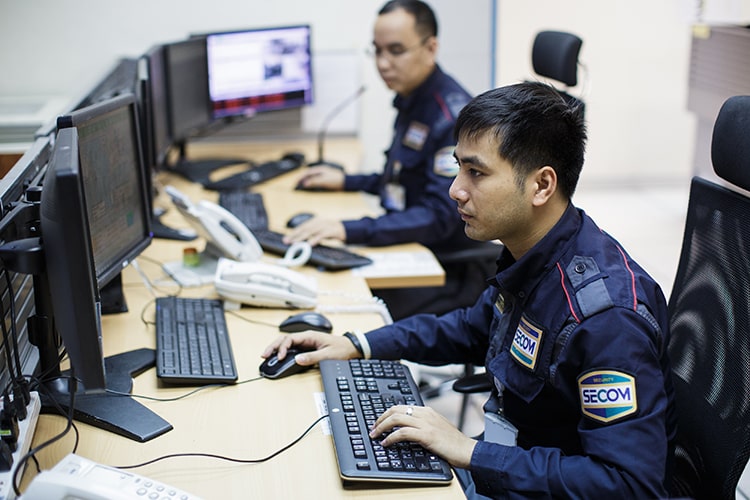 Staff in Thailand performing operations using an overseas CMS
Systems for immediately responding to crises
To maintain stable working environments, we also utilize to the fullest the expertise accumulated in Japan, establishing systems capable of responding immediately to crises. Furthermore, we test and improve these systems tailored to local environments.
In response to the spread of COVID-19, we have established COVID-19 Risk Response Committees in our headquarters' International Business Division and at our overseas subsidiaries with the aims of protecting the health of employees, maintaining business continuity, and preventing the further spread of infection. In addition to actively gathering information on the spread of the pandemic in each country and territory, including local government measures, we have identified critical operations and formulated business continuity plans (BCPs) tailored to the risk level in each location to ensure business continuity. Contingency responses, such as split operations of offices and the creation of a back-up operation system for use in the event that staff are infected, have enabled us to maintain uninterrupted services to date.
Enhancing local education/training
In deploying products and services tailored to local needs, the human resources who provide these services must thoroughly understand SECOM's culture and values as well as possess the skills required for the high-quality services we offer.
In the human resource education at overseas offices, we also focus on initiatives to communicate SECOM's Philosophy and have created a system in which local employees play leading roles in promoting operations.
SECOM's Philosophy expanding throughout the world
To provide our overseas customers with the same high level of safety and peace of mind offered in Japan, simply working in accordance with manuals and rules is not enough. Instead, it is important to work with an understanding of the reasons such fundamental concepts are necessary.
Therefore, we translated SECOM's Philosophy and the SECOM Group Code of Employee Conduct into languages spoken in every country where we work to instill these important concepts into every employee in our organization.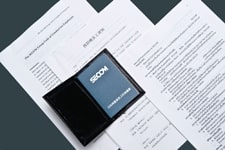 "SECOM's Philosophy," etc., are translated into various languages.
Contributing to social activities around the world
Vietnam: Kids' rugby workshop
An employee stationed overseas who was a former member of the SECOM rugby team is collaborating with Japanese schools, Japanese companies, and EU companies in Vietnam to regularly hold rugby workshops for children. Through joint practice with local schools, rugby is used to actively provide opportunities for intercultural exchange to children of various nationalities and contribute to human resource development.
Secom Vietnam Security Service JSC supports these volunteer operations as part of its social contribution activities.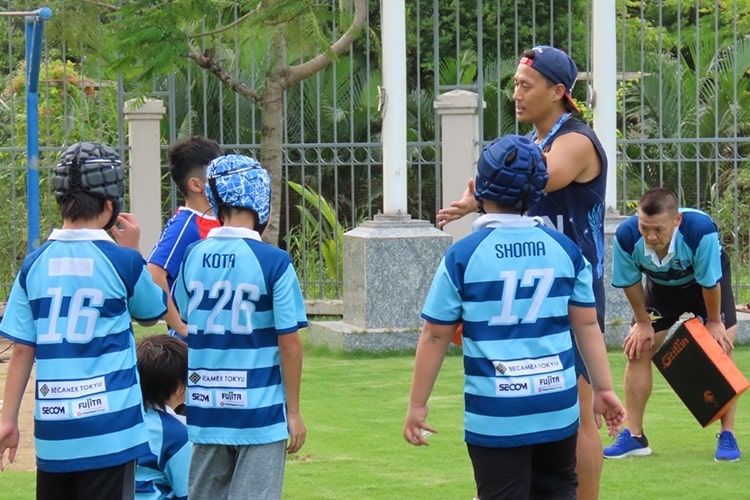 Indonesia: CPR training
In April and May 2019, PT. Secom Indonesia used AEDs to offer CPR training to faculty and staff at the Jakarta Japanese School TK (preschool) and the Surabaya Japanese School. In response to the schools' request, these annual workshops are held to protect the lives of children in case of an emergency.
We also offer training to guide children appropriately in an emergency. The schools have commented that they were able to enhance the safety awareness of staff. They also said that training using demo AEDs was an invaluable experience, and they wish to participate in these training on future occasions, to ensure the safety of children.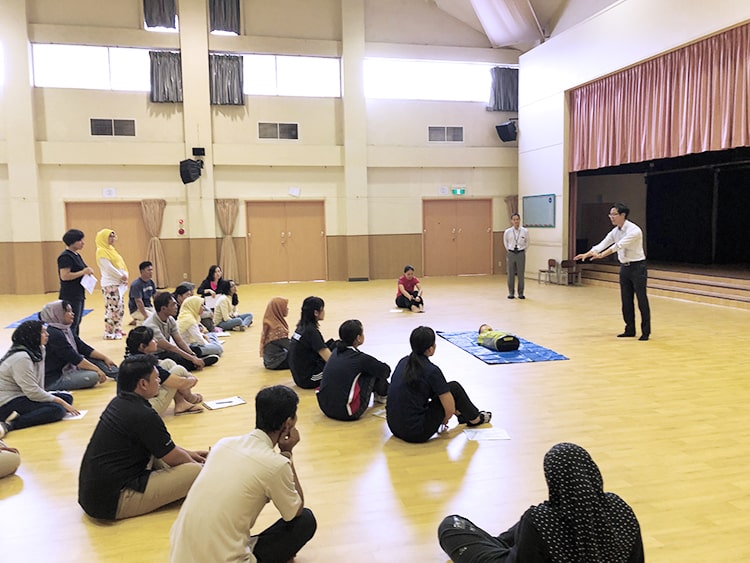 The U.K.: Supporting the acquisition of vocational skills by young people
Secom Plc actively supports the acquisition of vocational skills by young people.
Secom Plc, which has been approved by the U.K. government as an Apprenticeship Training Provider, provides opportunities and locations for vocational training at its training center in Birmingham, in central England. Through this training, many young people are acquiring practical knowledge and skills involving security devices, assisting them to find their career path as they go out into society.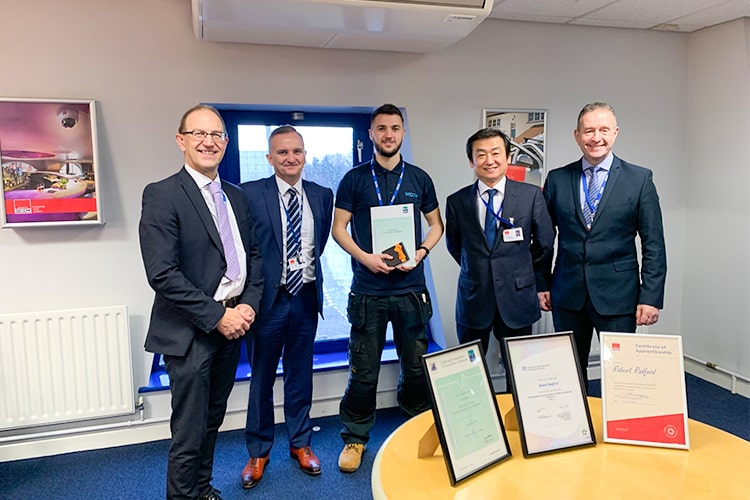 Thailand: Participating in tree planting at a marathon
In November 2019, Thai Secom Security Co., Ltd. participated in the Bangkok Marathon.
In the marathon's opening ceremony, Thai Secom Security took part in a tree-planting ceremony on a newly opened avenue. During the marathon, the company also demonstrated our new home security system and AEDs, engaging with many marathon participants who visited the SECOM booth.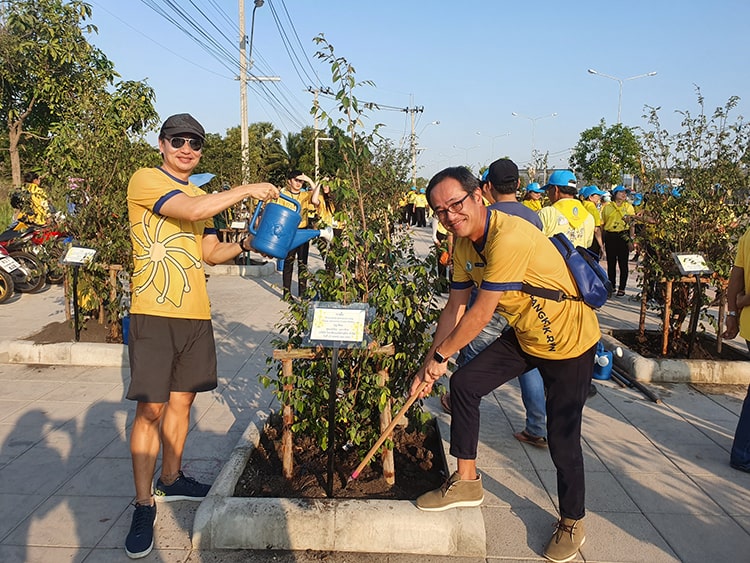 Taiwan: Donating the 119 fire emergency notification video system to fire stations
The Taiwan Secom Group donated a 119 fire emergency notification video system, developed in-house, to the New Taipei City Fire Station. Connected to elderly care facilities and nursery schools, this system is capable of automated 119 voice notification and real-time image transmission, thereby offering safety and peace of mind to those facilities.
When a fire occurs in a facility in New Taipei City, a report is automatically sent to the 119 Center, and images of the fire site can be checked in real time, enabling the rapid dispatch of firefighters. This allows dispatchers to issue instructions based on conditions that are visible in the fire site images, increasing the likelihood of rescuing elderly persons and children.
Plans are under way to deploy these systems to 600 evacuation sites in New Taipei City and 22 other Taiwanese cities.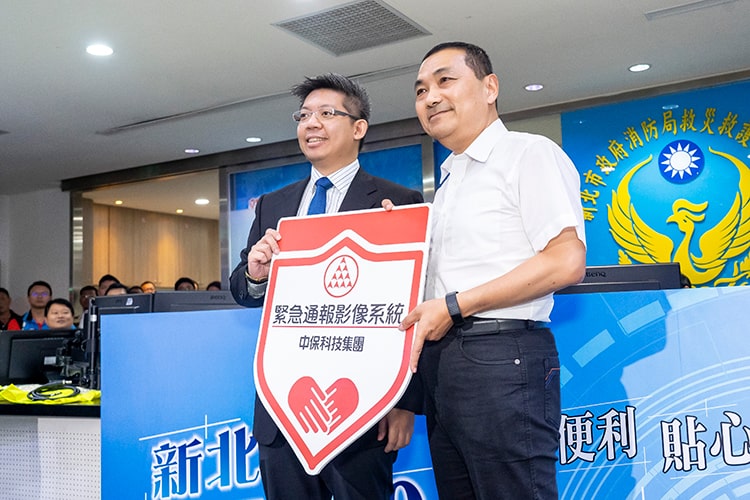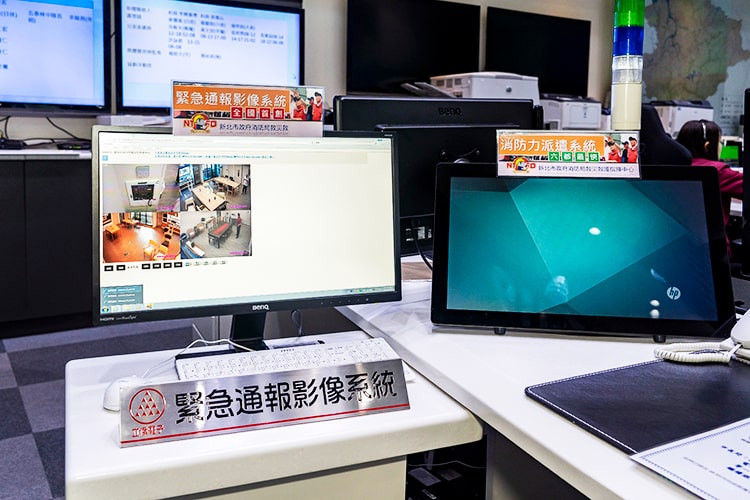 South Korea: Samsung 3119 Rescue Team activities
Established as a joint venture with the Samsung Group, S-1 Corporation launched the Samsung 3119 Rescue Team in October 1995. The Samsung 3119 Rescue Team consists of highly trained personnel who have undergone lifesaving training and eight local rescue groups throughout the nation. It uses an emergency dispatch system connected to the Samsung Medical Center emergency helicopter. The team has had extensive experience performing rescue activities in a number of significant accident sites, including the Guam KAL plane crash, floods in Gangwon Province, a Taiwan earthquake, and the crash of a private plane in China.
The team is also putting effort into raising the safety awareness of citizens and enlightening them by providing life safety and first aid education to students and other members of the public, as well as fire protection education at nursery schools. (The photograph shows comprehensive earthquake training undertaken while actual site conditions were simulated.)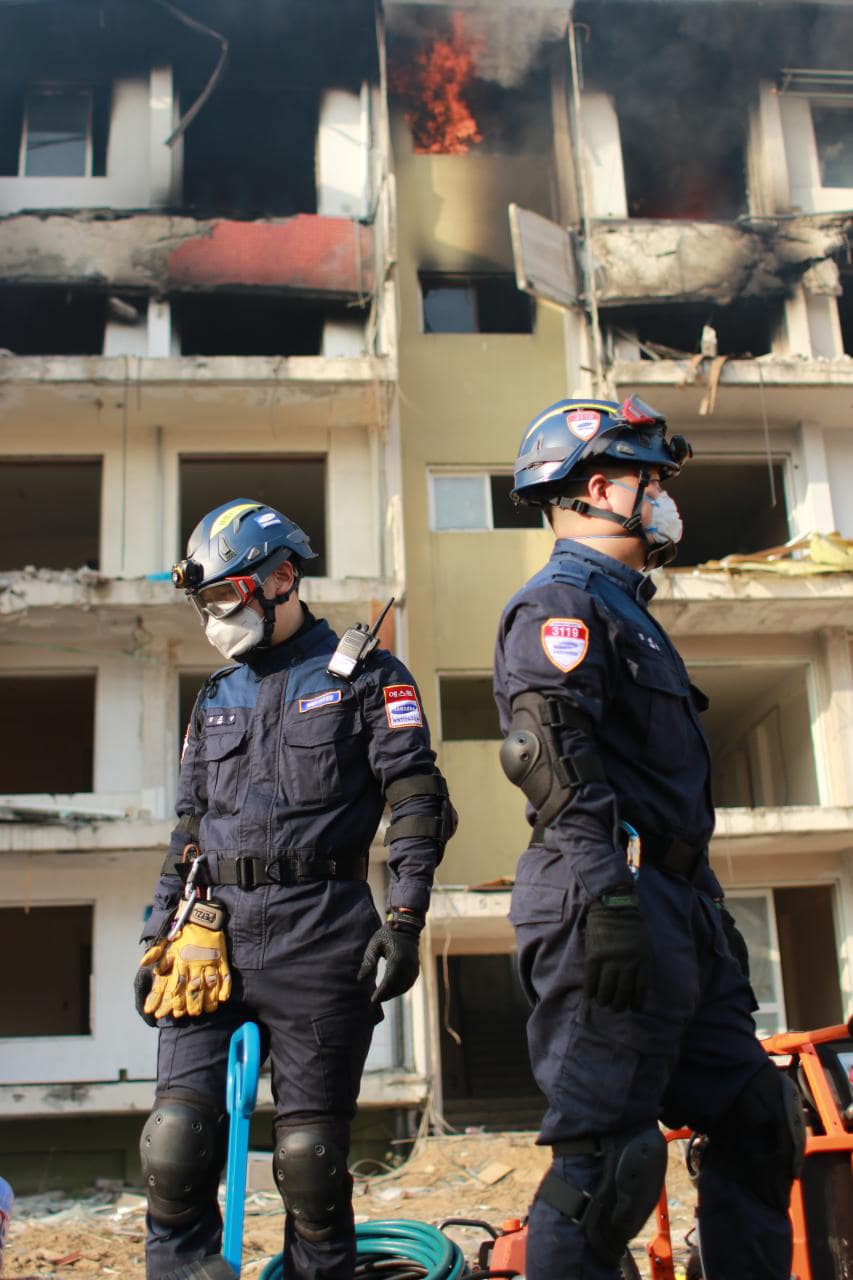 Seminars for Japanese students
Singapore: Initiatives for students on school trips and interns
Since 2015, SECOM (Singapore) Pte. Ltd. has provided corporate on-site training for students on school trips, primarily senior high school students. Led by a desire to provide as many students as possible with a more global outlook, SECOM (Singapore) Pte. Ltd. explains its mission of providing safety and peace of mind as Singapore's only Japanese security company. This program allows participants to experience services tailored to local needs and operate actual security devices, which would be a rare opportunity in everyday life.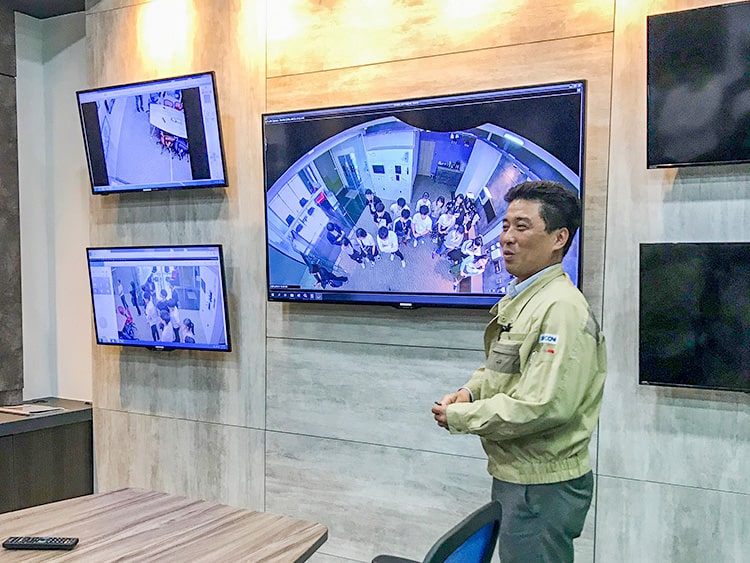 Myanmar: Seminars for university students
In February 2020, 15 students and two escorting teachers from the Kansai University of International Studies visited Myanmar Secom Co., Ltd. As part of a global study curriculum, an employee stationed at Myanmar Secom Co., Ltd. explained the local crime situation to the students taking part in this overseas interactive program, giving them an understanding of factors that cause crime in Myanmar and differences in crime prevention measures, while exploring the possibilities for contributing to lives with safety and peace of mind.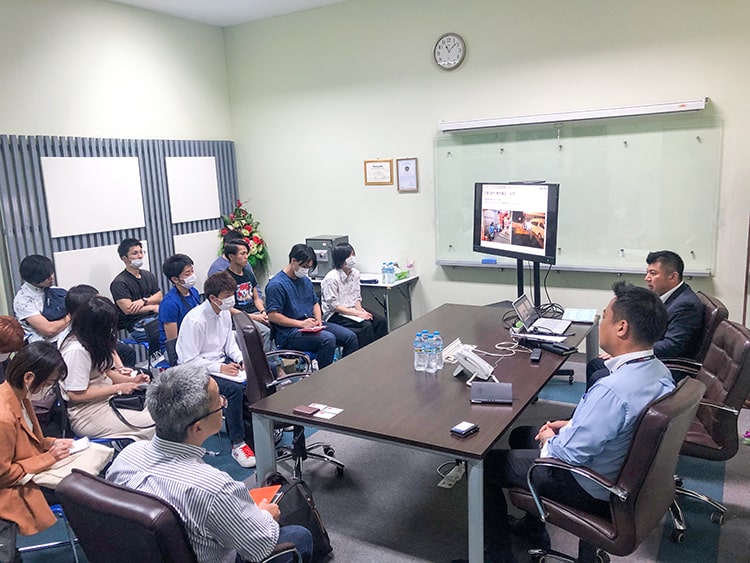 SECOM Global Business