Leveraging Advanced Technologies and Partnerships
Advanced technologies × partnerships
The company name "SECOM," an abbreviation of "Security Communication," denotes the concept of establishing "a new security system by collaboration of people and science." The on-line security system we have developed features a combination of technological aspects, such as sensors and other equipment, communication circuits, and computers, with human services that provide the judgment and response capabilities of human beings.
To supply a higher level of security, the Intelligent Systems Laboratory conducts research on basic technologies, while the R&D Center works to enhance applied and product technologies.
Artificial intelligence (AI) has become a hot topic in recent years. In 1998, SECOM launched SECOM AX, Japan's first on-line image-monitoring system. SECOM AX, the foundation of our AI technology, utilizes image recognition technology to detect intruders. We also have a long history of working on advanced technologies such as AI and robotics, including the development of autonomous patrol robots, airships, and drones, to provide security for vast premises and over wide areas.
However, with the current accelerating pace of technological progress and change, as well as the increasingly diverse concerns, issues, and needs of society, it has become necessary to integrate all types of ideas and technologies regardless of business fields and industries to create more timely and appropriate solutions.
SECOM believes it is essential to strengthen our partnerships with industry, government, and academic organizations that share our desire to provide new services useful for society and utilize advanced technologies to solve problems, and is actively pursuing such partnerships.
The innovative project brand "SECOM DESIGN FACTORY"
In December 2019, we launched SECOM DESIGN FACTORY as a new brand representing strategic and exploratory projects undertaken with partners seeking to develop innovative, original services.
SECOM DESIGN FACTORY aims to create new value through ambitious and experimental collaborative initiatives not bound by the conventional associations of the SECOM brand. This new brand encompasses all the teams and initiatives involved in addressing the challenge of developing new services and products that accelerate the creation of customer and social value, covering the wide range of beliefs and ideals of our diverse partners rather than just our own.
The logo's design depicts the symbols "0→1," which together represent the creation of new value that had not existed previously. In addition, the "1" in the logo is fashioned in the shape of an arrow, representing the idea of progressing toward the future.
This brand has already created a variety of new services, and we are continuing to announce ongoing projects. Our main initiatives in fiscal year 2019 are introduced below.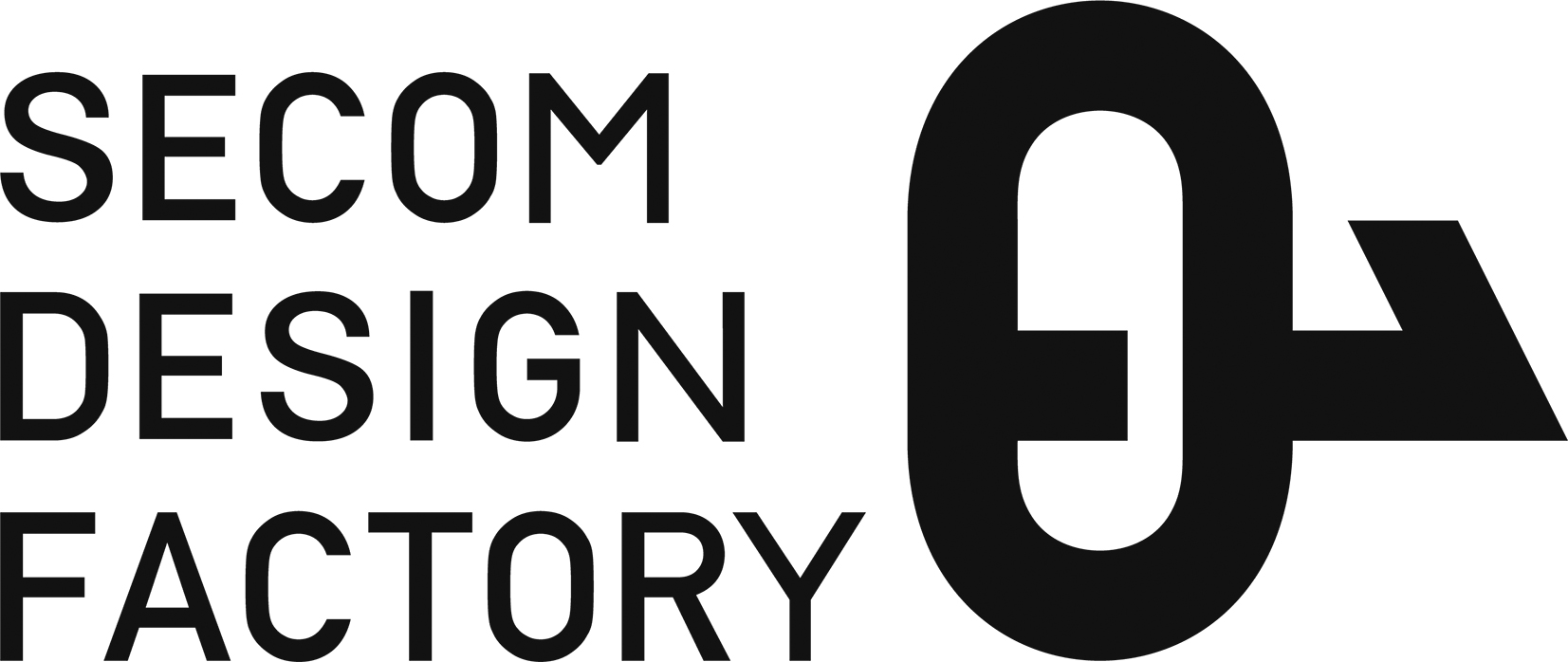 SECOM DESIGN FACTORY logo
Virtual Security Guard System: AGC × DeNA × NTT DOCOMO × SECOM
In April 2019, SECOM launched a prototype of the AI-powered Virtual Security Guard System, in collaboration with AGC Inc., DeNA Co., Ltd., and NTT DOCOMO, Inc.
The system provides a virtual security guard displayed as a 3D model on a mirror display to deliver services such as security monitoring and reception, which were previously done by static guards. This is a next-generation security system, used in combination with the skills of professional static guards to deal with situations and provide emergency responses.
When addressed by a visitor, AI performs speech recognition to determine what the speaker is saying and responds automatically with natural-sounding synthesized speech. Depending on the situation, the visitor can also speak remotely to a static guard at a monitoring desk (disaster prevention center). In case of a fire or disaster, the mirror display can also show emergency information.
As the effects of COVID-19 become more prolonged, it is becoming necessary to devise measures against the spread of infection at office buildings, which are visited by large numbers of diverse people. One such measure is to check the body temperature of visitors. In June 2020, we conducted a practical trial where our virtual security guard checked the body temperatures of visitors and requested them to wear masks. Having the virtual security guard measure visitors' body temperatures reduces the risk of infection for both visitors and security guards.
We are aiming to launch the system in 2021 as a new service that improves the efficiency of the placement of static guards and strengthens security including reception at manned facilities, while keeping costs down by enhancing the capabilities of people utilizing the latest technology.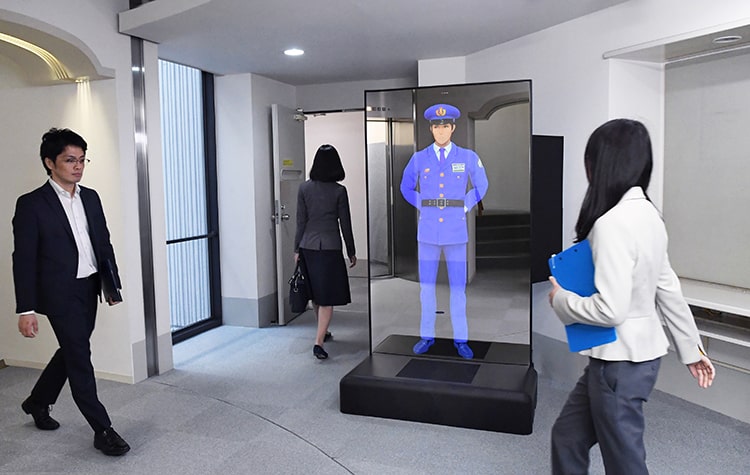 Fiscal 2019 prototype of the Virtual Security Guard System
SECOMing with aibo: Sony aibo × SECOM Home Security
In January 2019, SECOM entered into a partnership with Sony Corporation to create a service that links SECOM Home Security with the autonomous entertainment robot "aibo."
In January 2020, we began offering a service that links aibo to SECOM Home Security by combining the security know-how cultivated by SECOM with Sony's AI robotics technology and entertainment capabilities. This service utilizes aibo, with its curious nature and own emotions and desires, to create a sense of emotional security with its delightful and soothing presence.
Linking with the operation of SECOM Home Security, aibo adorably speaks to subscribers when seeing them off and when they return. When subscribers are out, they can check on their homes remotely via recordings taken by aibo. These and other features add an extra sense of security to the conventional SECOM Home Security service, providing additional entertainment and peace of mind to our customers.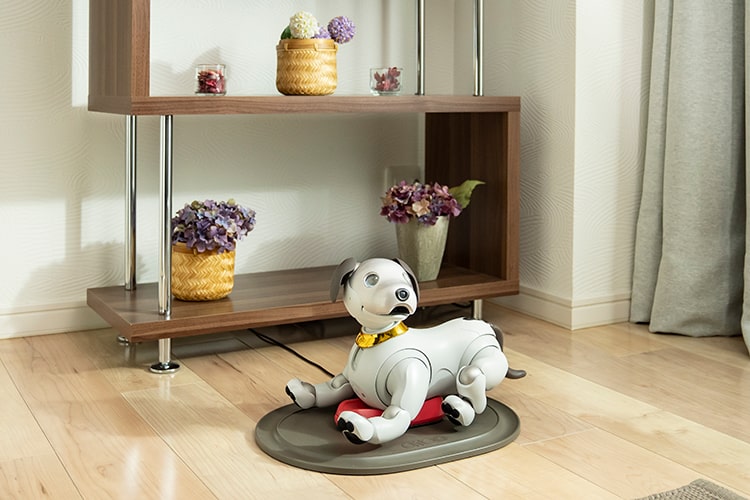 When subscribers are away, aibo charges on standby mode.
©2020 Sony Corporation
VR training program: Kadinche × SECOM
In November 2017, Kadinche Corporation and SECOM jointly developed the first training program in the security industry to use virtual reality (VR) technology. This program is currently being utilized for SECOM employee training, among other uses.
With a live-action video of total surroundings shown on a screen in a head-mounted display, this program allows users to experience and learn about topics such as evacuation guidance in a smoke-filled area and simulated use of evacuation equipment, all in a virtual environment. A greater number of employees can safely undergo training that was costly, dangerous, and had limited availability in the real world.
Subsequently, after repeated trials, in November 2019, we also developed a new application that incorporates gamification. This application features interactive security patrols and maintenance service in virtual space, adding exploratory elements inside a game and motivational elements through scoring.
We are aiming to further improve the quality of our services by enhancing the skills of every employee by pursuing more effective training programs that use the latest technologies.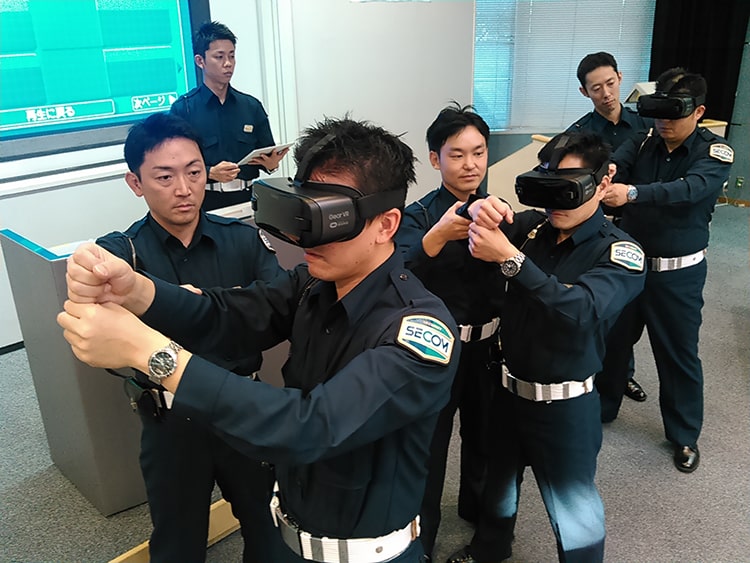 Training with head-mounted displays
Mago Channel with SECOM: Chikaku × SECOM
In January 2020, we launched Mago (grandchild) Channel with SECOM, a new service based on the concept of "joyful care," in collaboration with the IoT start-up Chikaku Inc. This new service connects SECOM's Mimamori Antenna environment sensor to Chikaku's Mago Channel, making it possible to check how grandparents are doing while also enjoying communication among family members.
Japan has become a super-aged society unlike any other in the world. As of 2018, more than 14 million households in Japan consisted only of seniors aged 65 and older. Of these households, roughly 6.83 million are single-person units (according to the Cabinet Office's "Annual Report on the Ageing Society 2020"). Building a system that prevents social isolation by enabling these households to maintain ties with their families and society is a pressing social issue.
Mago Channel allows users to send videos and photographs taken with a smartphone app directly to the televisions of parents living elsewhere, enabling seniors unfamiliar with the Internet and smartphones to enjoy the virtual experience of living together with their grandchildren through the medium of television. At the households of the children sending the videos and photos, users can use an app to check when their parents are up or in bed, and monitor indoor temperature and humidity changes, based on information from the Mimamori Antenna installed on the Mago Channel set.
This service, devised on the new idea of using IT to enjoy communication within a family while maintaining just the right distance, was the first product created by SECOM DESIGN FACTORY.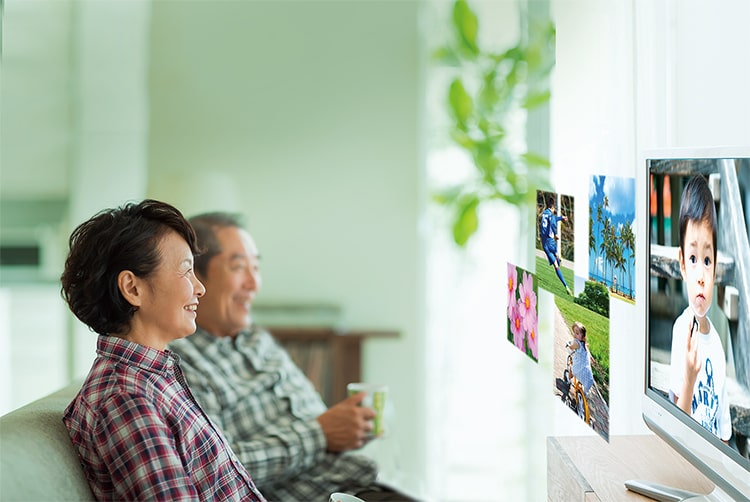 Users can enjoy videos and photographs by simply connecting the Mago Channel to the televisions they use every day.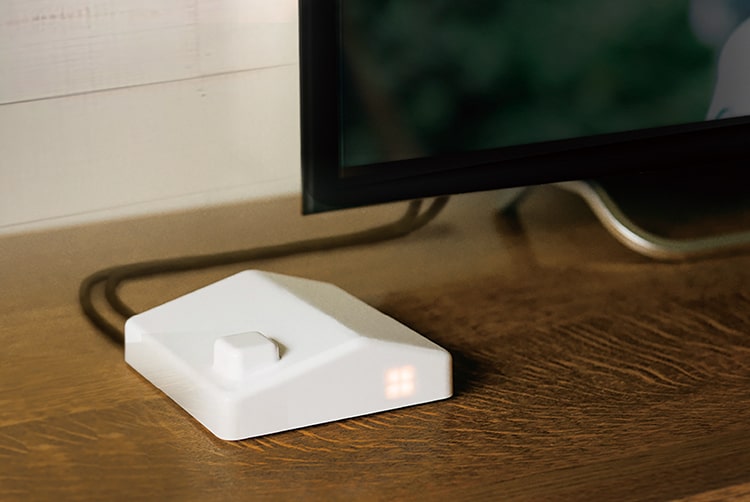 Mago Channel with SECOM set
Using AI, drones, and 5G to provide security over a wide area
Since 2017, SECOM has been advancing a variety of initiatives to utilize 5G mobile communication system technology. Leveraging a technical tie-up with KDDI Corporation, in May 2017, we succeeded in the first demonstration test to transmit video from high-definition cameras and wearable cameras.
We are also considering security operations that integrate connected robotics. In November 2018, together with KDDI and Terra Drone Corporation, and in cooperation with Saitama Stadium 2002, we completed a successful demonstration test of wide-area security in the stadium using smart drones* compatible with a mobile communication network (4G LTE) and featuring human detection functions. Then, in January 2020, we conducted a security demonstration test linking multiple drones at large facilities on and around the coast of Minamisoma City, Fukushima Prefecture.
Furthermore, we began considering security operations that combine 5G with robotics. In August 2019, together with KDDI and KDDI Research, Inc., we successfully conducted a demonstration test of security utilizing 5G around the Hanazono Rugby Stadium in Higashiosaka City, which was a first in Japan. One feature of 5G is high-speed, high-volume communication. Taking advantage of this feature, the experiment made full use of functions such as high-definition video surveillance with 4K cameras, wide-area surveillance from the air and land with smart drones and the SECOM Robot X2, and automatic detection of irregular movement with movement analysis technology made possible by proprietary AI technology developed by KDDI Research. We are currently working to commercialize this system, with the goal of creating a more efficient, high-quality security service that better optimizes the division of labor between people and systems.
Smart drone: A drone that operates safely over longer distances with KDDI's communication network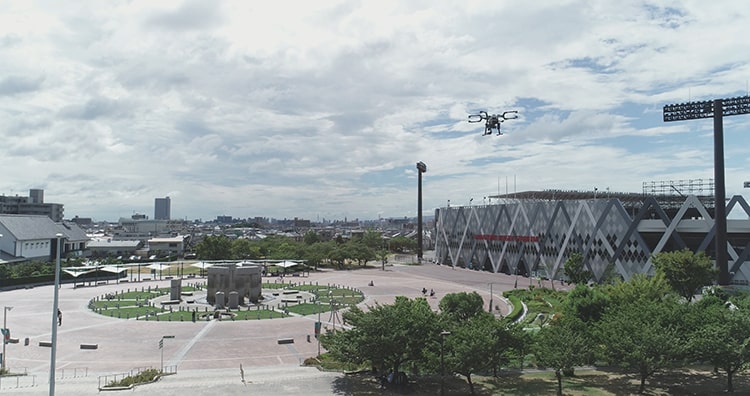 Demonstration test at Hanazono Rugby Stadium in Higashiosaka City