SECOM Group's Vision for 2030
In May 2017, SECOM formulated the SECOM Group's Vision for 2030 in order to further accelerate the Social Systems Industry amidst the major changes in the external environment and the increasing uncertainty existing today.
SECOM Business Principles (source of competitive power)
We see our mission as being to help achieve a society free from concerns. Accordingly, throughout our history we have sought to create services and systems that benefit society as a whole.
In 1989, we declared our commitment to the Social System Industry. We continue to promote bold initiatives with the aim of realizing this vision. Our Social System Industry vision describes a framework of innovative and integrated services and systems that deliver safety, peace of mind, comfort and convenience.
Currently, the SECOM Group operates seven business segments: security services, fire protection services, medical services, insurance services, geospatial information services, BPO/ICT services, and real estate. SECOM has expanded into 18 countries and territories. Through an ALL SECOM (aggregating the total group power) concept, we are working to construct the Social Systems Industry.
Achieving our mission depends on our values being understood and shared by all employees. Since our establishment, we have emphasized shared ideas and principles of conduct among the entire organization and all employees that guide everything to do and have nurtured a uniquely SECOM identity that remains crucial to our competitive edge.
Three elements of corporate philosophy
Mission (Our role and raison d'être)="achievement of a society free of concerns"
Vision (Our ideal view of SECOM in the future)="commitment to the Social System Industry"
Value (Our shared beliefs and guiding principles)= "uniquely SECOM identity"
Formulation of the SECOM Group's Vision for 2030
Operating in an environment characterized by dramatic change and mounting uncertainty, we recognize the importance of each employees to have the ability to form judgments and act independently. We have defined the management policy of "seeking flexible and strong sustainable growth through 'managerial mindset among all employees' originating from employee satisfaction."
As a compass for further clarifying the specific direction to be taken by SECOM based on business principles when implementing the "managerial mindset among all employees," we formulated the SECOM Group's Vision for 2030, which positions 2030 as an important milestone, in May 2017. This Vision targets 2030 as one important year.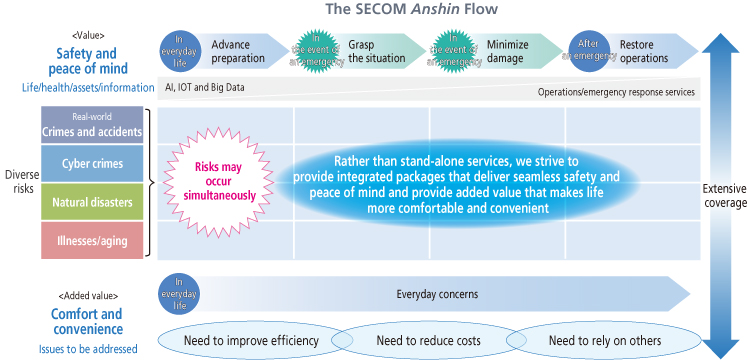 Guided by the SECOM Group's Vision for 2030, SECOM seeks to create the ANSHIN Platform, which is a service platform anchored in the relationship of trust that SECOM has cultivated with society, in collaboration with partners who share SECOM's philosophy. SECOM will continue striving to keep abreast of—or where possible to anticipate—social change, thereby ensuring its ability to provide enduring peace of mind. To this end, we remain committed to evolving and improving.
We will continue working to strengthen our relationship with society and to help address diverse social imperatives. In so doing, we seek to grow together with society.