Initiatives for "Co-creation" through Open Innovation
SECOM is strategically collaborating with partners who share SECOM's philosophy and accelerating open innovation aimed at creating new services that respond to the diversifying needs of society.
SECOM's approach to Open Innovation
SECOM creates new services to help achieve a society in which anyone can live with safety and peace of mind. Recent social environments have been changing at an amazing rate, and the concerns, issues, and needs of society are becoming ever more diverse. To launch a larger number of solutions rapidly in this situation, actively combining ideas and technologies from both inside and outside SECOM is essential. To accelerate the creation of services that meet these increasingly varied concerns, SECOM, in 2015, established the Open Innovation Team, which searches for social issues and collaborates with other companies.
The concept of open innovation originally relied on the perspective of exchanging seed technologies* across organizational lines to improve the efficiency of research and development. However, in addition to utilizing this concept, SECOM is engaging in activities that focus on the perspective of services. In particular, we place importance on how society will change and what the individual values of people and the desires and expectations of communities will be in the future. To gain insights into these areas, we hold SECOM Open Labs as a springboard for open innovation activities to discuss the future of society with numerous parties across business fields and industries, while visualizing issues and expectations from diverse perspectives.
In SECOM Open Labs, we visualize the insights or various values gained by sharing the participants' ideas regarding challenges and release the results on our website. Amid the growing uncertainty of recent times, these results are released publicly to encourage their use throughout society to address new challenges faced by society and people in their daily lives. Case studies are presented not only from SECOM but also from the study participants. In innovation, it is important to maintain a problem solving-oriented focus and to come in contact with mindsets different from one's own. The process of connecting with diverse mindsets leads to new discoveries and serendipity.
Seed technologies: Technologies essential for developing and creating new business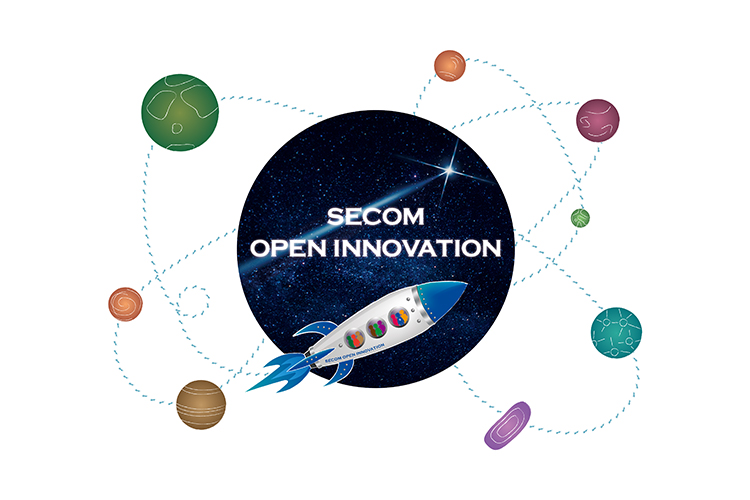 The SECOM Open Innovation symbol, which uses planetary exploration to represent the search for unknown challenges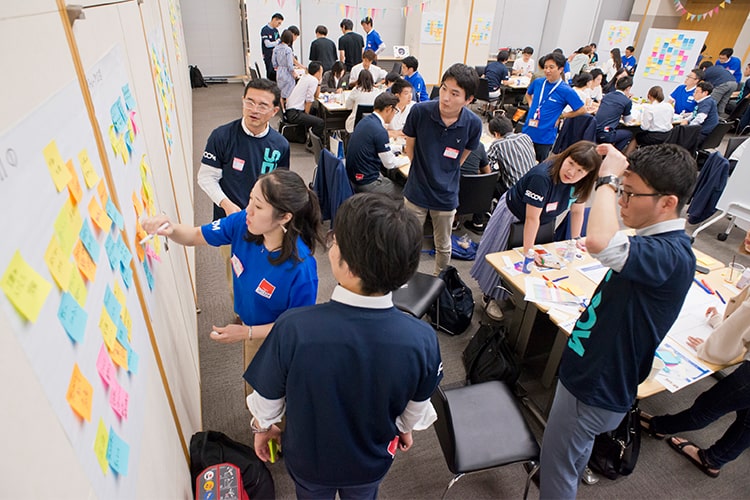 SECOM Open Lab deliberation regarding the future of society
Promoting Open Innovation
The Open Innovation Team utilizes SECOM Open Labs as opportunities to discover needs and signs of the future. Team members link these discoveries to hypotheses derived from field visits and data, verify them, and confirm their value. Through this cycle, they work to create new services for resolving concerns in response to requests from society.
SECOM Open Labs are held periodically, about four times a year, with each session focusing on a different theme. People from related fields participate and engage in discussions with the aim of visualizing values and challenges toward creating new value. Themes so far have included "Products, Services, Reasons in the Age of 60 Million Foreigners Visiting Japan," "The Future Created by Mapping—The Ups and Downs of Using Positioning Information," and "Assets and Trust in the Digital Era." Over 1,700 people have participated so far.
Major initiatives in fiscal 2019 included a stage presentation and exhibition booth at CEATEC 2019, one of Asia's largest international forums, which was held in October 2019. Titled "2030 Resonance Mapping," this initiative focused on the generation of students who will lead the future in the era of Society 5.0*.
The exhibition booth had 14 panels that presented ideas from the 16th SECOM Open Lab, held in September 2019 with the theme "Investigating New Common Sense of Society and Daily Life in 2030 with #Generation Z." Visitors voted on the panel idea that most resonated with them, and generational differences in values were visualized.
Society 5.0: A concept of future society proposed by Keidanren (Japan Business Federation). Also called the "supersmart society," it is powered by digital technologies such as big data analytics, artificial intelligence, the Internet of Things, and robotics.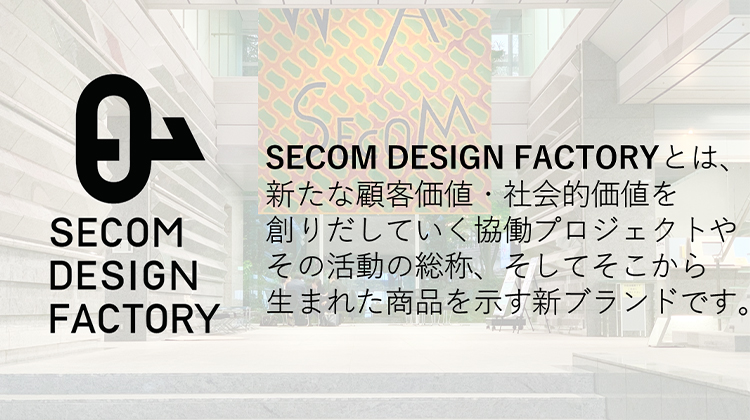 SECOM DESIGN FACTORY, a brand that challenges and goes beyond associations with the SECOM brand's current image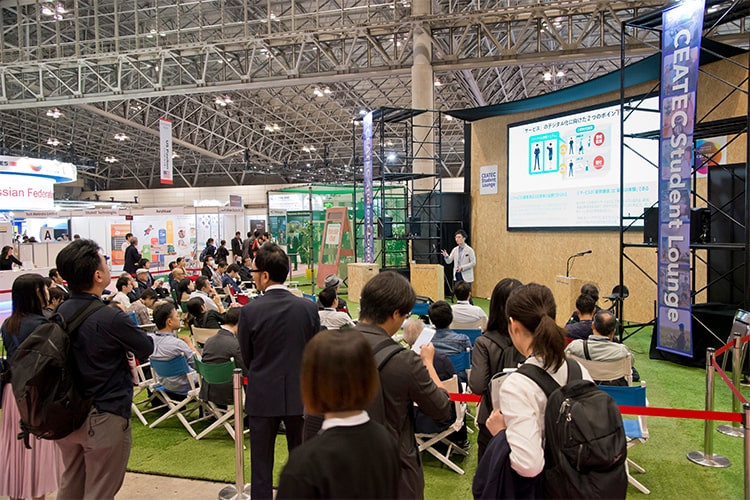 Stage presentation at CEATEC 2019
Initiatives for the "new normal"
In June 2020, we held our first live online SECOM Open Lab, "Fireside Chat: Outlook of Services of the 2020s," as a reflection of the "new normal" trend created by the COVID-19 pandemic, which began in late fiscal 2019. In this innovative event, YouTube LIVE was utilized to present speakers' fireside chats, while SECOM Open Innovation Team members visualized these discussions and comments from viewers on a virtual whiteboard*. The use of a workshop format with a virtual whiteboard, rather than a web seminar, drew the interest of a great number of viewers.
In addition, as many people have recently been refraining from going out, our Mago Channel with SECOM service meets new lifestyle needs such as providing online visits to homes and watching over family members living apart. This service received the Grand Prize in the App Category of the Diversity TOKYO App Awards, organized by the Tokyo Metropolitan Government. In May 2020, in collaboration with Tokyo's Shibuya Ward, a limited number of Mago Channel with SECOM devices were provided free of charge to Shibuya residents, to support communication within families when people are refraining from going out. Regarding services that are currently under development, we are also carrying out other initiatives related to the "new normal," such as our demonstration test in June 2020 of our Virtual Guard System for dealing with persons with a fever.
We disseminate information to society about such things as the joint development of new services, demonstration testing with various companies, and other specific measures through open innovation news on the SECOM Open Innovation website.
Virtual whiteboard: A whiteboard in virtual space that users can attach notes to and write on freely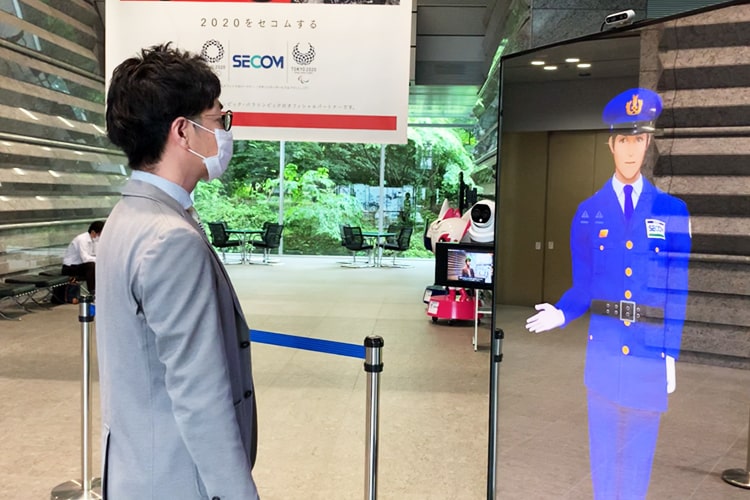 June 2020 demonstration test of the use of the Virtual Guard System for dealing with persons with a fever
Other initiatives
Participated as a supporter company for the program "J-Startup," promoted by the Ministry of Economy, Trade and Industry together with JETRO (Japan External Trade Organization) and NEDO (New Energy and Industrial Technology Development Organization) to support domestic startups
Conducted a security demonstration test linking multiple drones at large facilities on and around a coastline, in collaboration with KDDI Corporation and Terra Drone Corporation
As a special event of SECOM Open Lab, participated in "CAREER INTERCOLLEGE 2019," the biggest university student business contest, sponsored by Mynavi Corporation with the theme "Potential Problems in 2030"
Collaborated in a demonstration test utilizing robots to improve operational efficiency at Haneda Airport during the "Tokyo Robot Collection," organized by the Tokyo Metropolitan Government