A Message from the Director in Charge of Sustainability
Toward a sustainable future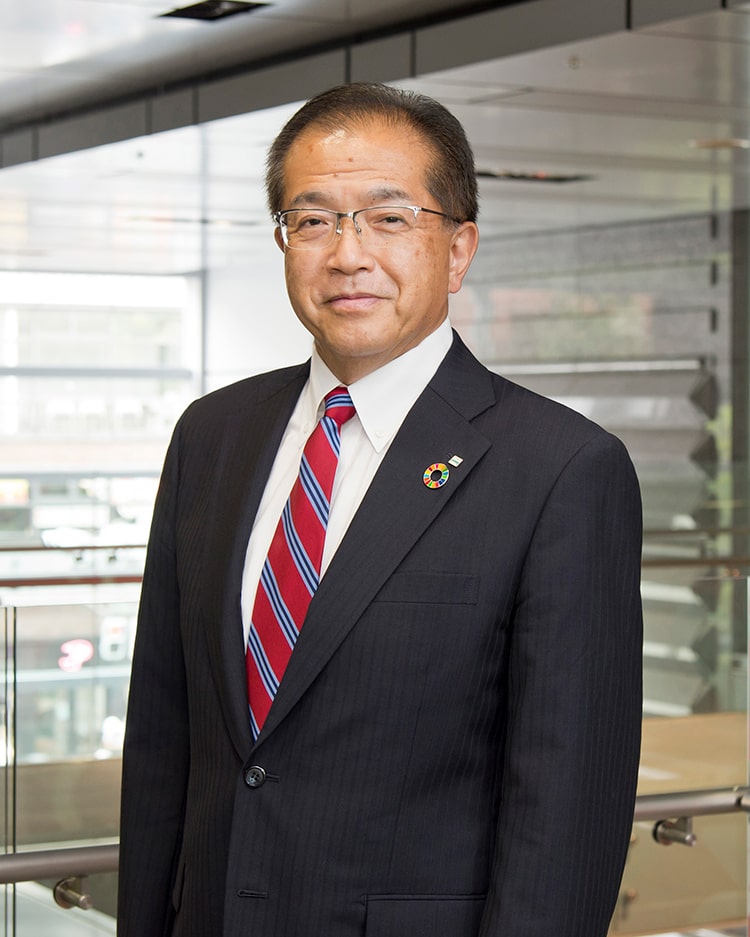 Tatsushi Kurihara
Director, Head of General Affairs & Human Resources Division, SECOM CO., Ltd.
Since SECOM's founding, we have conducted business with a commitment to ensuring that our actions benefit society, aiming to encourage customers with security concerns to think "When I need help, I ask SECOM." In the mainstay security services business, our approach to protecting the valuable assets of the people responsible for Japan's economic growth earned broad acceptance early on, creating the foundation for evolving into the SECOM of today. Now we once again face the question of whether SECOM is doing what truly benefits people. Owing to various factors, including the maturing of the Japanese economy, advances in artificial intelligence (AI) and the Internet of Things (IoT), and workstyle reforms, society's values and our customers' concerns are growing increasingly diverse. Is our response adequate? At the same time, do our business activities satisfy the codes of conduct as a corporate citizen? These are the two central challenges that we must address.
SECOM's key sustainability initiatives in fiscal 2019 were as follows.
Establishment of the Sustainability Promotion Office
To further strengthen and integrate sustainability initiatives as an integral part of corporate strategy, in October 2019, we established the Sustainability Promotion Office. We also inaugurated a working group that functions as a cross-organizational body, assembling diverse in-house expertise to examine SECOM's approach to sustainability-related issues.
The working group spearheaded efforts to analyze and consider issues of primary importance to both society and SECOM, initiatives that we have summarized as six priority materiality themes.
Priority materiality themes
Formulated in 2017, the SECOM Group's Vision for 2030 sets forth four core strategies: "ALL SECOM," "Collaboration," "Connection," and "Enhanced value."
While our six priority materiality themes―"Customer-oriented services," "Leveraging advanced technologies and partnerships," "Employee self-realization and diversity," "Fair corporate activities and respect for human rights," "Decarbonization and a recycling-based society," and "Coexisting with local communities"―are challenges that we have consistently sought to address through our operating activities, the achievement of our vision for 2030 necessitates the further concentration of energies.
Related efforts are gradually yielding positive results. For example, for "Leveraging Advanced Technologies and Partnerships," we are capitalizing on technological innovations in such areas as AI, robotics, drones, and 5G mobile communications, have entered into partnerships that go beyond corporate boundaries. As a result, we have facilitated the launch of multiple new services that are helping address social issues such as the super-aging of society and the decreasing labor force.
SECOM's sustainability report
The annual sustainability report is released with the aim of presenting clear information on the SECOM Group and its environmental, social, and governance (ESG-related) initiatives for stakeholders, including customers, shareholders, employees and their families, students, and the communities in which we operate.
With the conclusion of the Paris Agreement, adopted in 2015, and the Task Force on Climate-related Financial Disclosures (TCFD)'s announcement of its framework of recommendations in 2017, among others, companies are increasingly expected to contribute to the realization of a sustainable society and the resolution of ESG-related issues, as well as disclose related information. In response, we are working to broaden our initiatives, enhance the scope of our disclosure, and expand easy-to-understand explanations of SECOM's vision and its core strategies. It is my hope that stakeholders will continue to share their views and ideas with us on these and other challenges.