A Message from the President
Striving to achieve further growth by contributing
to the realization of a sustainable society
Responding to the spread of COVID-19
With COVID-19 continuing to spread, the global outlook remains uncertain. We would like to express our sorrow at the loss of life and to extend our deepest sympathies to all those who have suffered illness or been affected by the pandemic's immense impact on social life and corporate activities.
While this is the first time we have had to confront an infectious disease that has spread worldwide, we have responded by giving priority to the health and safety of our employees and their families, taking decisive steps—including implementing measures to curb infection—that ensure our ability to deliver SECOM Group services to customers around the clock. Despite the challenges of the current situation and the lack of clarity about the future, we pledge to continue working daily to effectively manage risks as a company dedicated to providing customers with safety and peace of mind.
Delivering enduring peace of mind to future generations
The pace of technological innovation today is remarkable. We are in the age of artificial intelligence (AI) and the Internet of Things (IoT). The businesses of our customers are evolving dramatically, as are people's lifestyles, trends that have been accelerated by the spread of COVID-19 and the sharp increase in teleworking. Socioeconomic changes are transforming the nature of the services sought by customers. In addition to the rapid expansion of business methods that leverage information and communications technologies to facilitate interaction, we expect that it will become possible to confirm the safety of customers' offices and homes remotely, rather than depend on face-to-face contact. Against this backdrop, we expect to see rising customer expectations in the area of information security, including precautions against cybercrime.
Recent years have also seen an increase in the frequency of natural disasters such as large-scale forest fires and heavy rain around the world. In 2019, Japan experienced a huge typhoon that caused widespread damage, while the country saw massive flooding in Kyushu and one of the strongest typhoons ever reported in 2020. In August, the country had record-high temperatures in multiple locations, further underscoring the significant impact of climate change.
Throughout its history, SECOM has worked to create essential services that provide safety and peace of mind, as well as make life more comfortable and convenient, whenever and wherever necessary, for anyone and everyone. Having always seen our duty as helping achieve a society free from concerns, we will continue working to deliver seamless safety and peace of mind. As a corporate citizen, we recognize that we must fulfill our responsibilities as a member of society through our business activities, while at the same time doing as much as we can to minimize our impact on the environment. In line with the United Nations' Sustainable Development Goals (SDGs) for 2030, we will continue working to reduce our greenhouse gas emissions.
At SECOM, our mission is to be a company capable of delivering enduring peace of mind far into the future, not only until 2030, for our children, grandchildren, and generations beyond.
Focused investment in technological advances and collaboration with partner companies
To further clarify the sort of organization we want SECOM to be in 2030, in 2017, we formulated the SECOM Group's Vision for 2030. Seeing 2022 as a particularly critical juncture, in 2018, we devised the SECOM Group Road Map 2022, which identifies technological advances and a decreasing labor force as priority issues that must be addressed to achieve this vision.
During the investment phase of the SECOM Group Road Map 2022, which began in 2018, we are actively promoting focused investment aimed at building new security service core systems, as well as introducing AI, the IoT, and robotic process automation. By leveraging novel technologies, we are endeavoring to create and nurture new businesses, as well as expanding existing businesses, and improving productivity to reduce the workload of front-line staff, who give life to our services.
At the same time, we are pursuing open innovation through strategic collaboration with partner companies that share our philosophy to hasten the development of new services that resolve customers' concerns and respond to increasingly diverse needs. Rather than simply seeking to bolster the efficiency of technological development, our approach emphasizes services. Accordingly, we will continue to work with companies in various businesses and industries, promoting discourse about the future direction of society and implementing diverse initiatives.
In December 2019, we established the SECOM DESIGN FACTORY brand, which will be used for strategic and experimental projects undertaken with partners that seek to create new value. SECOM DESIGN FACTORY projects to date have yielded the Mago ("grandchild") Channel with SECOM, a new service based on the concept of "joyful care," and a service linking SECOM Home Security with Sony Corporation's aibo autonomous entertainment robot. Another project is the AI-powered Virtual Security Guard System, which features a virtual character who performs security guard duties and receptionist duties, scheduled for launch in 2021.
The expansion of our overseas businesses, which are expected to see high economic growth going forward, is another key strategic challenge. In 2019, we launched projects in China and Thailand aimed at developing systems suited to local needs that make use of advanced overseas technologies, and established the China Innovation Center in Shanghai. To accelerate the size of our overseas footprint, we are working to reinforce relations with local suppliers and provide services tailored to local needs that deliver safety and peace of mind. We currently extend security services to 13 countries and territories, including Turkey, where we recently established a presence.
Fulfilling our responsibilities as a global corporate citizen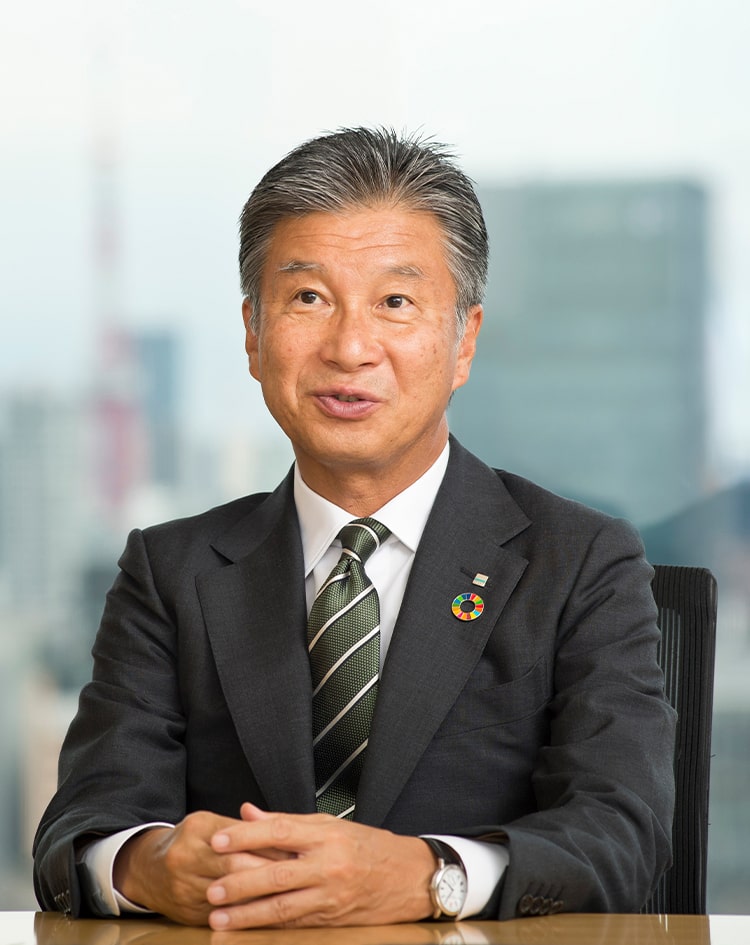 Enhancing our corporate social responsibility (CSR) initiatives is also key to our ability to expand our businesses in Japan and overseas. We are a signatory to the United Nations Global Compact and have pledged support for the Ten Principles of the UN Global Compact, which are classified into the four categories of "Human Rights," "Labor," "Environment," and "Anti-corruption." Overseas, we work not only to ensure compliance with the laws and regulations of each country and territory in which we operate, but also to conduct our operations responsibly and appropriately as a global enterprise.
In response to the Paris Agreement, we have set medium- and long-term greenhouse gas emission reduction targets for 2030 and 2050. To ensure these targets are met, we will promote decisive decarbonization efforts, including adopting next-generation vehicles and expanding the use of energy from renewable sources.
In July 2019, we declared our support for the Task Force on Climate-related Financial Disclosures (TCFD), vowing to proactively disclose information on the financial impacts of risks and opportunities associated with climate change in line with TCFD recommendations. We have also joined Japan's TCFD Consortium, an initiative established with the backing of the Ministry of Economy, Trade and Industry and the Ministry of the Environment, among others.
In 2020, we identified the materiality themes that we must address to achieve sustainable growth both for ourselves and society, using the results of a self-evaluation that took into account the core themes of ISO 26000, the International Organization for Standardization's standard for social responsibility, and the views of stakeholders. These will serve as a foundation for reinforcing our efforts to address environmental, social, and governance issues and enhance related disclosure.
Looking ahead, we will continue to place a priority on maintaining a strong relationship and encouraging dialogue with our various stakeholders, both of which are important to our ability to address social issues and our ability to grow together with society.