SECOM Group Business Areas
SECOM was established in 1962 as Japan's first security services company. In 1989, the SECOM Group declared our commitment to the Social System Industry, in line with our mission of helping achieve a society free from concerns. Our Social System Industry vision describes a framework of innovative and integrated services and systems that deliver safety and peace of mind, as well as make life more comfortable and convenient.
Currently, the SECOM Group operates in seven business areas: the primary security services, fire protection services, medical services, insurance services, geospatial information services, BPO*1 and ICT*2 services, and real estate and other services. SECOM has expanded into 17 countries and territories. We are implementing the ALL SECOM concept (aggregating the entire Group's power) for combining these businesses to develop and provide unique services and systems that help achieve a society in which anyone can live with safety, peace of mind, comfort, and convenience, whenever and wherever.
BPO: Outsourcing of business processes to outside companies
ICT: Information communication technology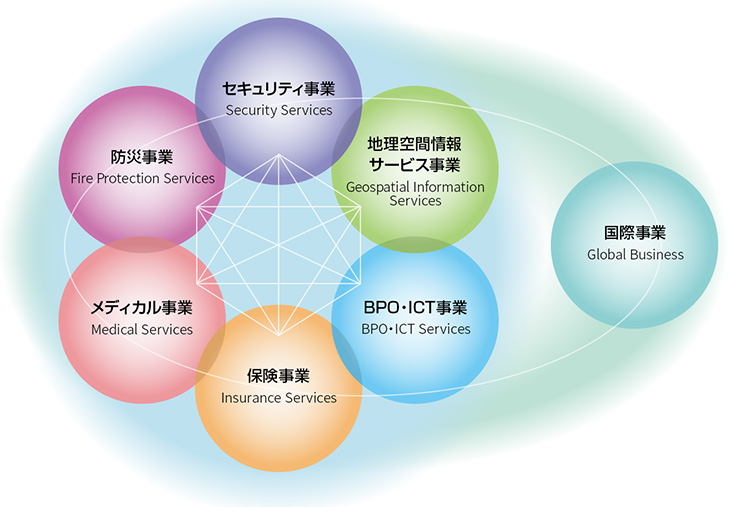 <MISSION>
Help achieve a society free from concerns
<VISION>
Realize the Social System Industry
<VALUES>
A uniquely SECOM identity (Philosophy, code of conduct, organizational culture, etc.)
Business segments and greenhouse gas emissions
While the SECOM Group is focused on its business activities, it is also dedicated to environmental conservation activities addressing environmental issues, such as those regarding global warming, which are becoming increasingly serious.
The main security services segment, which accounts for 53.7% of our net sales, utilizes many vehicles, and vehicle fuel and office electricity each account for roughly half of the CO2 emissions in this business segment. Therefore, we are promoting environmental conservation activities centered on the two wheels of "Eco-friendly vehicles" and "Eco-friendly offices."
The BPO and ICT services have the next highest CO2 emissions. Significant power usage is associated with operation of air-conditioning equipment for data center services, which store important customer data 24 hours a day, 365 days a year. Therefore, reducing CO2 emissions by improving energy efficiency while maintaining data redundancy for back-up is an important issue.
The medical services, fire protection services, insurance services, and real estate and other services business segments account for a relatively small percentage of our overall CO2 emissions with respect to net sales, and can be considered as business segments with small environmental impacts.
Going forward, we are working to implement Groupwide environmental measures to prevent an increase in CO2 emissions, in conjunction with the growth of our business.
Overview of business segments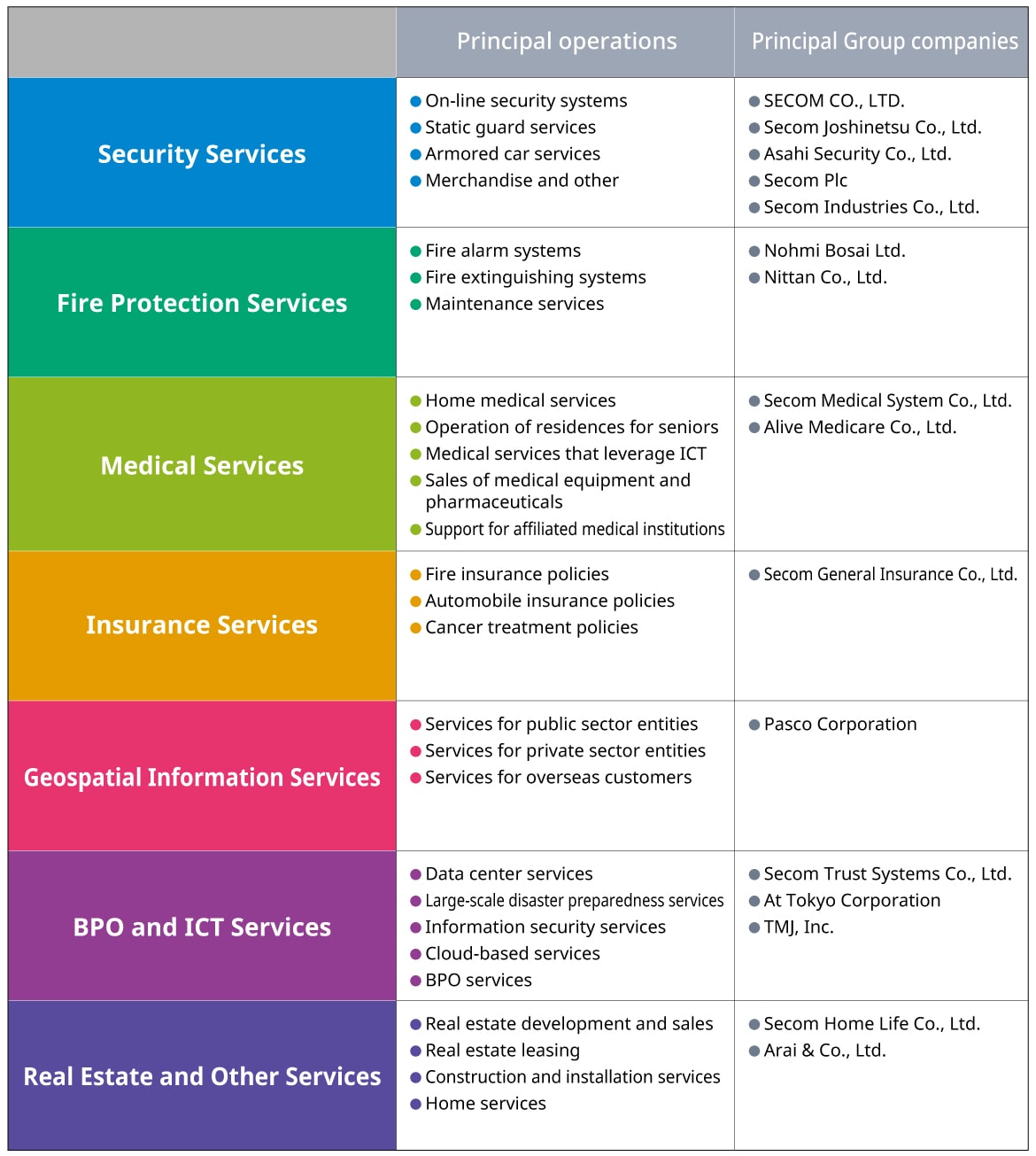 Breakdown of net sales
(fiscal year ended March 31, 2020, excluding intersegment transactions)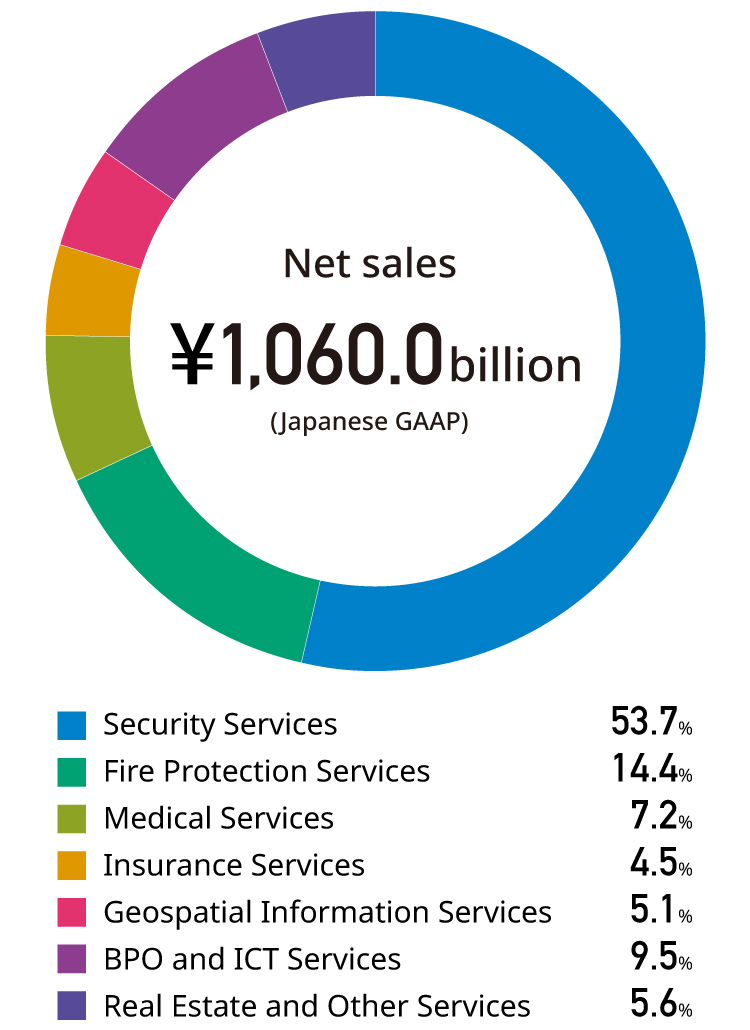 Percentage of CO2 emissions
(fiscal year ended March 31, 2020)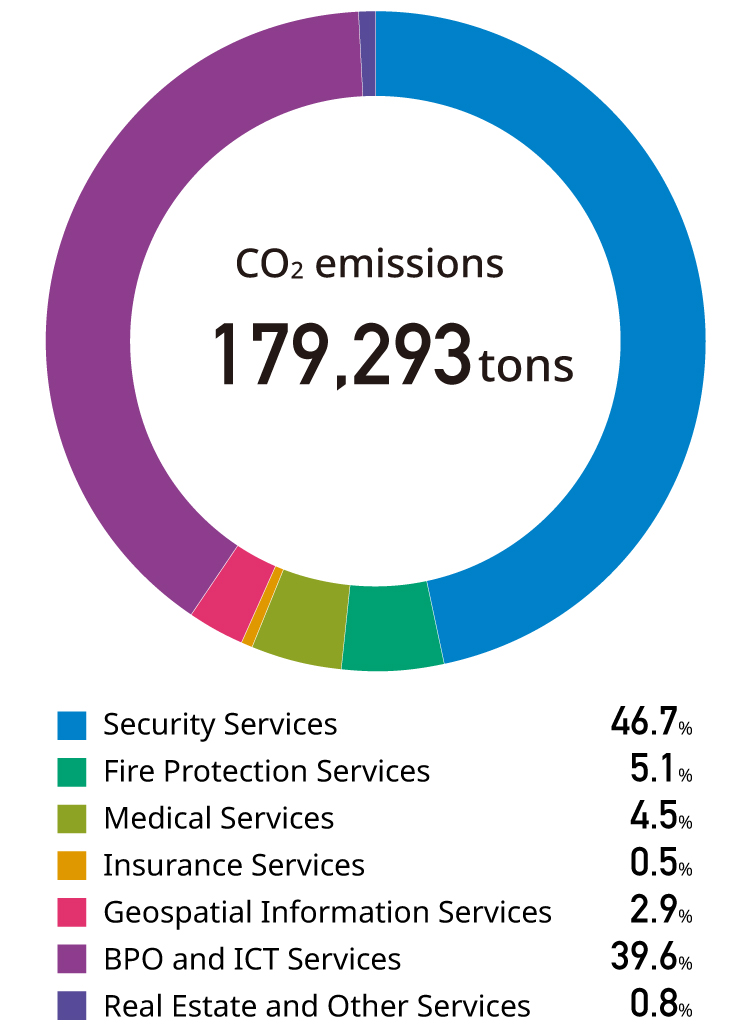 SECOM Group's service system and performance record
SECOM provides comprehensive services to address risks that threaten safety and peace of mind in daily life, which are: "incidents and accidents," "cybercrimes," "natural disasters," and "illness and aging."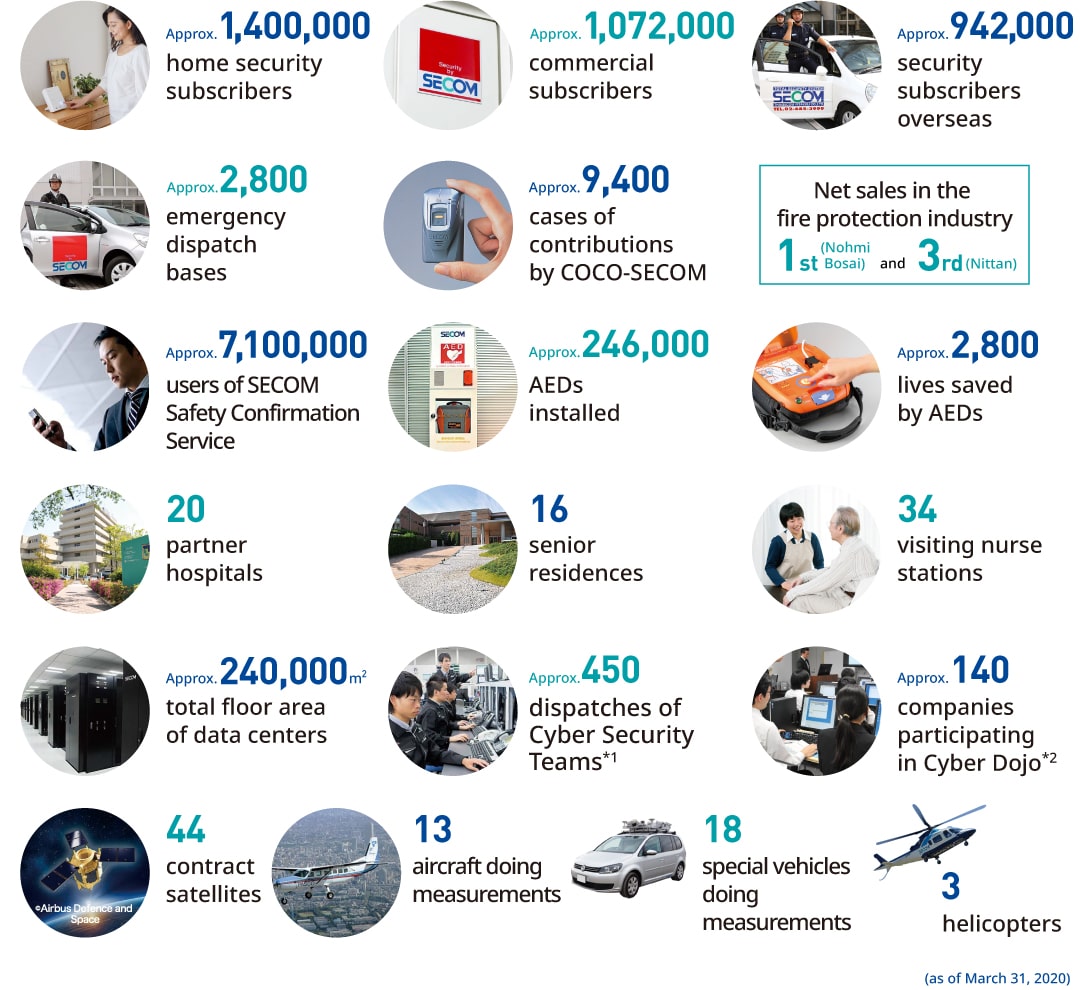 Cyber Security Team: SECOM's expert team that makes emergency responses to cyber security issues.
Cyber Dojo: Training program for practical study using actual computers to experience techniques used in cyber-attacks.