Supporting Disaster Relief
Disaster relief support and disaster prevention activities
SECOM's disaster area support efforts
SECOM is coordinating with local governments, NPOs, and volunteer groups to provide various types of support in areas affected by wide-ranging disasters such as earthquakes and torrential rain, which has become more frequent in recent years.
April 2016: Areas affected by the Kumamoto Earthquakes
Providing AEDs to common rooms/meeting places of temporary housing and holding workshops on AED use, providing SECOM My Doctor Plus (an emergency response service for the elderly) to residents of temporary housing and post-disaster public-funded rental accommodations, and providing security cameras to disaster areas in long-term evacuation zones, etc.
July 2017: Areas of northern Kyushu affected by torrential rain
Installing lockers with combination locks for storing personal items at evacuation shelters, providing AEDs to meeting places of temporary housing, and holding workshops on AED use
July 2018: Areas of western Japan affected by torrential rain
Making monetary donations, providing AEDs to common rooms/meeting places of evacuation centers and temporary housing, implementing support via SECOM My Doctor Watch for victims of elderly households affected by disasters, and providing volunteer leaders who oversee support activities in disaster areas (to manage safety for conditions such as heat stroke)
September 2019: Areas mainly in Chiba Prefecture affected by the Boso Peninsula typhoon
Making monetary donations
July 2020: Areas in Kyushu affected by torrential rain
Providing AEDs to disaster relief NPOs in Oita Prefecture and meeting places of temporary housing in Kumamoto Prefecture, as well as holding workshops on AED use
Workshops on AED use
We provided support by conducting workshops on AED use across Japan. We offered long-term support by holding a total of 40 workshops at temporary housing sites in Kumamoto Prefecture, which was struck by two consecutive earthquakes measuring 7 on the Japanese seismic intensity (shindo) scale in April 2016. We will continue to provide support based on relationships of trust with members of the community, doing our utmost to contribute to local communities by actively holding these workshops.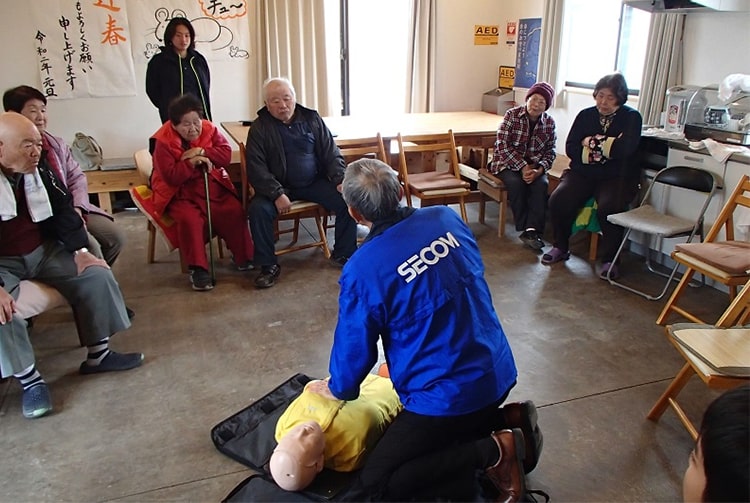 A workshop on the need for AEDs and how to perform cardiopulmonary resuscitation (January 2020: Komori temporary housing site, Nishihara Village, Kumamoto Prefecture)
Cooperation with volunteer fire corps activities
Volunteer fire corps are the core of local disaster prevention. However, in recent years, the number of corps members has been decreasing throughout Japan and there is concern about a decline in the disaster prevention ability of local communities. In order to improve these conditions, SECOM actively cooperates in volunteer fire corps activities aimed at heightening the disaster response capability of local communities even in ordinary times.
For employees who belong to local volunteer fire corps, SECOM adjusts their work duties to be flexible to promote active participation in fire-related activities, training, and other events, even during ordinary working hours. Throughout Japan, more than 130 SECOM employees participate in such activities.
In addition, the SECOM head office and many regional offices have been certified as "an office cooperating with volunteer fire corps" by local fire departments for participating actively in the activities.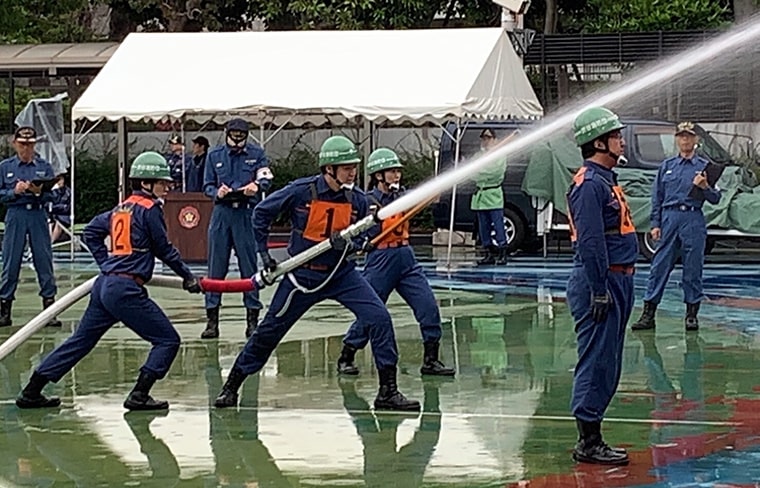 More than 130 employees participate in fire corps activities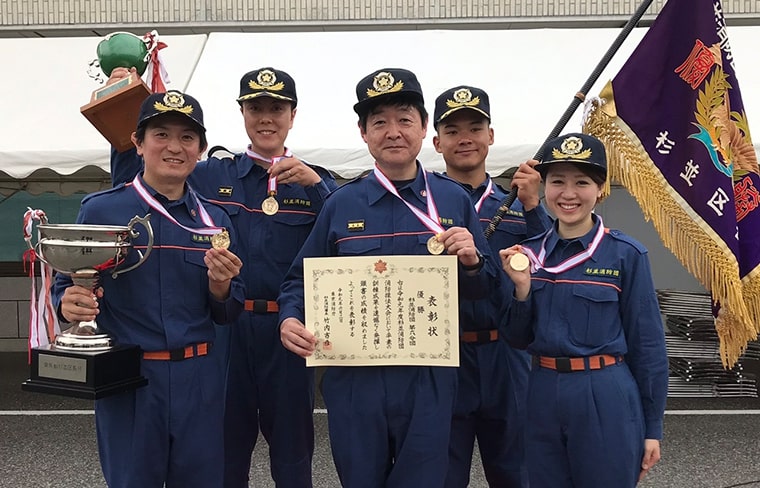 Winners of the 2019 Suginami volunteer fire corps pump-handling competition
Participation in "Michi-no-Eki" relay disaster-prevention seminars
SECOM supports efforts being made by Japan's "Michi-no-Eki" (roadside rest areas) to enhance the functions they offer in a disaster. We participated in a regional revitalization symposium to commemorate the 25th anniversary of the establishment of Michi-no-Eki and take part in relay disaster-prevention seminars throughout Japan.
Michi-no-Eki are facilities that individual cities, towns, and villages register with the Ministry of Land, Infrastructure, Transport and Tourism with the aim of providing safe, comfortable road transport environments to road users while stimulating local economies. With over 1,100 locations nationwide, these facilities offer such things as parking spaces and restrooms that can be used 24 hours a day free of charge, as well as information-sharing functions that provide descriptions of roads and sightseeing places, and community collaboration functions, including those for cultural and sightseeing facilities. In addition to these roles, the facilities are now expected to perform disaster-prevention functions.
For this mission, Michi-no-Eki relay disaster-prevention seminars have been held since March 2019 at Michi-no-Eki nationwide, including locatons that have experienced disasters, using a relay approach. SECOM has had exhibition booths since the first seminar, held in Tokamachi City, Niigata Prefecture, and works to provide attendees with information on disaster prevention.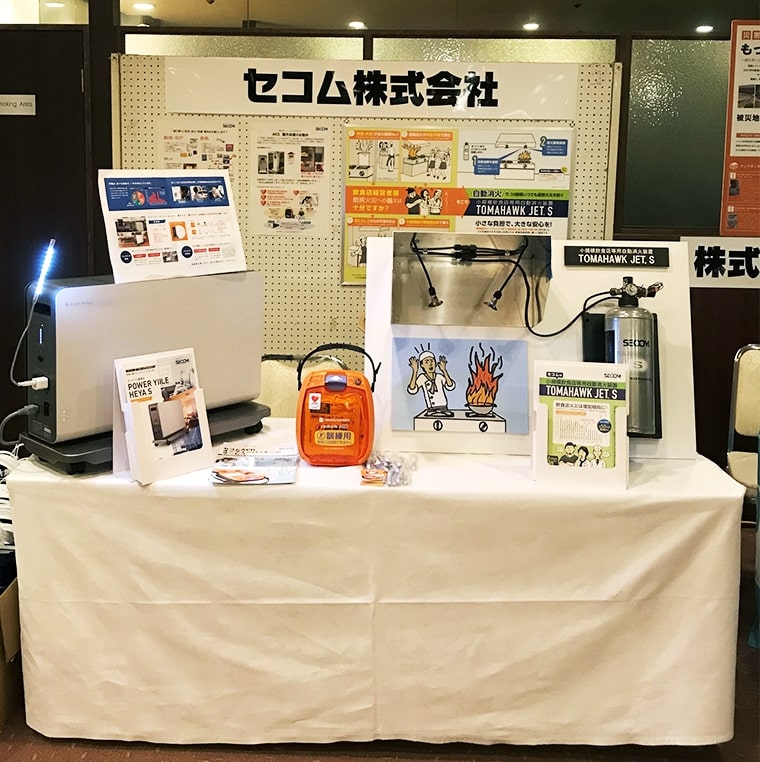 Exhibited at a Michi-no-Eki relay disaster-prevention seminar (January 2020, Mihara City, Hiroshima Prefecture)
Pasco's activities to support disaster recovery
Pasco Corporation is a SECOM Group company that provides geospatial information services. Pasco utilizes spatial information technology to support national resilience through various forms ranging from preliminary measures such as risk assessment for natural disasters and creation of disaster-preparedness plans and hazard maps to support for reconstruction/recovery. Moreover, at the time of large-scale natural disasters, Pasco uses satellites, aircraft, etc., to quickly ascertain and analyze disaster conditions, as well as to provide information to local governments, national government agencies, and other related organizations that implement disaster measures.
At the time of the Kumamoto Earthquakes in 2016, Pasco cooperated with related organizations through supports such as taking aerial photographs to assess disaster conditions and performing recovery measurement for geodetic reference points required for disaster recovery projects. In recognition of these supports, in April 2017, Pasco received three certificates of gratitude as an "outstanding contributor to disaster countermeasures" from the Director General of the Geospatial Information Authority of Japan (GSI), part of the Ministry of Land, Infrastructure, Transport and Tourism.
In addition, after Typhoon Faxai and Typhoon Hagibis in fiscal 2019, Pasco used satellite image analysis to assess landslide damage from torrential rain throughout Gunma Prefecture and mountainous areas in western Saitama Prefecture, as well as land collapses in Tochigi Prefecture and Ibaraki Prefecture. For these disaster countermeasures, Pasco received certificates of gratitude from the Tone River System Sabo Work Office and the Nikko Sabo Office of the Kanto Regional Development Bureau, Ministry of Land, Infrastructure, Transport and Tourism.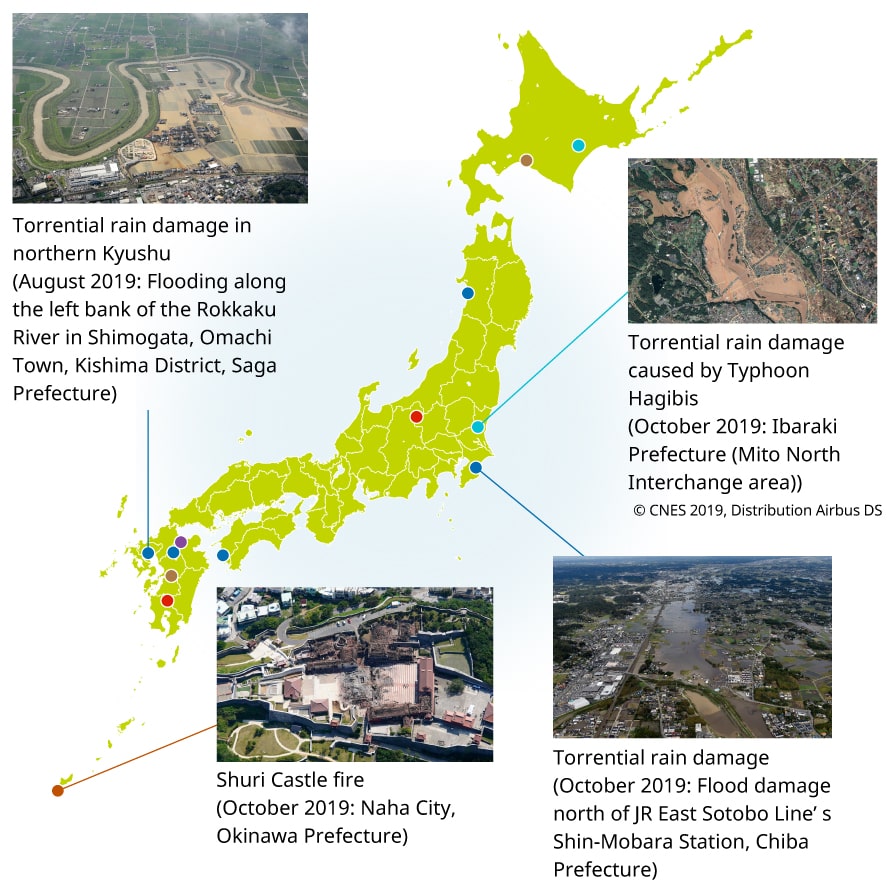 Earthquake

April 2016: Damage caused by Kumamoto Earthquakes

Typhoon

August 2016: Torrential rain damage caused by Typhoon Lionrock

Flooding

July 2017: Torrential rain damage in northern Kyushu

Flooding

July 2017: Torrential rain damage in Akita Prefecture

Volcano

October 2017: Mount Kirishima/Mount Shinmoedake volcanic activity monitoring

Volcano

January 2018: Mount Kusatsu-Shirane volcanic activity monitoring

Volcano

March 2018: Mount Kirishima/Mount Shinmoedake volcanic activity monitoring

Landslide

April 2018: Landslide damage in Nakatsu City, Oita Prefecture

Flooding

July 2018: Torrential rain damage in western Japan

Earthquake

September 2018: Earthquake damage caused by the Hokkaido Eastern Iburi Earthquake

Flooding

August 2019: Torrential rain damage in northern Kyushu

Typhoon

October 2019: Torrential rain damage caused by Typhoon Hagibis

Flooding

October 2019: Torrential rain damage

Fire

October 2019: Shuri Castle fire