Supporting Sports
Contributing to the development of sports
Through sponsoring in sporting events, SECOM contributes to the development of sports and cooperates in providing security for the safe and secure staging and operation of the events.
Sponsorship of long-distance running events (ekiden relay races, marathons)
SECOM sponsors various long-distance running events, as we regard the image of athletes running continuously toward the finish line appropriate for the image of "SECOM that keeps running."
Open roads are used for most of these long-distance races, and since the roadsides are lined with large numbers of fans, secure operations are required. As a sponsor, SECOM contributes to the safe and secure operation of the events.
Hakone Ekiden
At the Hakone Ekiden (Tokyo–Hakone Intercollegiate Ekiden), held in January 2020, more than 1,000 static guards were positioned for security over all sections of the race. We utilized wearable cameras to support smooth operation of the ekiden. SECOM also provided AEDs to prepare for emergencies such as cardiac arrest.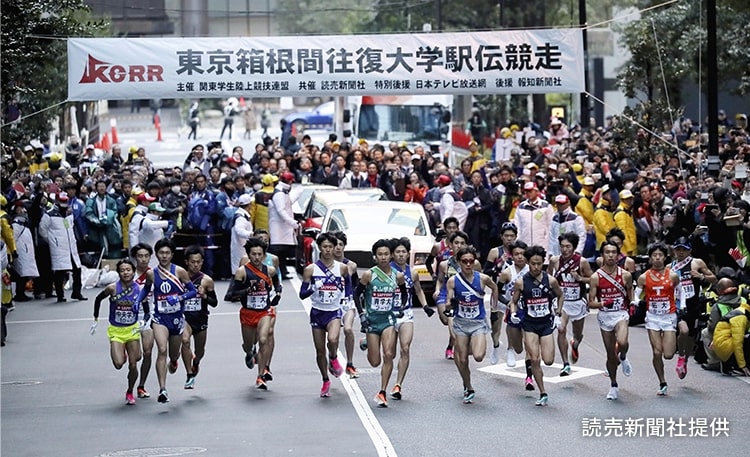 Provided security along the course of the Hakone Ekiden
Niigata City Marathon
Secom Joshinetsu Co., Ltd. is an official sponsor of the Niigata City Marathon, held every October. In addition to cheering on the runners, the company provides security along the marathon route and supports the safe, secure, and smooth operation of the event.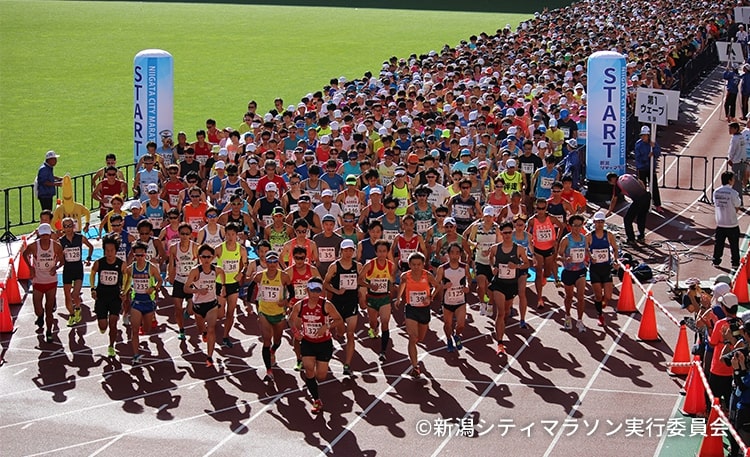 Support for operation of the Niigata City Marathon
Sponsorship of rugby
The characteristic of rugby, a sport in which players push forward relentlessly, matches SECOM's corporate culture of continually evolving towards our goals. Noting that the image of rugby overlaps the image of "SECOM that constantly pushes forward," SECOM co-sponsors the Japan Rugby Football Union as an official partner of the Japan national rugby team.
We have been supporting the Japan women's national rugby teams (15s and Sevens) since 2014 and the Japan men's national rugby teams (15s and Sevens) since 2016.
SECOM was an Official Sponsor (Total Security Services) of Rugby World Cup 2019™, Japan.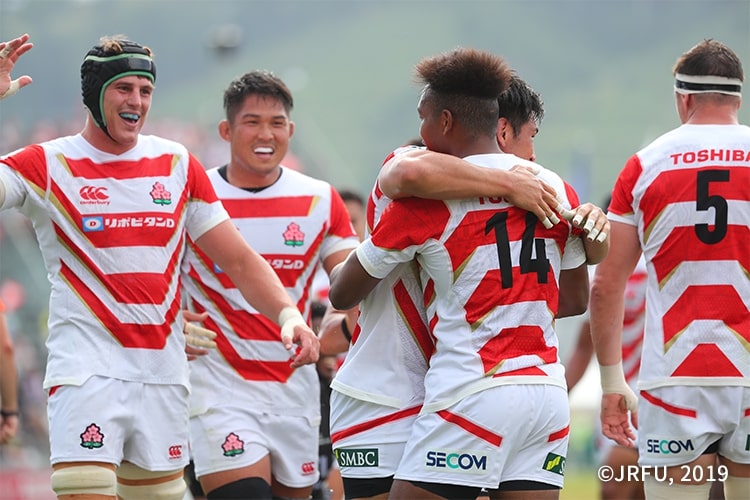 Japan men's national rugby team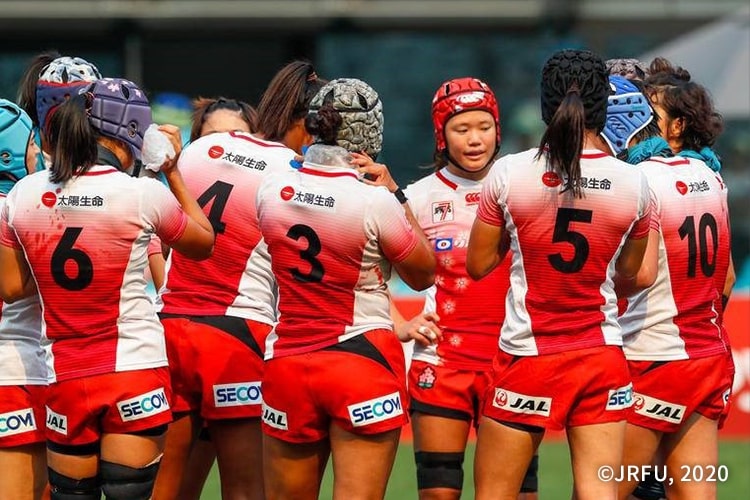 Japan women's national rugby team
Rugby team "SECOM Rugguts"
Our company supports the activities of SECOM Rugguts (currently a member of the Top East League; member of the Top League in 2003, 2005, and 2006) as a corporate symbolic team. Under the team motto "Be dedicated, be true gentlemen," the team's members work as SECOM employees every day and train hard on evenings and weekends as rugby players on their home field in Sayama City, Saitama Prefecture.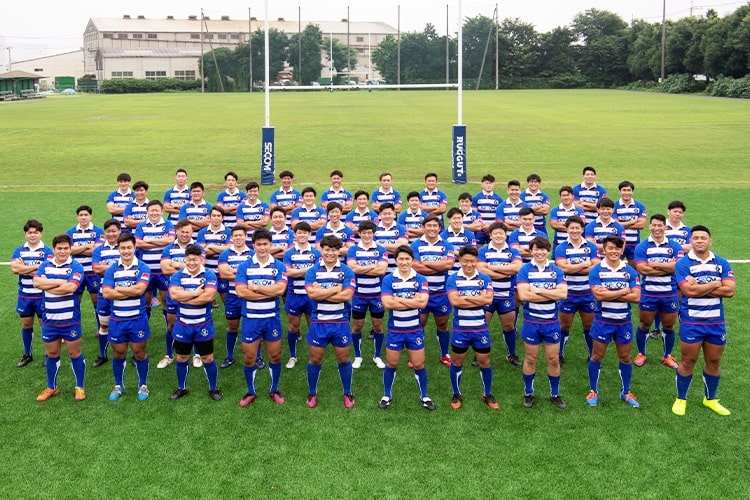 SECOM rugby team "SECOM Rugguts"
Sponsorship of sailing
Since 2016, we have been an official partner of SAILING Team JAPAN, Japan's national sailing team.
The team has advanced tremendously in recent years, taking the silver medal at the 1996 Atlanta Olympics and the bronze medal at the 2004 Athens Olympics. Knowledge of local seas provides a great advantage at sailing competitions. Therefore, the Olympic and Paralympic Games Tokyo 2020, which are to be held in familiar waters, represent a perfect opportunity to bring home another medal.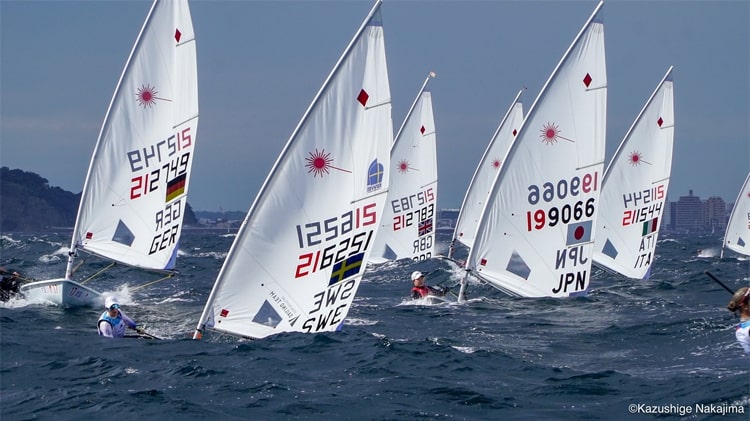 Sailing
Supporting sports for people with disabilities
Aiming at the realization of a society of coexistence where people with disabilities or not can enjoy sports with peace of mind, we are supporting Paralympic artworks, activities to collect information on barrier-free pedestrian areas, and Para sport experiences.
In collaboration with Shibuya Ward in Tokyo, with which SECOM has signed the "Shibuya Social Action Partner Agreement," we have been involved in the "Shibuya Para-art Day" since 2017. During the event, we support "Paralym Art" activities that showcase artworks created by people with disabilities, as well as creative activities of junior high school students in Shibuya Ward. In 2019, our third year, in addition to presentations of artworks at our head office in Shibuya Ward, our support activities were also introduced at the Paralym Art World Cup awards venue.
For activities to collect barrier-free information, SECOM is a member of the All Japan Business Committee for the Olympics and Paralympics. This involvement allows us to cooperate in barrier-free information collection activities in pedestrian spaces around venues where events such as the Olympics and Paralympic Games Tokyo 2020 will be held. Our activities also include the use of a (prototype) pedestrian space network data preparation tool, jointly developed by a Group company, Pasco Corporation, and the Ministry of Land, Infrastructure, Transport and Tourism, with the aim of creating environments where everyone can enjoy living with peace of mind.
In addition, to promote the popularization and understanding of sports for persons with disabilities, we held human rights workshops and boccia sports events for elementary school students, in collaboration with the All Japan Business Committee for the Olympics and Paralympics and the District Legal Affairs Bureau. SECOM employees actively participated in the inter-company sports event "Office de Boccia," held at seven locations nationwide, to promote understanding of the sport.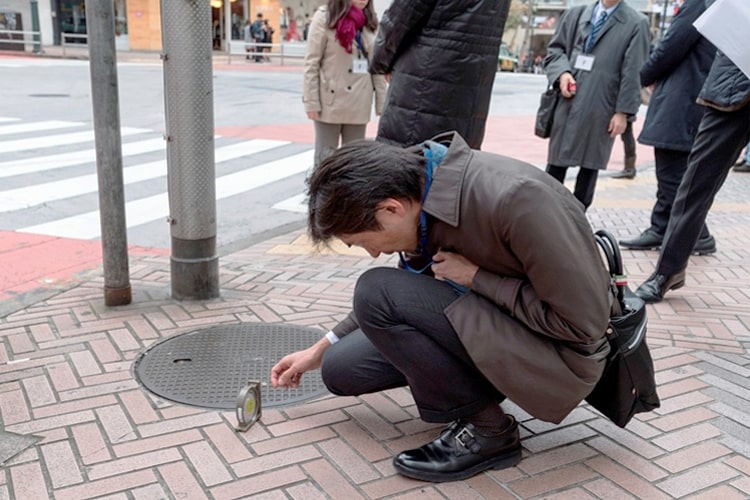 Gathering barrier-free information (slopes, uneven ground, walking area widths, etc.) in pedestrian spaces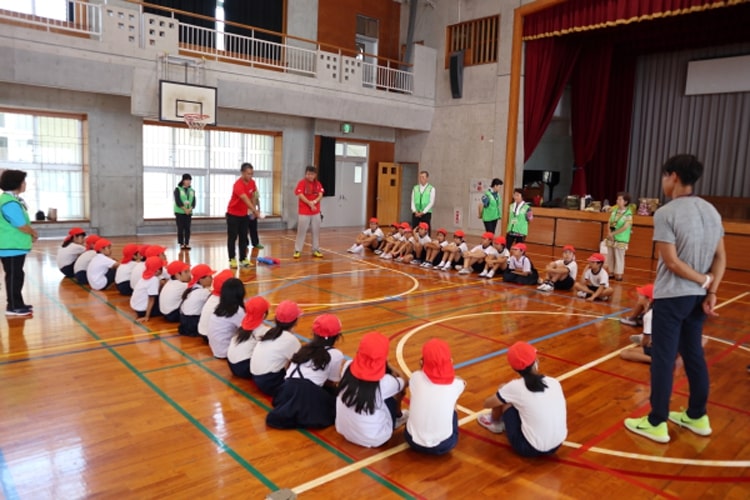 Employees from SECOM and Secom Ryukyu Co., Ltd. provide support at a human rights workshop and boccia sports event at an elementary school in Okinawa Prefecture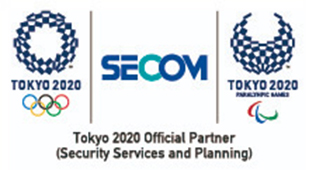 Olympic and Paralympic Games Tokyo 2020 Official Partner (Security Services and Planning)
Still in our infancy, in 1964 we provided security services for the Olympic Village at the Tokyo 1964 Games, earning high marks and the trust of society. We look forward to contributing to the safety and security of the Olympic and Paralympic Games Tokyo 2020 as we did at the games in 1964.