Coexistence with Local Communities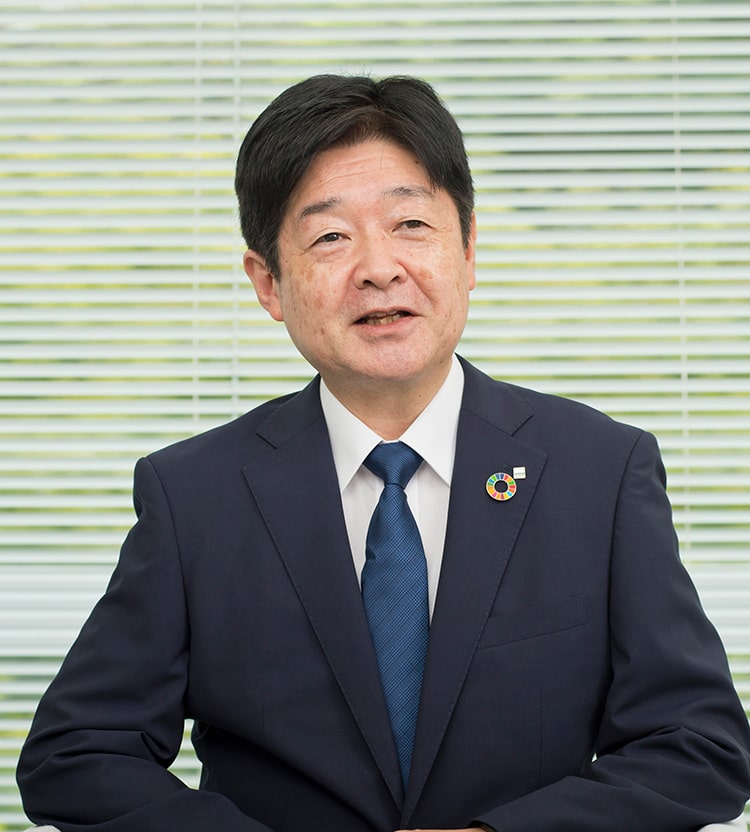 Akihiko Okamoto
Senior Manager, Business Development Department, SECOM CO., LTD.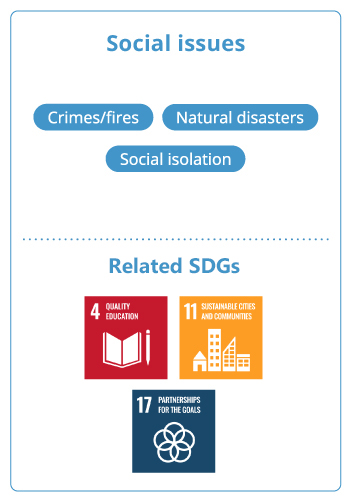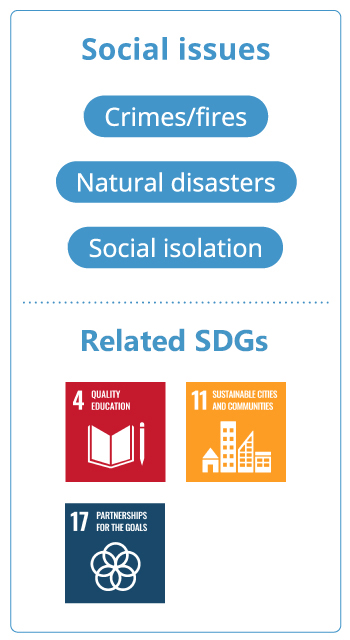 SECOM has roughly 2,800 emergency depots nationwide, more than any other company in the industry. Each of these emergency depots engages in business activities as a member of the local community.
The employees who work in each community share the mission of contributing to society through our business, as stipulated in the Constitutions of SECOM Group in Business and Management, and the understanding that, as providers of safety and security, they are held to high ethical standards.
To build a positive relationship with local communities, SECOM is currently promoting initiatives in the five fields listed below:
1. Raising awareness of crime prevention
2. Cultivating the next generation
3. Supporting disaster relief
4. Supporting sports
5. Local community activities
Since launching our SECOM AED Package Service in 2004, we have striven to improve our employees' first aid skills, utilizing them not only in our business activities, such as emergency responses for customers and workshops on using AEDs, but also under many circumstances requiring life-saving initiatives encountered in situations unrelated to business.
Furthermore, SECOM recommends that employees actively participate in volunteer fire corps activities, which serve as the core of local disaster preparedness. I too am a fire corps member. Although I was already more than 50 years old when I joined, the spirit of the fire corps has much in common with the spirit I developed as a security guard, and I have remained calm and collected as I engaged in disaster response activities and life-saving activities, using AEDs to assist sick and injured people. I am an active member, serving as a commander in a fire corps pump-handling competition in which I led my squad to victory.
These volunteer fire corps activities provide employees with feedback from the local community that they cannot gain from work alone, feedback that we believe will help SECOM contribute even more to local communities through future business activities.
However, the growing COVID-19 pandemic has also brought the need to reconsider the relationships between companies and communities. Although SECOM's mission is to rapidly respond to customer requests and abnormal signals, requests have been issued to avoid dispatching assistance personnel from outside prefectures in activities to support disaster relief, and we have had to voluntarily suspend community activities such as our workshops on child safety.
Going forward, we will cooperate more closely with the local government and local NPOs, and consider new methods to support disaster relief by utilizing SECOM's information services. In our community activities, we are considering ways to use the Internet and other media in non-face-to-face programs, and we plan to seek new ways of contributing to local communities in the "new normal."