Corporate Governance
Basic policies and structure
Basic concepts and policies
With the aim of earning the continued support of our customers, shareholders, clients, employees, local communities, and other stakeholders as a company with value worthy of trust, we strive to maximize corporate and shareholder value over the medium to long term and recognize the importance of fulfilling our responsibilities as a corporate citizen and achieving sustainable growth and development.
In line with Japan's Corporate Governance Code and under the direction of top management, outside members of the Board of Directors and Audit & Supervisory Board provide independent oversight of the management team's performance in a manner that takes into account the interest of stakeholders and ensures the appropriate execution of business activities. We also work actively to disclose information to shareholders and other stakeholders and strengthen our compliance framework.
Structure
The SECOM Group positions the enhancement of corporate governance as an extremely important management theme. In order to realize our corporate philosophy, which emphasizes contributing to society through our business activities, and to increase our corporate value, we have developed a corporate governance system as a framework for managing day-to-day business activities.
Furthermore, we have defined our disclosure policy for corporate information in the Disclosure Policy to provide accurate, fair, and timely release of information.
SECOM's disclosure policyDisclosure Policy
Outline of the corporate governance system
The Board of Directors makes decisions pertaining to business execution and other corporate matters. Executive officers, led by the President and Representative Director, are responsible for business execution. We have adopted an Audit & Supervisory Board system, whereby the Audit & Supervisory Board—which includes three outside members—and the Board of Directors coordinate with the internal audit departments to audit and supervise directors' and executive officers' discharge of their duties.
We have also established the voluntary Nomination and Compensation Committee. The committee proposes candidates for the position of director and determines the remuneration of Directors based on authorization and consultation from the Board of Directors.
In addition, we have also established a distinctive Organizational Culture Committee. This committee deliberates on the contents of reports on the compliance status of the SECOM Group Employee Code of Conduct submitted to the President and Representative Director from the Internal Audit and Compliance Department and Directors in charge of compliance. When necessary, the Organizational Culture Committee examines proposals for revision of the management system for promoting compliance within the SECOM Group and for revision of the SECOM Group Employee Code of Conduct created by executives.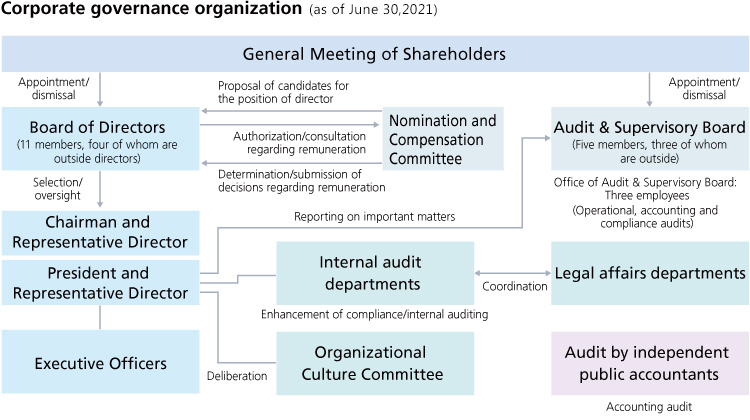 SECOM Group Management Committee
The SECOM Group Management Committee is one of SECOM's Groupwide initiatives for corporate governance. It periodically holds meetings that are attended by representatives of main business segments, as well as by the President and Representative Director of SECOM, and Group information and management philosophies are shared. Various issues related to internal control within the entire Group are also discussed, in order to ensure appropriate business operations.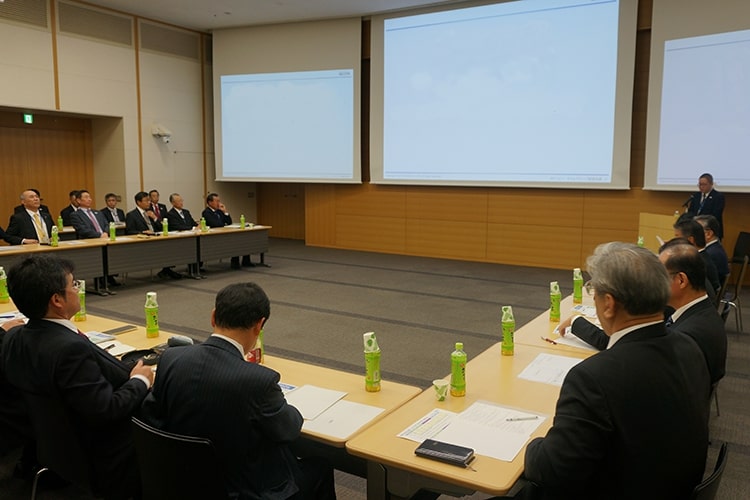 SECOM Group Management Committee
Detail on corporate governanceCorporate Governance