Preventing Global Warming
Medium-to-long-term targets and results related to preventing global warming
Medium-to-long-term targets and results
The Paris Agreement went into effect in 2016 with agreement by 196 countries and regions throughout the world. In order to keep the global average temperature rise to less than 2°C, global greenhouse gas emissions must be reduced to zero by the second half of the 21st century.
In response to Cabinet approval for the Global Warming Prevention Plan, SECOM has formulated new medium-to-long-term targets. The entire SECOM Group is aiming to reduce its greenhouse gas emissions by 80% by 2050, as part of efforts to achieve the realization of a decarbonization society.
In the Security Services segment, we have set a new medium-term target that takes into account SBTs*. The target is "to reduce greenhouse gas emissions in 2030 by 35% compared to 2013." The Japanese government's target for 2030 is a 26% reduction compared to fiscal 2013, but we have set a reduction target that exceeds this level. Going forward, we plan to set reduction targets of 26% to 35% individually in other business segments as well, aiming for long-term decarbonization throughout the SECOM Group.
SBT (Science Based Targets): Companies set greenhouse gas emission reduction targets based on scientific evidence to keep the temperature rise since the Industrial Revolution to less than 2°C.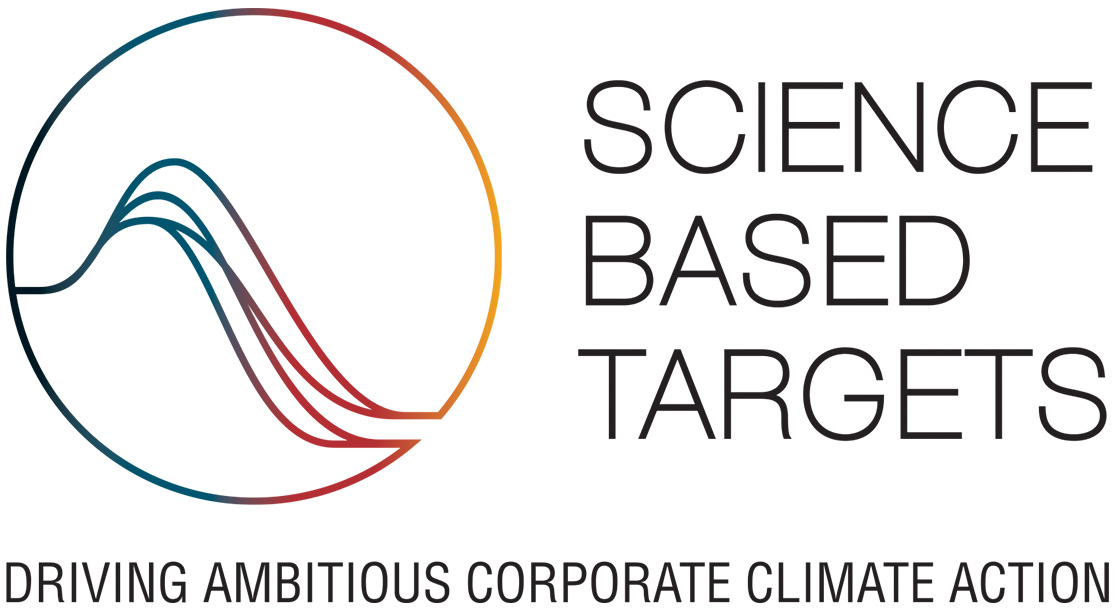 Medium-to-long-term targets and results (Security Services)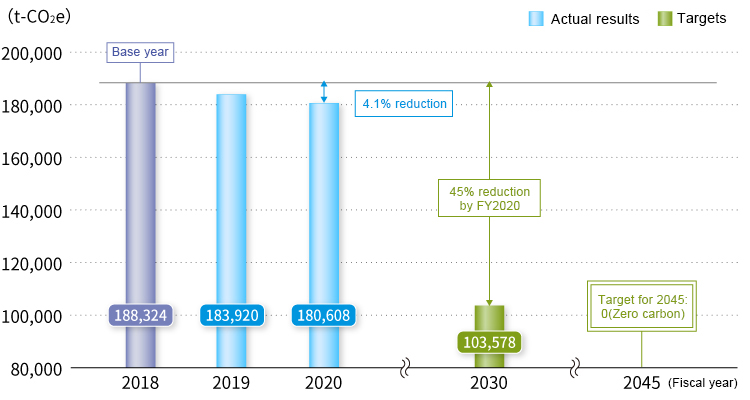 Greenhouse gas emissions are calculated using location standards.
Greenhouse gas emission intensity
SECOM calculates "CO2 emissions per unit of net sales (emissions base unit)" as an index that indicates the efficiency of CO2 emissions originating from business activities and energy usage.
The SECOM Group's consolidated sales in fiscal 2019 increased 4.6% to 1,060,070 million yen, while greenhouse gas emissions decreased 3.8%, resulting in greenhouse gas emissions of 0.164 tons per million yen. The emissions base unit improved by 8.0%.
Greenhouse gas emissions (Scope 1, 2, and 3) are calculated based on the GHG Protocol.
Greenhouse gas emissions per unit of net sales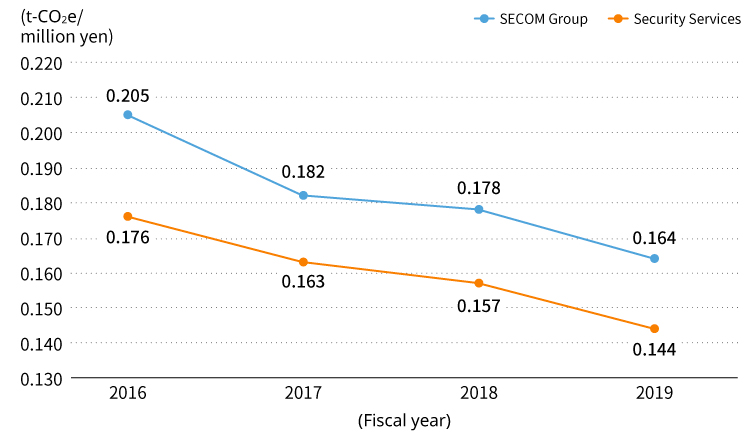 Greenhouse gas emissions are calculated using location standards.
Reducing greenhouse gas emissions throughout the value chain
We hold a briefing every February to share our environmental and CSR policies with major suppliers and gain their understanding. We also request that all major suppliers calculate the energy input amount, greenhouse gas emission amount, and water usage amount for products/services supplied to SECOM. We are working to protect the global environment throughout the entire value chain. In conjunction with increased understanding for cooperation in activities to combat global warming, the number of participating suppliers has increased every year. In fiscal 2019, SECOM received reports from suppliers accounting for approximately 75.9% of the purchase amount base.
While the Scope 1 and Scope 2 emissions of the entire SECOM Group account for 12% of the total, Scope 3 emissions account for 88%. Of these, Category 1 (purchased products and services) account for over 50% of the total. We will continue to work with suppliers to reduce greenhouse gas emissions throughout the value chain.
Greenhouse gas emissions in the value chain (SECOM Group)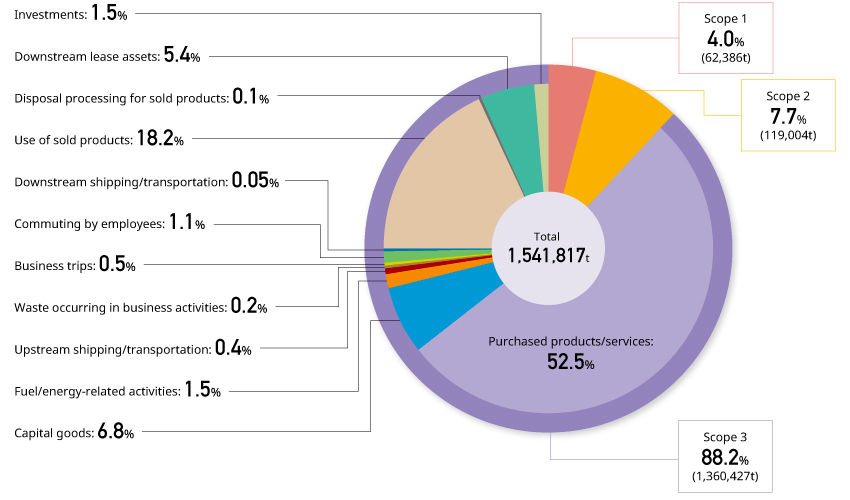 Greenhouse gas emissions are calculated using market standards.
Initiatives to prevent global warming (eco-friendly vehicles)
The SECOM Group operates approximately 9,000 vehicles for various uses such as emergency response, cash escort, technical/construction services, and sales activities. These vehicles account for approximately 30% of our total CO2 emissions. Therefore, we view the reduction of CO2 and other exhaust gases (NOx/PM) emitted from vehicle fuel as a materiality theme in our environmental protection activities. Accordingly, we are implementing a variety of initiatives.
SECOM Group 2020 targets
The Group has been working on environmental measures for vehicles with the target of "making all four-wheeled vehicles fuel-efficient vehicles*1 by fiscal 2020." We have been aggressively introducing fuel-efficient vehicles, such as substituting hybrid vehicles with better mileage for vehicles that travel long distances and downsizing vehicles that carry few passengers to light motor vehicles.
As a result, although the number of vehicles in the entire Group has increased compared to fiscal 2014, when the target was set, CO2, NOx, and PM emissions are decreasing. In fiscal 2019, we replaced existing 615 conventional vehicles with fuel-efficient vehicles, including 307 hybrid vehicles. As a result, the ratio of fuel-efficient vehicles used by the SECOM Group increased to 91.7%, up 5.9% year on year.
In addition, as an environmental goal for new vehicles after 2020, we plan to set a new goal of 100% adoption of next-generation vehicles for the entire group by 2030. This will exceed the government's target for the spread of next-generation vehicles*2. This is the new goal for activities related to eco-friendly vehicles. It matches the timeline of the SECOM Group's Vision for 2030 and the 2030 Mid-Term Reduction Targets for greenhouse gases.
The term "fuel-efficient vehicles," as defined by SECOM, refers to "fuel-efficient and low-emission gas vehicles" that satisfy the 75% reduction called for by the 2005 Emission Gas Standards and either the Fiscal 2015 Fuel-Efficiency Standards or Fiscal 2020 Fuel-Efficiency Standards.
Next-generation vehicles include hybrid vehicles, plug-in hybrid vehicles, electric vehicles, clean diesel vehicles, and natural gas vehicles. They are environmentally friendly vehicles that emit little or no CO2 that causes air pollutants and global warming.
Adoption rate of fuel-efficient vehicles (SECOM Group)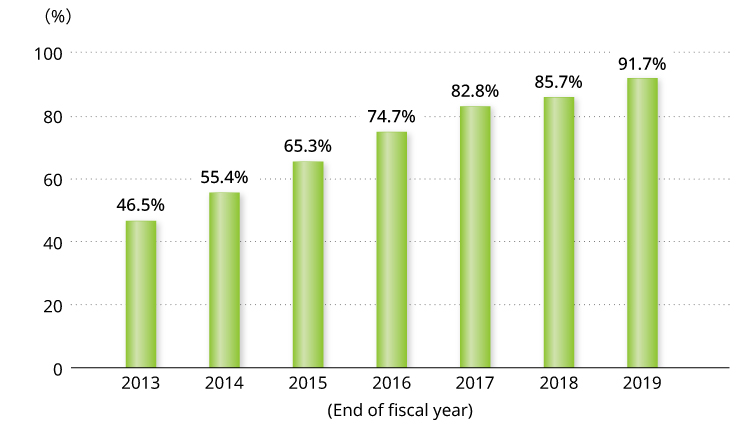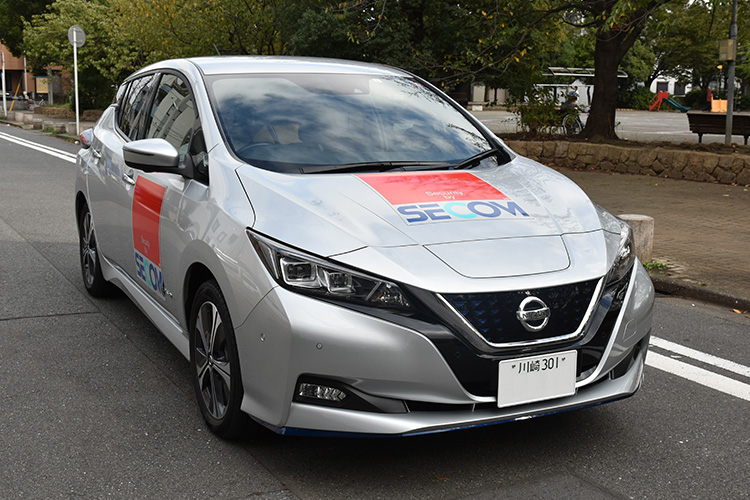 SECOM's fuel-efficient vehicle
Selection of fuel-efficient vehicles
We categorize vehicles into 20 types based on characteristics such as usage, driving distance, installation of special equipment, etc. For each type, the vehicle model is further refined based on environmental performance and driving performance. Then, from among fuel-efficient vehicles, SECOM selects the most eco-friendly vehicles with the lowest amount of emissions. Review is conducted for each vehicle in order to select the optimal vehicles, and even in the case where a vehicle has good fuel mileage, it will be excluded if it generates a large amount of emissions.

Participation in KEIDANREN's "Challenge Zero"
In 2019, KEIDANREN (the Japan Business Federation) announced its Challenge Zero (Challenge Net Zero Carbon Innovation) initiative, with the core concept of solving problems through innovation. One SECOM Group long-term goal is to reduce its greenhouse gas emissions 80% by 2050. Given the increased intensity of natural disasters in recent years and the announcement of the IPCC 1.5℃ scenario, we believe that measures toward mitigating global warming must be strengthened further. Accordingly, we have declared our participation in KEIDANREN's Challenge Zero initiative and aim to completely eliminate greenhouse gas emissions related to our vehicles by 2050.

Promotional activities for safe driving
One issue of primary importance at SECOM is for employees to drive safely while conserving energy. Safe driving while conserving energy is important for maintaining the safety of customers, employees, their families, and our company, as well as for reducing the environmental impact.
We have contents on driving in our intranet, in order to raise awareness among employees by posting a variety of vehicle-related information such as basic manuals on safe driving, explanations of traffic laws, status on the implementation of fuel-efficient vehicles, and results of efforts to improve fuel efficiency at each office.
Thorough implementation of Eco Safe Driving
Through Eco Safe Driving which combines both energy-saving driving techniques and safe driving techniques, SECOM strives to provide customers with quick response and to prevent global warming.
SECOM uses a variety of initiatives to promote Eco Safe Driving. In addition to training and awareness-raising activities, we also distribute manuals and display posters. Furthermore, security driving trainers are dispatched to provide on-site instruction at all offices throughout Japan. Head office staff that specialize in driving instruction visit core offices and provide ride-along instruction. Drive recorders are installed in business vehicles, and the supervisor checks the data and provides guidance as needed. Moreover, group training is held in each region. Many trainees receive ride-along instruction from security driving trainers, managers, and head office staff that specialize in driving instruction.
Driving techniques for ecology and safety are explained one-by-one, and in-depth instruction is repeatedly provided until the trainee sufficiently understands the concept of Eco Safe Driving. This has produced results in terms of both safety and energy conservation.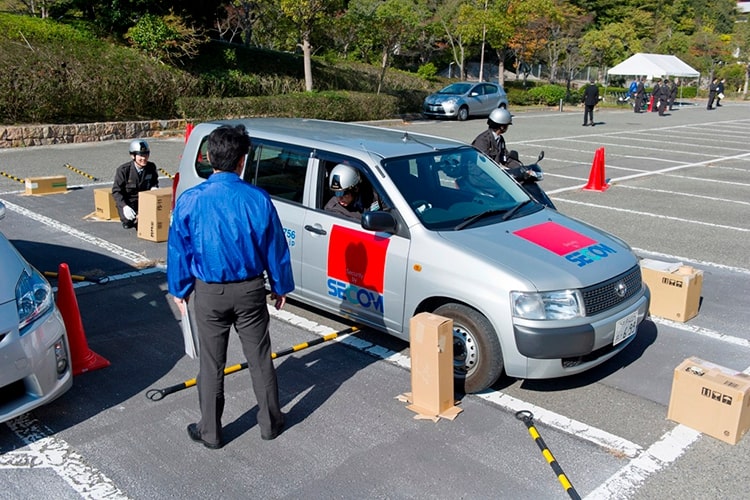 Eco Safe Driving training combines both energy-saving driving techniques and safe driving techniques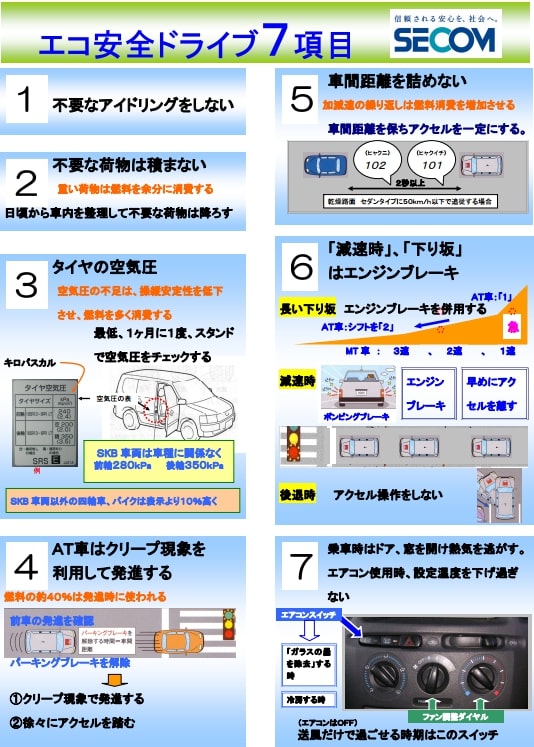 Poster for Eco Safe Driving
Promotional activities for Eco Safe Driving
In order to spread and promote eco driving, the Ministry of Land, Infrastructure, Transport and Tourism, Ministry of Economy, Trade and Industry, National Police Agency and Ministry of the Environment cooperate to designate November Eco-Drive Promotion Month. In conjunction with this, SECOM holds promotional activities for Eco Safe Driving for our offices throughout Japan.
All employees who drive during work are participants in the contest. They implement the "Seven Items for Eco Safe Driving" and compete for the best rate of fuel-mileage improvement through careful, safe, and environmentally-friendly driving, both in office section and vehicle section. Another purpose of Eco Safe Driving promotion is to provide an opportunity for considering how to reduce CO2 emissions, the cause of global warming, while driving during work.
Initiatives to prevent global warming (eco-friendly offices)
Electricity used at offices accounts for approximately 70% of CO2 emissions at SECOM. In order to reduce the amount of electricity used, we engage in environmental protection initiatives from the tangible perspective of actively implementing optimal energy-saving equipment that balances ecology and economy, and from the intangible perspective of company-wide activities for saving electricity and conserving energy.
Using electricity from renewable energy
To reduce greenhouse gas emissions, the SECOM Group has taken environment protection measures such as adopting renewable energy, purchasing green energy certificates, and installing solar power generation modules in our facilities.
In fiscal 2019, we used 3,652,734 kWh of renewable energy in Japan and 8,002,734 kWh of renewable energy worldwide. We also generated 143,037 kWh of energy at our own facilities.
SECOM CO., LTD.'s renewable energy adoption rate is currently 9.4%, while the Group's usage rate is 3.1%. We aim to use 30,000,000 kWh of renewable energy to achieve our greenhouse gas emission reduction target for 2030.
In addition, to avoid using solar power generation, which has large variations in the amount of generated power, we strive to use hydroelectric, biomass, and geothermal renewable energy, which provide relatively stable power generation.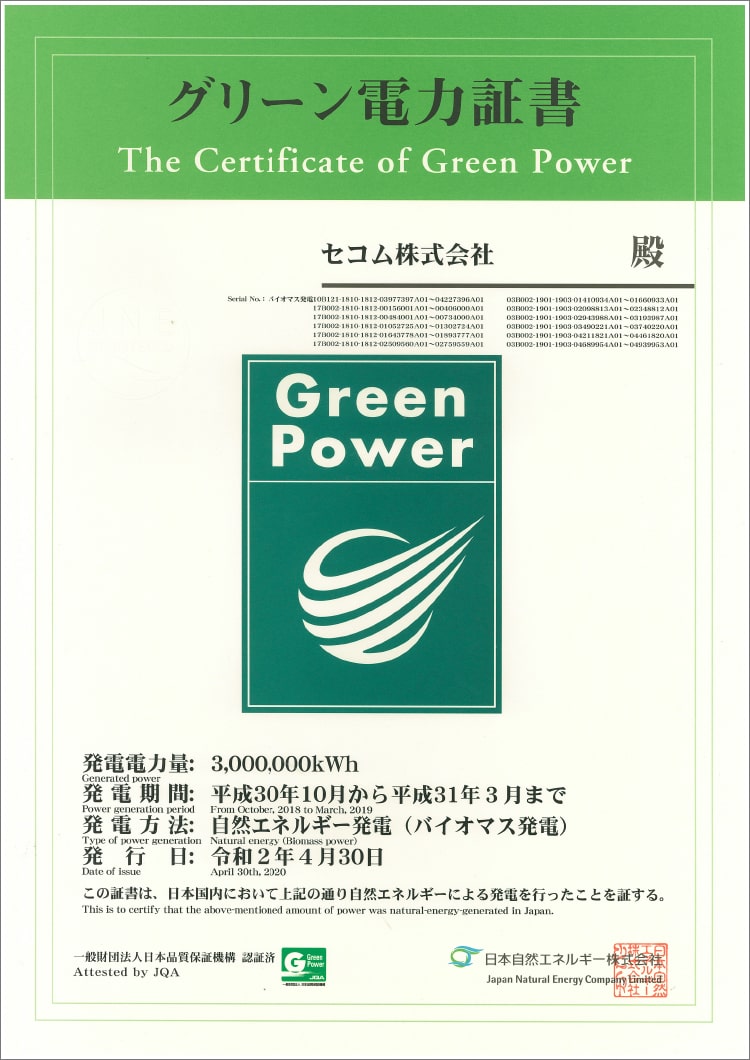 The Certificate of Green Power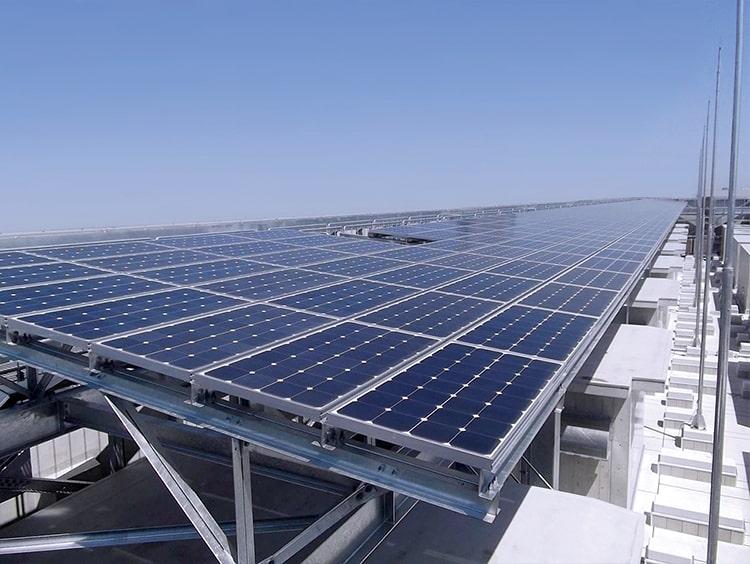 Data center solar panels
Active adoption of energy-saving equipment
SECOM started using LED lighting even in the days when LED use was not as widespread as it is today. Technical departments at SECOM conducted independent tests for the energy-saving performance, electromagnetic wave noise, and safety performance of LEDs. Only LEDs which passed the test are used at SECOM. Replacing fluorescent lighting with LEDs reduces the amount of electricity used by an average of 60%. Furthermore, we have revised our policy of thinning the number of fluorescent lights, which we used to promote for the purpose of electricity saving, and as a consequence, the workplace environment was improved.
By changing air conditioning equipment to high-efficiency models, we have increased energy efficiency and reduced the amount of electricity used per unit by an average of 40%. Moreover, the new models enable detailed temperature settings and make it possible to maintain a comfortable working environment.
Throughout our entire company, SECOM has installed multifunction devices with four functions (copier, scanner, printer, FAX). In addition to saving office space, the change reduces the amount of electricity consumed during waiting and use by an average of 35% per device.
SECOM has replaced our desktop PCs with thin client terminals which perform batch management of data and memory at servers. In addition to strengthening information management, this change reduces the amount of electricity consumed by servers and terminals by approximately 60% per one machine.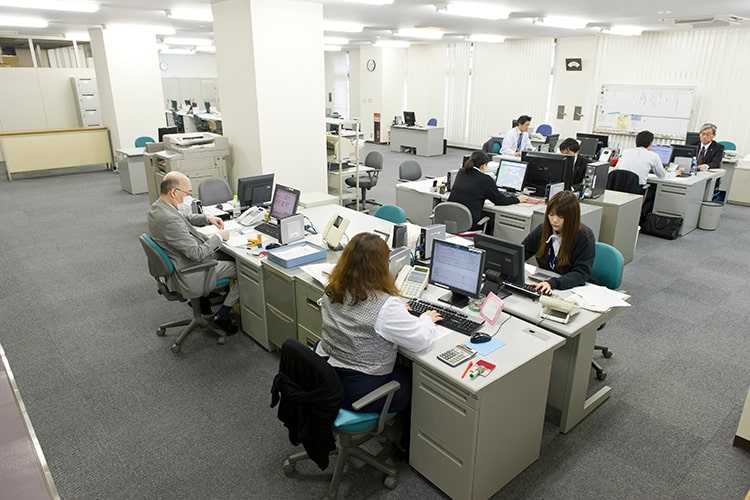 Office with LED lighting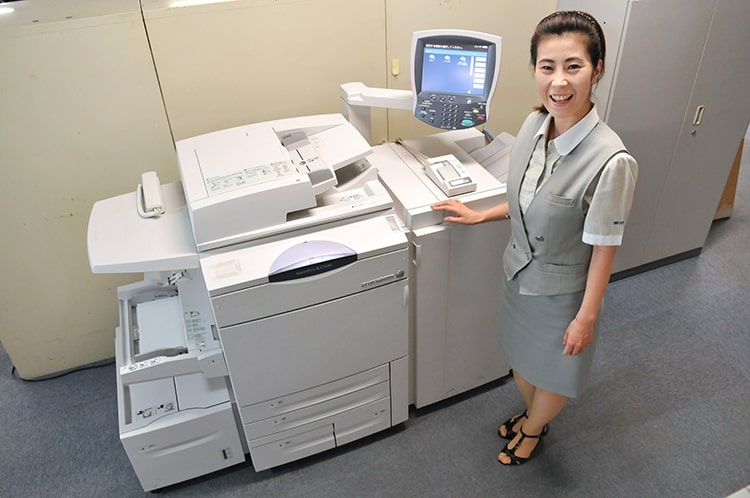 Installation of multifunction devices with four functions
Activities to save electricity and conserve energy
SECOM has constructed unique system for accurately ascertaining and visualizing the amount of energy used, which is the infrastructure for eco activities at our offices. Furthermore, we emphasize that each and every one of our employees behaves appropriately as a citizen of our planet and implement a variety of measures and awareness-raising activities.
Activities by Environmental Promotion Committees throughout Japan
SECOM has established Environmental Promotion Committees at 28 locations throughout Japan. These committees conduct company-wide activities for saving electricity and conserving energy. Activities are based on the "Energy Conservation Activities Manual" which covers optimal energy usage at the buildings and facilities of large-scale offices and the "Guidelines for Saving Electricity and Conserving Energy" which covers air conditioning and lighting at small and mid-sized offices.
SECOM uses the systems for promoting environmental protection in order to ascertain monthly trends in the amount of energy used. These trends are compared to the previous month and the same month in the previous year in order to identify offices where use has increased or decreased significantly. For offices where there has been a significant increase or decrease, SECOM always confirms the cause and takes the required corrective measures.
Checks for saving electricity and conserving energy in summer and winter
Electricity usage increases in summer and winter. Prior to these seasons, under the management of the Environmental Promotion Chairman, all of our offices use check lists to see whether or not activities for saving electricity and conserving energy are always performed in accordance with the "Guidelines for Saving Electricity and Conserving Energy." By performing inspection prior to the onset of harsh weather conditions, SECOM seeks a balance between saving electricity/conserving energy at our offices and achieving a comfortable/efficient working environment.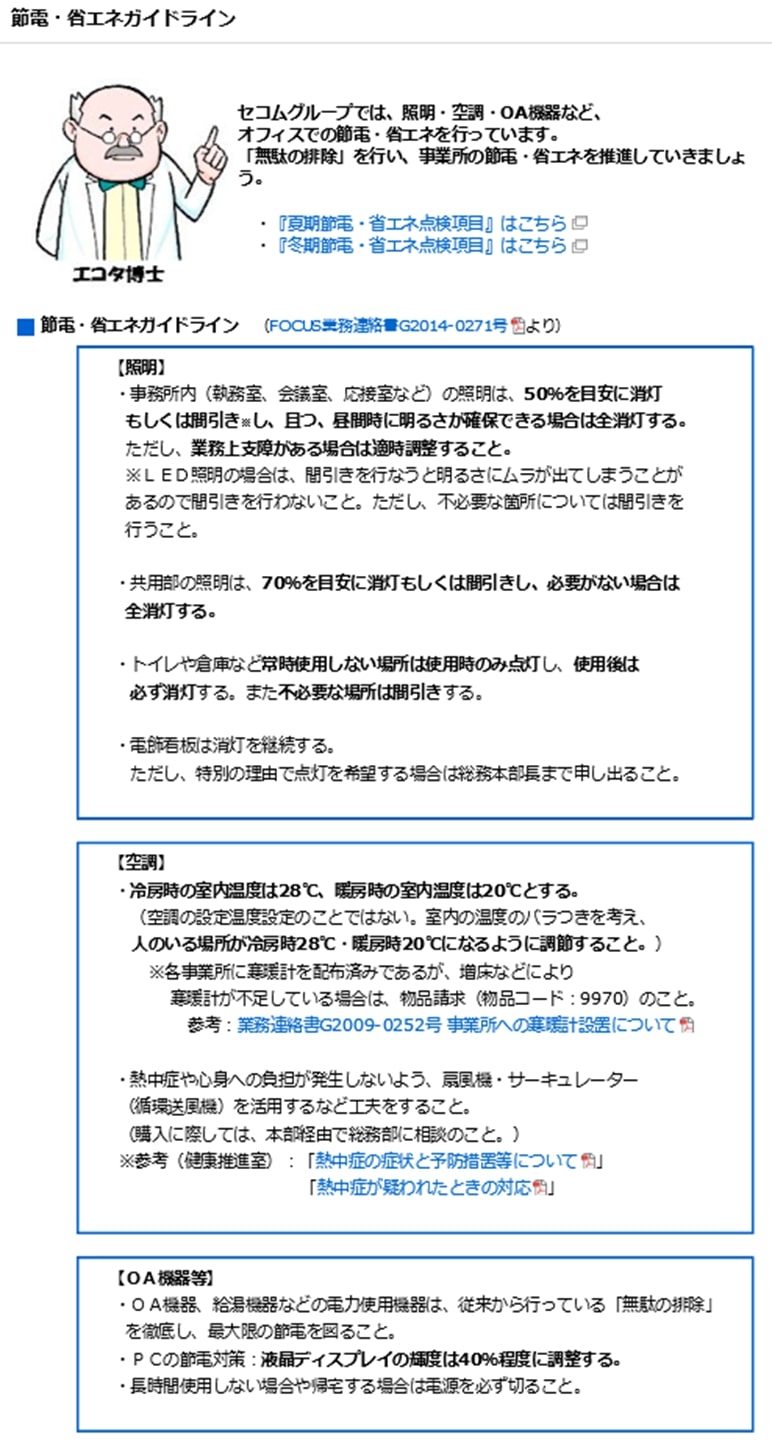 Guidelines for Saving Electricity and Conserving Energy
Awareness-raising activities for employees
On our company intranet, SECOM has established the portal site "ECO at SECOM" for conveying information on the environment. The site increases the environmental consciousness and awareness of our employees.
SECOM implements a variety of unique measures in order to facilitate environmental communication at our company. Contents include the explanation of environmental issues by the characters Dr. Ecota and Mr. Futa, promotion of an "eco-life" by employees and "eco-team" activities and announcement of "eco people" (employees with eco certification).
Our company newsletter also has a serial comic titled "Comic Book Guide to the SECOM Group's SDGs," which explains how the SDGs relate to the SECOM Group's business activities.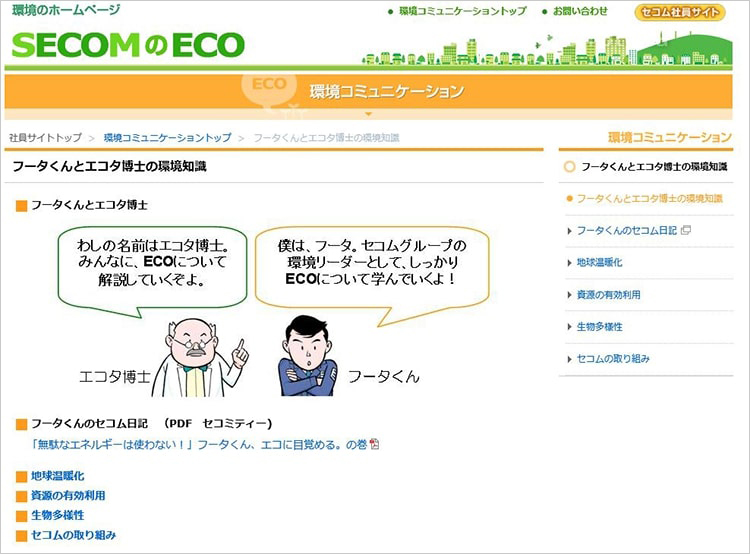 "SECOM ECO" environmental website
Other initiatives
Carbon offsets for CO2 emissions from rebuilding SECOM facilities
We have launched an initiative to calculate the CO2 emissions produced by the energy used in rebuilding SECOM facilities and apply carbon offsets* accordingly. CO2 emissions resulting from rebuilding are calculated with the assistance of a construction company. We have performed carbon offsetting for 173.8 tons of produced CO2 by using CO2 credits of the Tokyo Metropolitan Government.
Going forward, we will continue to strive to reduce CO2 emissions throughout our value chain to realize a decarbonization society.
Carbon offset: An initiative and approach for offsetting emissions of greenhouse gases such as carbon dioxide produced at one location in day-to-day activities, corporate activities, etc., with a reduction at another location, including absorption of carbon by forests, replacement of older equipment with energy-saving equipment, and other means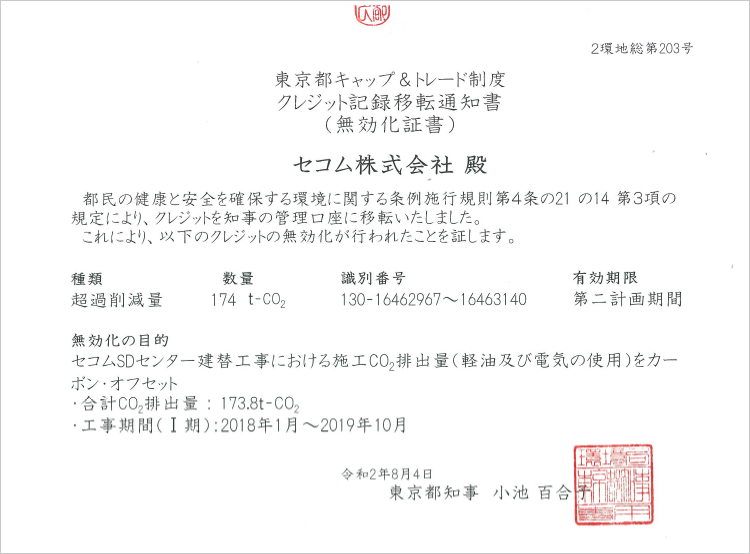 Carbon offset certificate issued by the Tokyo Metropolitan Government
Reuse of discharged cooling water
The air conditioners in the data centers of AT TOKYO Corporation, a Group company, use water cooling. The heat generated in server rooms is dissipated through the partial evaporation of cooling water in a cooling tower. Because the concentration of substances contained in the cooling water increases due to evaporation, the concentration is adjusted by removing some of the water and adding new water. AT TOKYO is working to reduce water consumption by reusing the cooling water that would normally be discarded (blow water) by passing it through an advanced filtration device. As a result, AT TOKYO has been able to reuse an average of 39% of the blow water produced each year.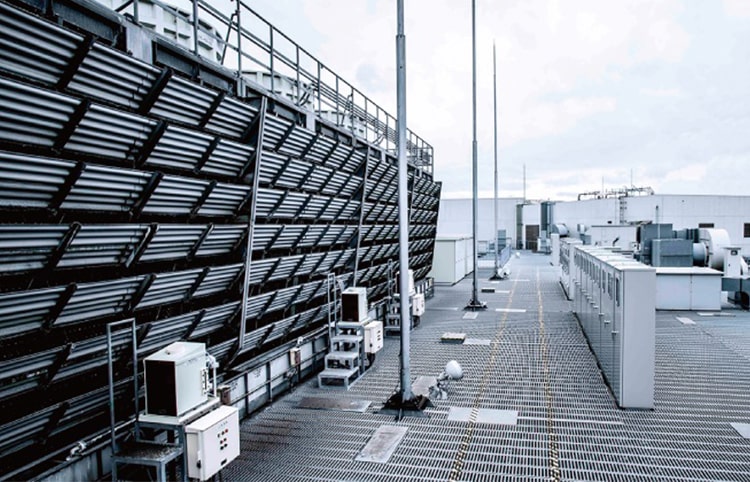 Data center cooling tower
Participated in demonstration experiment of virtual power plant business
Following the tightening of power supply and demand after the Great East Japan Earthquake, people have come to recognize the importance of managing energy with an awareness of the balance between power supply and demand, in addition to conventional improvements in energy saving. SECOM participated in a virtual power plant (VPP) construction demonstration experiment using energy resources on the customer side organized by the Ministry of Economy, Trade and Industry to solve these energy management issues.
VPP is a system that functions like a single power plant by integrating and controlling the power of decentralized batteries using advanced energy management technologies such as IoT technology. The system controls the batteries remotely to provide load leveling, absorb excessive supply of renewable energy, and act as a supply source in the case of power shortages.
SECOM will continue to contribute to solving environmental problems by participating in various experiments and activities.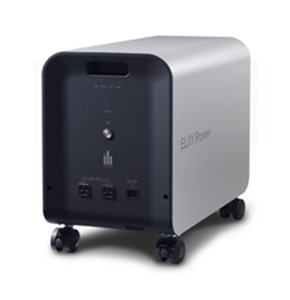 POWER YIILE 3 indoor power storage system from ELIIY Power Co., Ltd., used in demonstration experiments