Environmental Management
Basic policies and structure
Environmental philosophy and basic environmental policy
In 2005, SECOM formulated its environmental philosophy and basic environmental policy. In October 2011, we revised the basic environmental policy and clarified our basic attitude of "contributing to the solution of environmental issues through our business activities." Furthermore, the policy defines our concept of "achieving sustainable growth by balancing ecology and the economy."
SECOM shares the environmental philosophy and basic environmental policy throughout the entire group as a compass for our environmental protection activities.
Environmental philosophy
Following SECOM's corporate philosophy of contributing to society through our business activities and recognizing that protection of the global environment is the basis of the safe and comfortable lifestyle we pursue, SECOM will act in consideration of the global environment in every aspect of the business activities.
Basic environmental policy
(Environmental contributions in business activities)
SECOM contributes to the solution of global environmental issues by promoting our on-line security systems with a zero resource-waste and low-carbon model, and providing products and services which assist protection of the environment.
(Environmental protection activities in business operations)
At all stages of the value chain in our business activities, SECOM takes action to protect the global environment, including prevention of global warming, efficient use of resources, and protection of biodiversity.

In the development and manufacturing processes for our products and services, SECOM works to reduce environmental load on our customers and society by implementing environment-friendly design, eliminating hazardous substances, and conserving the resources/energy used by devices.
When using energy and resources in our business activities, SECOM strives to balance ecology and economy as well as continually promoting environmental protection activities by thoroughly eliminating waste and actively implementing highly efficient facilities, equipment, and systems with low environmental impact.
(Compliance with laws and regulations)
SECOM complies with laws and regulations related to environmental protection, as well as environmental agreements. We also define self-imposed regulations in order to protect the environment.
(Continuous improvement of environmental management system)
SECOM continuously strives to improve our environmental management system in order to ceaselessly enhance our ability to solve environmental issues.
(Increase in employee motivation)
SECOM promotes our basic environmental policy, cultivates understanding among each employee regarding the importance of environmental issues, and holds education/awareness-raising activities so that employees are highly motivated in environmental protection activities and social contribution.
(Communication with society)
SECOM broadly discloses environmental information to society and communicates with stakeholders as we strive to fulfill expectations from society.
Structure
The President and Representative Director is responsible for the risks and opportunities related to climate change throughout the Group.
In its daily activities, the Sustainability Promotion Office plays a central role in promoting environmental conservation activities for the entire Group, under the leadership of the Director, Head of General Affairs Division. Specifically, it plans and implements environmental measures, confirms trends in energy-saving technologies, and calculates greenhouse gas emissions (Scope 1, 2, and 3). It gathers information on TCFD recommendations, SBT*1, RE100*2, and other climate-related issues and energy-saving technologies, total CO2 emission limits and emission trading systems, renewable energy prices, and environmental laws and regulations, etc. In addition, it cooperates with the environmental, CSR, and business-planning managers of every Group company to evaluate various short-, medium-, and long-term climate-related risks.
SBT (Science Based Targets): Companies set greenhouse gas emission reduction targets based on scientific evidence in order to keep the temperature rise since the Industrial Revolution to less than 2°C.
RE100 (Renewable Energy 100%): An international initiative in which member companies have set the goal of using renewable energy-derived electricity for 100% of their business activities.
Environmental management chart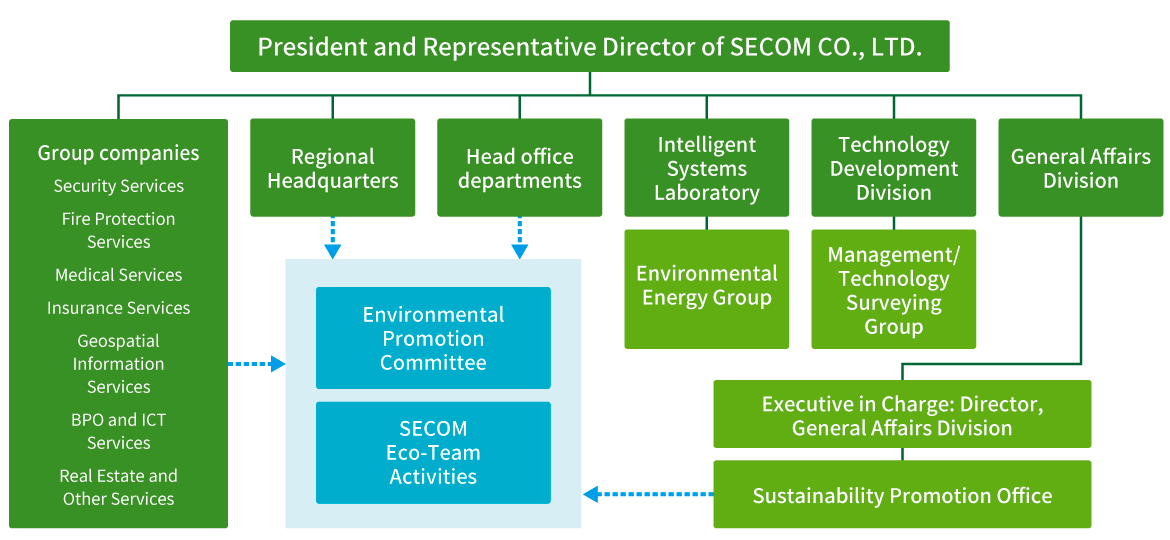 In conjunction with the reorganization in October 2020, the "General Affairs Division" has been renamed the "General Affairs & Human Resources Division," and the "Director, Head of General Affairs Division" has been renamed the "Director, Head of General Affairs & Human Resources Division."
Acquired environmental management system certification
The SECOM Group operates an environmental management system (ISO 14001*) at the companies and workplaces listed below. In order to promote continuous environmental conservation activities at other workplaces, we established the Environmental Promotion Committee to plan (Plan), implement and operate (Do), evaluate (Check), and improve (Act). In this way, the PDCA cycle is continuously operated to reduce environmental impact.
ISO 14001: An international standard for environmental management established by ISO (International Organization for Standardization).
Secom Industries Co., Ltd. (November 1999)
SECOM CO., LTD. (December 2000)
Nohmi Bosai Ltd. (August 2001)
PASCO Corporation (February 2003)
NITTAN Co., Ltd. (February 2004)
Asahi Security Co., Ltd. (December 2008)
SECOM Group Sustainability (Environmental) Meeting
The SECOM Group Sustainability (Environmental) Meeting is held once a year to provide opportunities for sharing information with Group companies. These meetings are attended by the managers responsible for environmental and CSR issues in the business segments of security services, fire protection services, medical services, insurance services, geospatial information services, BPO and ICT services, and real estate.
The goal of these meetings is to promote the initiatives of the SECOM Group related to social issues, TCFD recommendations, and SDGs, based on the latest Japanese and global trends, and to contribute to the Group's sustainable growth and improvement of our medium-to-long-term corporate value. At the sixth meeting, held in fiscal 2019, participants took part in group works that connected the SDGs to our business activities and discussed topics such as ESG investment and information disclosure, SECOM's long-term environmental vision, and marine plastic issues.
The environmental target for vehicles—"make all four-wheeled vehicles fuel-efficient vehicles by fiscal 2020"—was agreed upon at the first SECOM Group Environmental Meeting. Going forward, we will continue to deepen discussions on topics such as eco-friendly vehicle measures and environmental targets for 2020 and beyond, SDG management, and quantitative understanding of risks and opportunities based on scenario analysis, and utilize the results of these discussions in concrete actions.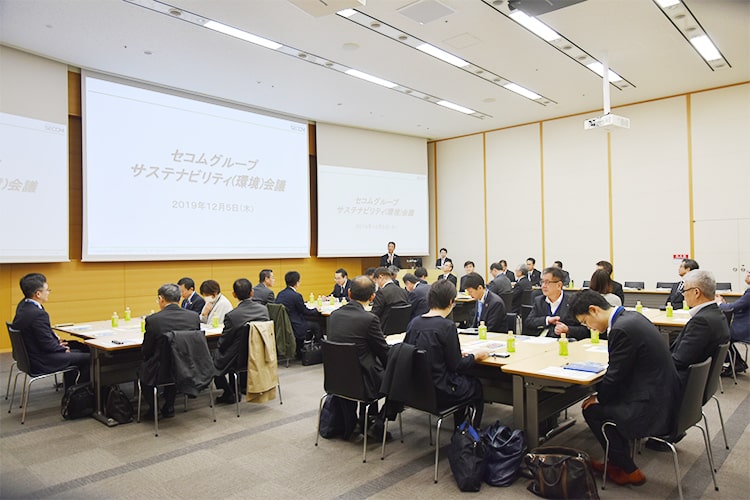 SECOM Group Sustainability (Environmental) Meeting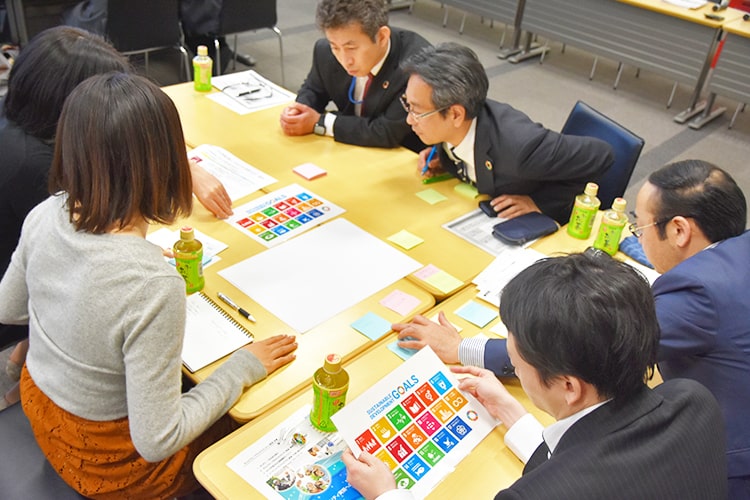 Group work to learn about SDGs
Compliance with environmental laws
Following the spirit of legal compliance as listed in our basic environmental policy, the SECOM Group responds appropriately to environmental laws and ordinances. In fiscal 2019, the SECOM Group had no violations or disputed cases in regard to environmental laws and ordinances.
Major environmental laws and ordinances include:
Act on the Rational Use of Energy
Act on Promotion of Global Warming Countermeasures
Act on Rational Use and Proper Management of Fluorocarbons
Waste Management and Public Cleansing Act
Automobile Nitrogen Oxides–Particulate Matter Law
Environmental ordinances in 10 municipalities (prefectures and government-designated cities) in Japan
Tokyo Metropolitan Environmental Security Ordinance (Cap and Trade System)
Overseeing environmental management indicators (KPIs) and environmental performance
Environmental management indicators (KPIs)
Following its environmental philosophy and basic environmental policy, the SECOM Group promotes activities for sustainable development in consideration of the global environment in all its business activities. We evaluate and manage the progress and achievement of our environmental conservation activities based on the following seven major environmental management indicators.
Greenhouse gas emissions (Scope 1 and 2)
Reduction rate of GHG emissions from base year to 2030 mid-term target
CO2 emissions per unit of net sales (intensity)
Vehicle fuel consumption
Electricity usage
Amount of industrial waste and valuable resources

Greenhouse gas emissions in the value chain (Scope 1, 2, and 3)

Scope 1: Direct emissions (vehicle fuel, city gas, kerosene, etc.)
Scope 2: Indirect emissions (electricity, cold/hot water, steam, etc.)
Scope 3: Indirect emissions other than Scope 1 and 2 (emissions from other companies upstream and downstream in the value chain)
For details, see ESG Data (Environment).
Cost and effect of implementing environmental protection activities (environmental accounting)
In order to quantitatively ascertain the investment and cost for environmental protection and the resulting greenhouse gas reductions, and to implement even more appropriate environmental protection activities, SECOM implements environmental accounting for fiscal 2019.
Calculations for environmental accounting are performed in accordance with the Environmental Accounting Guidelines (2005).
With regard to environmental protection effectiveness, we calculate the reductions of physical waste generation and CO2 emissions from reductions in the amounts of energy used and waste disposed. These calculations do not include the expected effects associated with reductions of power consumption or CO2 emissions by customers using our products.
Our environmental protection expenses decreased 1.0%, to ¥590 million, compared with those of the previous fiscal year. Our investment amount increased 75.5%, to ¥670 million, compared with that of the previous fiscal year, while environmental investment accounted for 1.0% of our total security fixed asset investment.
The economic results of our environmental protection measures were ¥8.3 million in revenue and a reduction of ¥680 million in expenses, for a total of ¥690 million.
Third-party verification of greenhouse gas emissions
The Group receives examinations based on ISO14064 from the Japan Quality Assurance Organization (JQA) for greenhouse gas emissions (Scope 1, 2, and 3) and obtains verification reports.
Responses to TCFD recommendations
In June 2017, the Task Force on Climate-Related Financial Disclosures (TCFD) published a final report for disclosure of information related to climate change. The TCFD was established under the auspice of the Financial Stability Board (FSB), which is an international organization and is composed of Ministries of Finance, financial regulators and central banks from 25 countries around the world.
The TCFD recommendations are based on the belief that various corporate initiatives related to climate change will be reflected in their income and cash flows in the future. Companies are recommended to disclose climate-related information on Governance, Risks and Opportunities, Risk Management, and Goals and Indicators. SECOM signed the TCFD recommendations in July 2019 in view of the importance of active corporate action and disclosure of information related to climate change.

Climate-related risk identification and management processes
The SECOM Group works in business areas such as security services, data center services, and medical services where it is important to provide services stably and continuously. We have worked on company-wide risk management to ensure the continuity of our service systems.
We have established the Risk Countermeasures Committee to perform companywide risk assessment and consider countermeasures for risks with the potential to affect the business services offered by the Group. The committee is chaired by the director in charge of risk management and composed of managers from major departments at the head office. Utilizing the results of companywide surveys, the committee identifies and evaluates risks from the viewpoints of scope of impacts, scale, assumed financial damage, urgency, and frequency of occurrence. For example, corporate value, service provision, and life/safety are prioritized for cases that are less frequent but cause more damage.
Risk survey analysis chart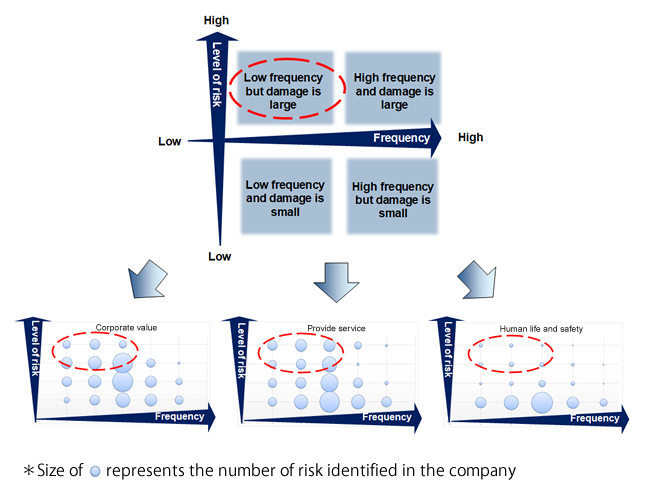 Risks subject to analysis and evaluation are classified into: (1) Large-scale calamity risk (earthquakes, wind, flood, volcanic disasters, radiation leakage, etc.), (2) Compliance risk, (3) System risk, (4) Service providing risk, (5) Administrative work and accounting risk, (6) Others. Climate change-related risks are also analyzed, evaluated, and handled in this risk management process. These management considerations are regularly reported by the President and Representative Director to the Board of Directors depending on the level of importance.
One issue occurring with greater frequency in recent years is large-scale natural disasters. In preparation for large-scale natural disasters caused by climate change, we have established countermeasures for minimizing damage to SECOM itself, allowing us to provide stable and uninterrupted services, using measures such as establishing a disaster task force, securing methods for collecting information about damage status, and understanding the impact on systems that provide services to customers.
Climate-related risks and opportunities
Because the SECOM Group uses approximately 9,000 four-wheeled vehicles, we are subject to the risk of fluctuations in the unit prices of fuels such as gasoline and diesel oil, as well as risks related to rises in energy-related costs such as carbon taxes and emission-trading system costs. While the insurance services segment and data center services have increased risks related to climate change, we recognize that they are also associated with tremendous opportunities, in line with achieving a decarbonization society. We will implement strategies that understand the impact of climate change on our business activities and take advantage of these opportunities.
Materiality matrix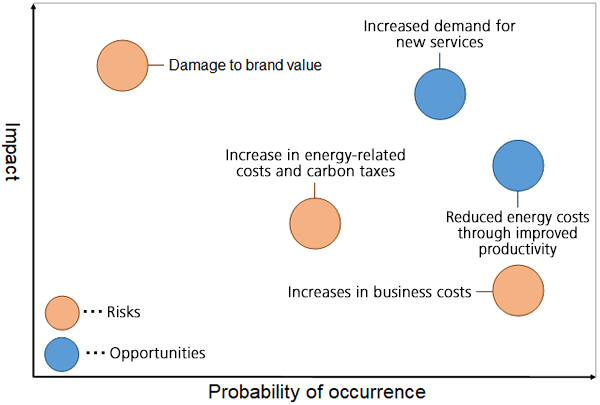 <Risks>
Risk type
Details
Impacts
Physical risks
The cost of disaster countermeasures related to climate change-related adaptation is increasing continuously. In the event of a large-scale natural disaster, a large amount of resources is required for business continuity, such as confirming the safety of contractors and replacing damaged equipment. This increases recovery costs. Security devices and surveillance cameras are precision devices. If they are affected by abnormally high temperatures, direct sunlight, or lightning strikes, their sensitivity and durability may be impaired. As measures against these risks, we continue to improve equipment performance and develop new technologies, but the cost of equipment may increase if temperatures rise significantly.
In addition, if disaster damage continues frequently, reinsurance premiums in the insurance industry are expected to rise and there is a risk of increased costs.
Furthermore, there is the risk that if the average annual temperature rises and the daytime temperature in summer exceeds 40°C, the cooling efficiency of air-conditioning equipment in offices, data centers, and vehicles will decrease and energy consumption will increase.
Increases in business costs
Transition risks
While the demand for renewable energy is increasing gradually, there is the financial risk that if there is a shortage of domestic renewable energy supply, the unit price of zero-carbon power may rise and it may become difficult to procure renewable energy.
In addition, there is the risk that if the tax rate of the Global Warming Countermeasures Tax (Japan Carbon Tax) is raised to the level of Europe and the United States, the unit price of gasoline and diesel oil will be affected, leading to increased energy costs.
Increase in energy-related costs and carbon taxes
Transition risks
Brand power is one of the important corporate values for SECOM. If society views SECOM negatively in terms of its attitude toward global warming countermeasures and environmental issues, it may have a profound impact on the business.
Damage to brand value
<Opportunities>
Opportunity type
Details
Impacts
Changing customer interests
If weather phenomena become severe due to the effects of global warming and social infrastructure such as power, communications, and transportation frequently stop functioning, it is expected that there will be a stronger need for BCP supports such as safety measures for company buildings and facilities, confirmation of employee safety, and information security.
PASCO Corporation is a Group company that provides geospatial information services. The company uses proprietary technology based on radar satellites and aircraft to monitor landslides and flooded river conditions, and to monitor and predict damage due to causes such as sea level rise and glacial lake expansion. There are opportunities to expand our business with these types of new services that address climate change.
Data center services consume a large amount of energy. As the number of advanced companies and local governments seeking to reduce their greenhouse gas emissions increases, demand for data centers that use power with a low CO2 emissions factor per kilowatt-hour is expected to increase.
Increased demand for new services
Resource efficiency
The SECOM Group used approximately 260 million kWh in fiscal 2019. We believe that improving our energy production efficiency by systematically updating spaces such as offices, factories, and data centers to high-efficiency facilities and equipment is an opportunity to reduce power costs and avoid regulatory risks such as those related to carbon taxes, thereby strengthening our management capabilities.
Reduced energy costs through improved productivity
Scenario analysis
The TCFD recommendations require companies to conduct multiple scenario analyses and disclose the financial impacts of climate change on their future business activities. Even though climate change has little impact on SECOM's current financial data, it may have a large impact in the medium to long term. We are analyzing risks and opportunities based on the IEA450 scenario*1 and NDCs scenario*2.
The IEA450 scenario assumes a future society where electric and fuel cell vehicles become more widespread. Since the SECOM Group uses approximately 9,000 four-wheeled vehicles and consumes roughly 20,000 KL of vehicle fuel per year, vehicle-related matters have a relatively large impact on our services. Replacing our ICE vehicles with electric vehicles means that installation costs for charging facilities, high-voltage power contracts, and vehicle-leasing fees will increase. There is a risk that costs will rise about ¥2.5 billion per year. Since many of our offices are rental properties, the development of social infrastructure, such as the widespread use of charging stations, including those at rental buildings, is an important requirement.
To reduce greenhouse gas emissions, regulations such as carbon taxes, total greenhouse gas emission regulations, and emission-trading systems are likely to be strengthened. If the current Global Warming Countermeasures Tax (Japan Carbon Tax) of ¥289/ton is increased to ¥10,000/ton, our annual cost will increase about ¥500 million.
Security devices and surveillance cameras are precision devices. If they are affected by abnormally high temperatures, direct sunlight, or lightning strikes, their sensitivity and durability may be impaired. As measures against these risks, we continue to improve equipment performance and develop equipment with new technologies, but the cost of equipment may increase, especially in the NDCs scenario, in which global warming mitigation measures progress slowly.
PASCO Corporation, a Group company, uses aircraft, optical satellites, and synthetic-aperture radar satellites that can collect surface information even in rainy weather to obtain geographic information based on measurement and analysis technology. From this data, the company offers services based on an understanding of the status of earthquakes, tsunamis, typhoons, and volcanic activities that occur frequently on a global scale. The company also offers monitoring and damage prediction services for sea level rise and glacial lake expansion, etc. There are opportunities for us to expand our business by providing new services that address climate change, such as by applying the proprietary technologies that PASCO has developed. We could then analyze information collected from drones to create 3D data for disaster prevention.
The data centers run by the SECOM Group are certified as either Platinum (the highest level) or Gold (the next highest level) under the US Green Building Council's LEED-CS environmental certification. They are also certified by the Tokyo Metropolitan Government as Outstanding Specified Global Warming Countermeasure Facilities. Data center services are a major source of CO2 emissions. We therefore expect that companies and local governments that are highly focused on environmental protection will require extremely efficient services with low environmental impact while ensuring data security. We believe that there is a significant business opportunity owing to SECOM's latest facilities and accumulated management know-how.
Currently, our main focus is on qualitative analysis of the risks and opportunities in each business segment, but we will continue to strive to understand the latest external scenarios and aim for quantitative analysis and information disclosure based on multiple scenarios.
IEA450 scenario: A typical 2°C scenario created by the International Energy Agency.
NDCs scenario: A scenario in which nationally determined contributions are achieved under the Paris Agreement. The world's average temperature is expected to rise by about 3°C.
Water risk assessment
We mainly use water for office hot water, for flushing toilets, and as cooling water for buildings' air conditioning. As we do not require a large amount of water for our business activities, we consider it a low priority. However, since there is a growing risk of water damage due to climate change, we conduct regular risk assessments for Group companies and the major suppliers that we contract to manufacture our main security devices, preparing countermeasures for every possible risk.
We use the WRI Aqueduct* evaluation method to perform water risk summary analyses and regularly check the water risk in the areas where our businesses are located. When we set up offices, we select locations that are less likely to be flooded based on internal standards. For example, we are taking measures to withstand a storm surge of 8 meters at a SECOM group company building located in the coastal part of Tokyo.
WRI Aqueduct: A water risk assessment tool developed by the World Resources Institute (WRI)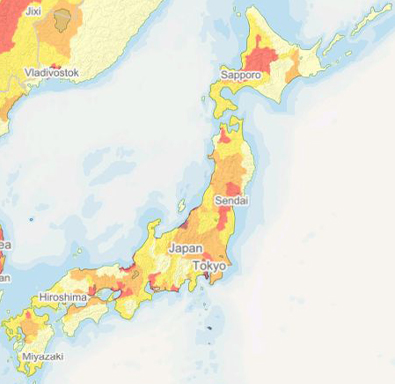 Water risk analysis using WRI Aqueduct