Initiatives for Occupational Safety and Health
Basic policies and structure
Basic concepts and policies
SECOM's safety systems are built on the efforts of every employee. Therefore, we believe that, above all, it is important to ensure the health and vitality of our employees. To achieve these goals, we have carried out initiatives for protecting and enhancing employee health and creating a comfortable workplace by such measures as establishing systems that leverage the results of health checkups, managing working hours, and providing mental health care.
In addition, to provide safety and peace of mind to our customers, it is essential to secure our employees' safety and create an environment where they can work with peace of mind. For our security staff* in particular, in addition to establishing SECOM's distinctive Systematic Behavior, we have enhanced measures such as conducting thorough inspections in daily work and confirming safety to reduce security risks.
Security staff: Emergency response personnel, static guards, and armored car personnel, who provide security services on site
Structure
To maintain and improve employees' health, we established the Health Promotion Office, staffed with a general occupational health physician with extensive experience in occupational health and a consultant psychiatrist. The general occupational health physician, along with regional occupational doctors, cooperates with the Human Resources Department and the Health Promotion Office to implement companywide measures and provide recommendations to SECOM Group companies and health instruction to employees. Meanwhile, the consultant psychiatrist makes decisions about the resumption of work by employees who experience a mental problem and provides follow-up after they return to work.
In terms of occupational health, the Human Resources Department, under the supervision of the director in charge of human resources, cooperates with the Health Promotion Office and the SECOM Health Insurance Union to establish a comprehensive system for managing employees' occupational health. Furthermore, this department coordinates with the Health Committee, which promotes nationwide occupational health activities, and maintains a system that enables all employees to work energetically, vigorously, and in good physical and mental health.
As for occupational safety, the Operations Division, under the supervision of the director in charge of operations, manages security operations and implements measures for reducing any occupational safety risks in providing day-to-day services. To ensure safety, this division offers Systematic Behavior training, handles protective equipment, promotes employees' Security Driving techniques, and implements other initiatives. Through these efforts, we create safe and worker-friendly environments for employees.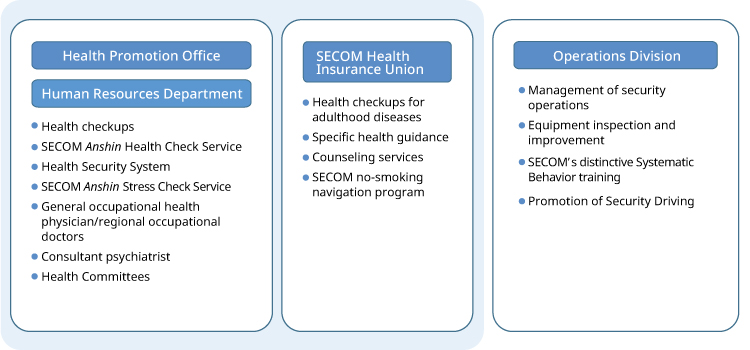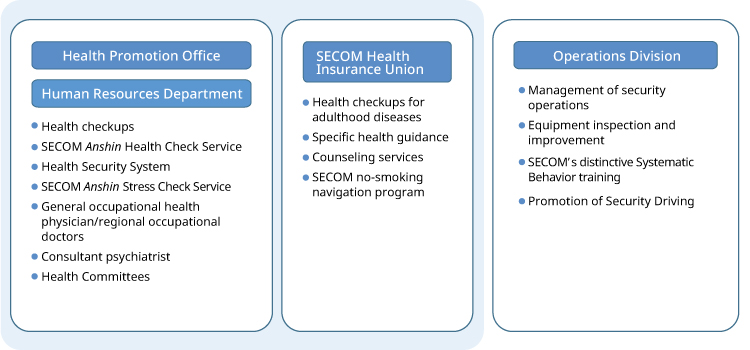 Targets and results
We are actively promoting specific health guidance implemented by the SECOM Health Insurance Union. Through this guidance, we urge employees to improve their lifestyle habits. We promote the health management of employees with the aim of achieving the target of a 20.7% nationwide average of persons subject to specific health guidance, as announced by the National Federation of Health Insurance Societies. As a result of these efforts, the ratio of employees who were subject to specific health guidance in fiscal 2019 decreased, compared to that of the previous fiscal year.
| | 2017 | 2018 | 2019 |
| --- | --- | --- | --- |
| Number of employees undergoing health checkups for adulthood diseases | 9,522 | 9,772 | 10,013 |
| Number of employees receiving specific health guidance | 2,501 | 2,609 | 2,525 |
| Ratio of employees receiving specific health guidance | 26.3% | 26.7% | 25.2% |
We have also implemented various safety measures to reduce risks to employees engaged in security operations. There were zero deaths from industrial accidents in fiscal 2019. We will continue to share information about incidents at Health Committee meetings and daily roll calls, discuss measures to prevent any recurrence, build mechanisms to ensure the safety of employees, and actively provide safety and health education, as we work toward our goal of zero occupational accidents.
Frequency rate of industrial accidents*
| 2017 | 2018 | 2019 |
| --- | --- | --- |
| 1.87 | 1.12 | 1.27 |
* Frequency rate of industrial accidents: Number of casualties from industrial accidents / total hours worked × 1,000,000
Note: Main types of occupational accidents in fiscal 2019: Heat strokes, sprains, wounds, backaches, and sports accidents (injuries to rugby team members during practice and matches)
Number of employees participating in training for prevention of industrial accidents
| 2017 | 2018 | 2019 |
| --- | --- | --- |
| 2,015 | 2,610 | 2,348 |
Initiatives for maintaining and improving health
Nationwide Health Committees
At monthly meetings at our offices throughout Japan, the Health Committees address topics such as checking employee working hours, maintaining and improving employee health, improving workplace environments, and ensuring safety and preventing risks, to continually promote the safety and health of employees.
Established in every prefecture in Japan, the committees are composed of company executives, employee representatives, occupational health physicians, and health supervisors.
In fiscal 2019, Health Committee meetings were held at offices nationwide to discuss specific topics such as data on working hours in the previous month, the state of office facilities, and measures against heat strokes.
Managing and improving employee health
Regular health checkups and health checkups for adulthood diseases
To protect the health of SECOM employees and their families, we conduct annual health checkups for employees, as well as health checkups for adulthood diseases for employees and their family members. Furthermore, if a checkup indicates that a hospital visit or medical treatment is required, occupational health physicians and others provide individual instructions to the employee.
In August 1, 2018, we launched the SECOM Anshin Health Check Service on our company intranet, to provide employees with feedback about the results of regular health checkups and health checkups for adulthood diseases, and to provide them health guidance from public health nurses, etc. By maintaining our health checkup participation rates and improving diagnosis results through health guidance, we strive to protect and enhance employee health.
Specific health guidance
Since fiscal 2015, we have cooperated with the SECOM Health Insurance Union to establish a system that provides specific health guidance, which supports the improvement of lifestyle habits, to all employees who are at high risk for metabolic syndrome. We have also launched a health security system that issues instructions to undergo examinations at medical facilities to employees identified by the general occupational health physician as having extremely high health risks.
Checkups for sleep apnea syndrome (SAS)
We offer regular checkups for sleep apnea syndrome (SAS) to security staff whose work involves driving, to discover at an early stage risks of illness caused by SAS. The symptoms may include drowsiness or decreased concentration, and may lead to complications such as high blood pressure, diabetes, myocardial infarction, and strokes.
Number of employees tested for sleep apnea syndrome (SAS)
| | 2017 | 2018 | 2019 |
| --- | --- | --- | --- |
| Target employees (Security staff whose work involves driving) | 757 | 302 | 658 |
Preventing all employees from smoking
In advance of the complete enforcement of the revised Health Promotion Act, on August 1, 2019, we created a policy of prohibiting all employees from smoking during working hours. In addition, to prevent secondhand smoke issues, we have implemented a thorough separation of smoking and nonsmoking areas during lunch breaks, etc., and closed all smoking areas that did not meet requirements.
In parallel with these measures, as part of efforts to assist employees who want to quit smoking, we created the SECOM no-smoking navigation program, a no-smoking support plan with participation by all employees. We conduct self-learning and offer a questionnaire to deepen knowledge and awareness about smoking for all employees, regardless of whether they are smokers or nonsmokers.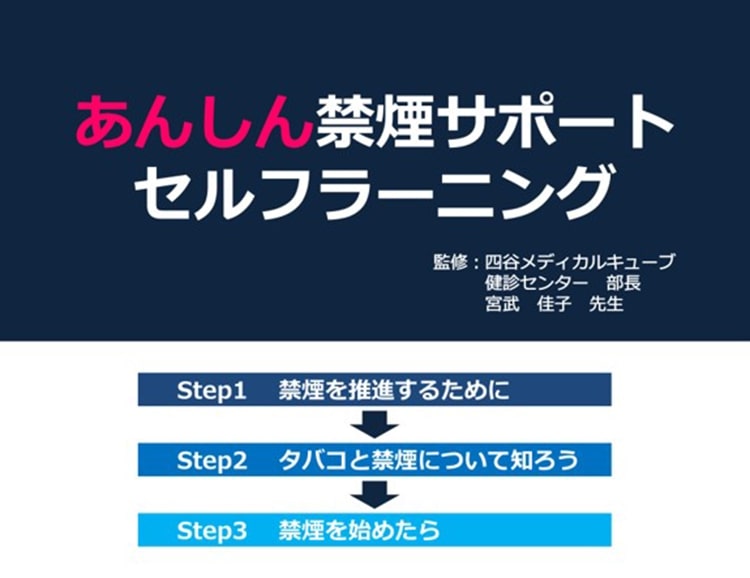 Self-learning conducted by all employees
Providing health information via the company intranet
We have created a Health Promotion Office website on our company intranet to provide information about employee health and lifestyles. The goal is for the website to become a familiar resource to our employees, helping them maintain and improve their health.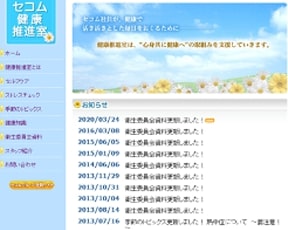 Health Promotion Office website
Certified as a Health & Productivity Management Organization
In recognition of our outstanding health measures and initiatives for health management, SECOM was certified as an organization that focuses on and strategically carries out efforts for its employees' health from a management perspective, in the large-enterprise category of the 2020 Certified Health & Productivity Management Organization Recognition Program, a joint initiative of the Ministry of Economy, Trade and Industry and Nippon Kenko Kaigi.
Going forward, we will continue to further enhance our efforts to ensure that human resources, who are the source of SECOM's competitiveness, remain in good health, both mentally and physically.
Initiatives for mental healthcare
The Human Resources Department and Health Promotion Office cooperate to provide mental healthcare for employees.
Following the guidelines for maintaining and promoting the mental health of workers set by the Ministry of Health, Labour and Welfare, we have created a mental health care plan and conduct stress check programs as well as arrange face-to-face interviews and training by psychiatrists and EAP counselors*. To promote the active use of EAP counselors, employees at our offices nationwide are annually issued usage cards, which can also be used by family members. Our system enables them to receive consultations about their workplace, family, or private issues, free of charge. The information shared with EAP counselors, who are bound by confidentiality obligations, is not reported to the company. In fiscal 2019, these counselors provided a total of 345 consultations.
SECOM has been performing independent stress checks since 2011, before they became required by law. Since 2015, based on applicable laws, we have implemented the SECOM Anshin Stress Check Service for all employees.
EAP Counselor: EAP is an abbreviation for "Employee Assistance Program." These counselors specialize in programs for supporting the mental health of employees.
Initiatives in the security services
Reducing employees' occupational safety risks at our subscribers
To minimize the occupational safety and health risks associated with security services including on-line security systems, static guards, and armored car services, SECOM accumulates know-how for each service, constructs distinctive mechanisms such as Systematic Behavior, Security Driving, and operation management systems so as to ensure the safety of our employees.
Among employees with a high level of skill, we select Top Support Leaders and have them stationed at each region to fulfill the role of instilling SECOM's philosophy and Systematic Behavior throughout our organization. Additionally, office units serve as a base for initiatives to eliminate human error among daily work and to ensure employee safety. At subscribers' premises, we thoroughly examine and analyze in advance risk factors such as building structures, characteristics of fire protection equipment, and the presence of animals, enabling us to respond properly in an emergency.
Mechanisms for ensuring employee safety
Control center staff ensuring security staff's safety
When an abnormal signal is received, the control center staff dispatch emergency response personnel. The staff are trained to immediately identify abnormalities, make correct decisions, and issue correct instructions to protect emergency response personnel from danger.
Systematic Behavior for ensuring safety
By utilizing extensive know-how accumulated over many years, SECOM has established our distinctive Systematic Behavior so that employees can protect their own safety as well as the safety of customers.
For example, Systematic Behavior defines procedures for responding to emergencies, such as methods for approaching subscribers' premises, inspection techniques, and ways of responding upon encountering a suspicious individual. Employees repeatedly undergo training to enable a safe, fast, and accurate response in the event of trouble.
In fiscal 2018, taking note of crime trends, etc., we shared information with employees and held e-learning programs. In fiscal 2019, we held a nationwide contest on Systematic Behavior. Moving forward, we will further evolve our Systematic Behavior and continue to ensure employee safety.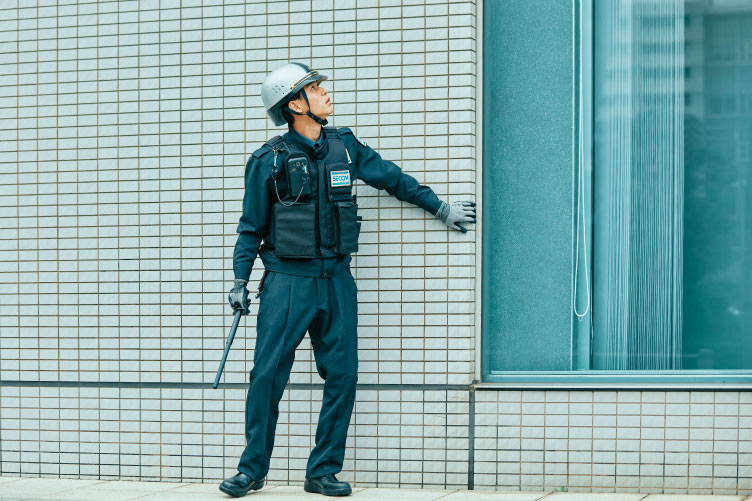 Periphery inspection based on Systematic Behavior
Security Driving for eliminating vehicle accidents
The core of the security services business is to drive to the customer's site as quickly as possible. Our security business, using many vehicles every day, utilize SECOM's distinctive Security Driving, which aims to reduce accidents to zero to eliminate vehicle accidents that threaten the safety of society and also to ensure the safety of our security staff.
Security Driving promotes awareness to drivers to constantly interpret surrounding conditions calmly and to actively create a safe situation. Employees are trained in techniques such as anticipating the presence of people and other vehicles, ascertaining situations and preventing careless driving by vocalizing the status, and ensuring the safety for the vehicle and surrounding area before boarding the vehicle.
In fiscal 2014, in order to further instill Security Driving among our employees, we began operation of the Security Driving Trainer system. "Security Driving Trainers," who are appointed at each office, hold activities to increase awareness toward safe driving and eliminate accidents and traffic violations.
In September 2016, SECOM established an organization dedicated to eliminating vehicle accidents and traffic violations. In addition to strengthening activities to promote safe driving, we promote the implementation of drive recorders and vehicles equipped with automatic brakes. In fiscal 2017, we installed drive recorders in all types of security vehicle and to ensure the safety of surrounding vehicles, we affixed stickers that announce a drive recorder is equipped on the security vehicles. We strive to raise all drivers' awareness by also utilizing tools that encourage safe driving.
All employees who belong to security services fields and drive daily participate regularly in safe driving training. As with our Systematic Behavior, we also hold a nationwide contest for Security Driving. Employees who have driven for a certain period without any traffic accidents or violations, along with their offices, are recognized with an award. Through these measures, we are constantly seeking to improve safe driving skills and awareness among employees.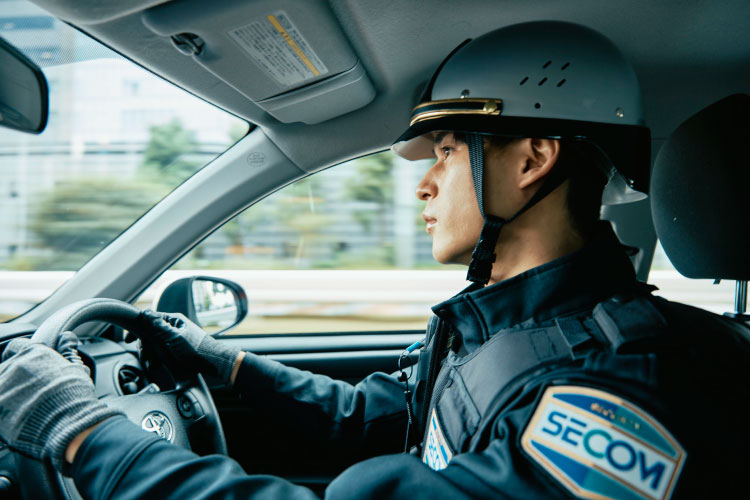 Promoting Security Driving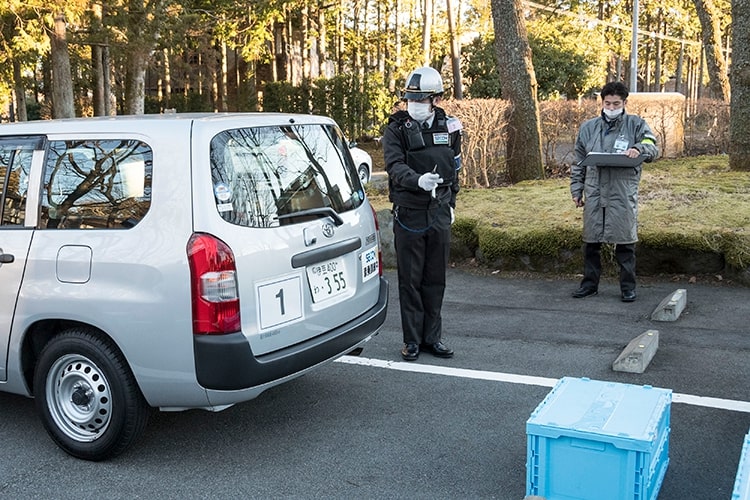 Training for Security Driving
Inspection of equipment, vehicles, etc., before starting work
Before starting work, security staff use an inspection sheet to check for any problems with protective equipment such as helmets, knife-proof and bullet-proof vests, security batons, and emergency call devices. Furthermore, supervisors also check that protective equipment is being worn correctly, and every staff is in good health, etc., to ensure that our security staff members are always deployed in the best possible condition.
Also, before using vehicles, security staff are always required to use a pre-driving inspection check sheet to perform safety confirmation that includes inspection for tire damage, proper functioning of brakes, and proper functioning of headlights, turn signals, and other lamps.
Always check using pointing and calling
In order to eliminate mistakes due to carelessness, etc., strict checks using the pointing and calling method are performed on a regular basis.
Safety checks at the time of security system inspection
When inspecting the security systems of subscribers' buildings, each employee uses a dedicated check sheet to periodically inspect the equipment and devices which are used. Additional checks are then performed by supervisors so as to constantly maintain equipment and devices in the appropriate condition so that they can be safely used at any time.
Furthermore, SECOM has set internal rules for work that requires a particularly high level of caution, for example, work in high places and the replacement of devices using AC 100V. Employees are trained to ensure safe handling and operation.
Initiatives at overseas subsidiaries
Overseas, we implement activities to promote occupational health and safety in compliance with the laws and regulations of each country.
In the UK, Secom PLC established the Health and Safety Policy in 2018, and has obtained both CHAS (The Contractors Health and Safety Assessment Scheme) and SafeContractor, accreditation schemes for contractors who want to demonstrate that they are responsible for legal health and safety requirements. Secom PLC is also a member of RoSPA (The Royal Society for the Prevention of Accidents) and the British Safety Council.
In Australia, Secom Australia Pty. Ltd. acquired AS/NZS4801 certification in 2012, following the general guidelines of the Occupational Safety and Health Management System (OSHMS).