Initiatives for Human Rights
SECOM conducts employee education and organizational operations that ensure respect for human rights. To protect the human rights of SECOM Group employees and to enable employees to perform their work duties energetically while achieving personal growth, SECOM provides employee trainings and e-learning and has established a dedicated hotline. In May 2018, the SECOM Group became a signatory to the United Nations Global Compact and declared support for the Ten Principles of the Compact.
Basic concept and policies
Based on the policies listed below, SECOM operates with respect for human rights.
"Ten Fundamental Management Policies" (excerpt)
The society is a formation of individuals. SECOM's organization is also a formation of individual employees. It is needless to say that what is most important is that all employees are always energetic and living meaningful lives. Whether within the organization or not, we must always give human dignity the highest respect.
SECOM will always respect good manners.
"SECOM Group Code of Employee Conduct (Respect for Human Rights)"
Article 32: Regardless of the circumstances, we must never engage in behavior that harms human dignity in any way. We must always respect human rights. Furthermore, we must never engage in discrimination based on factors such as birth, race, ethnicity, religion, gender, or social standing, or irrational discrimination based on factors such as nationality, disabilities, academic record, etc.
Article 33: We must never impose work on others by using violence, defamation, slander, coercion, etc. We must never engage in bullying or other behavior which violates human rights. Furthermore, we must never engage in any type of sexual language or behavior that makes others feel uncomfortable or results in misunderstanding.
Structure
The Human Resources Department fulfills a leading role and cooperates with managers in sales, operations, and management at regional headquarters throughout Japan to create a workplace that respects human rights.
Goals and results
Since fiscal 2018, we have started providing an e-learning course for all employees regarding types of harassment and seek a 100% participation rate.
Results of harassment trainings
Fiscal 2018
Goal
Result
e-learning participation rate
100%
96.80%
Employee education and organization operation
SECOM performs employee education and organizational management that ensure respect for human rights, based on the Ten Fundamental Management Policies, which are the basic policies for management at SECOM and indicate a spirit of respecting human rights. Additionally, the SECOM Group Code of Employee Conduct prescribes specific standards to be followed.
Furthermore, for the entire value chain, we have issued "the SECOM Group CSR Guidelines for Suppliers"*. Together with our business partners, we work to ensure respect for human rights, eliminate discrimination, comply with labor conditions, eliminate child labor and forced labor, etc., throughout our value chain.
*Overview of "the SECOM Group CSR Guidelines for Suppliers"
Legal compliance:

Compliance with laws and social norms (Japan and other countries and regions), import and export transactions

Organization management:

Information security, protection of personal information, information disclosure, risk management, wrongdoing, whistle-blowing hotline and protection of whistle-blowers, insider trading

Human rights and labor:

Respect for human rights, elimination of discrimination, acceptance of diversity, right to organize and right to collective bargaining, elimination of child labor and forced labor, labor conditions, harassment, OH&S and health management, conflict minerals

Environmental protection:

Prevention of global warming, efficient use of resources, prevention of pollution, management of chemicals, waste products, biodiversity, environmental targets

Operating practices:

Prevention of corruption, bribery and pay-offs, excessive business entertainment and gifts, competition rules and fair trading, extortion, intellectual property, anti-social forces

Consumer issues:

Quality management, safety, appropriate labeling and information disclosure
These guidelines refer to international guidelines such as ISO26000, the Universal Declaration of Human Rights, and the core labor standards of the International Labor Organization (ILO).
Education to prevent harassment
In fiscal 2017, we held communication training for office managers, operation managers, and administration managers throughout Japan, which was conducted by EAP counselors (counselors specializing in programs to support the mental health of employees). The training was intended to prevent harassment by spotlighting gaps in communication with coworkers and subordinates. In fiscal 2017, we held 83.5 hours of communication training that was attended by a total of 1,971 employees.
In fiscal 2018, in order to prevent workplace harassment, we developed e-learning programs for all employees.
Participation in the United Nations Global Compact
We signed the United Nations Global Compact in May 2018. We support the Ten Principles of the Global Compact in regard to human rights, labor, environment, and anti-corruption. As a global corporation, we engage in responsible management and contribute to the creation of a sustainable society.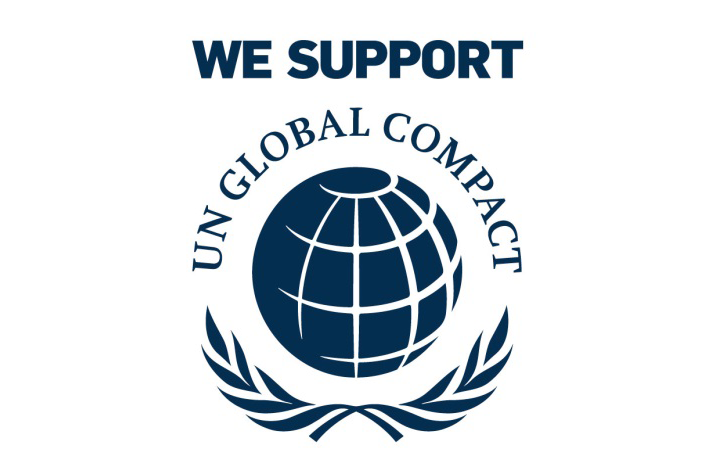 Establishment of consultation hotlines
Employee consultation website
This website allows employees to anonymously consult with professionals regarding their questions, problems or concerns about company policies and rules or in the case that they have made a small error or mistake. Reaching out for consultation when worries are still small can prevent them from growing into major problems.
Hot Helpline
We have established a whistle-blowing system that enables individuals to seek advice regarding non-compliance or to report such issues.
Harassment consultation desk
We have established a consultation and contact desk regarding all types of harassment including sexual harassment at the Human Resources Department and the SECOM Lively Union* along with the formulation of rules for prevention. We support employees seeking help by solving problems at an early stage and improving the work environment to an appropriate condition.
SECOM Lively Union: SECOM Employee Union Federation that serves as the labor union at the SECOM Group