Ensuring High-quality Services and Products
Basic policies and structure
Basic concepts and policies
SECOM emphasizes the viewpoint of "Why we create" rather than "What we create." We have a strong desire to help society, asking "What is needed" to improve society and make people happier. We are evolving our services and systems to provide customers with "peace of mind seamlessly," in response to various risks such as incidents and accidents, cybercrimes, natural disasters, and illness and aging.
In our product development, our policy is to produce innovative and highly reliable systems that anticipate society's needs. As a high level of safety and durability are essential for security equipment, we constantly strive to create systems and equipment that continuously operate as intended over the long term, even under harsh conditions.
In addition to high-quality equipment and systems, we also believe that human resources, which directly affect the quality of the services provided to customers, are vital for security services. Accordingly, we are committed to human resource development, ensuring that our employees improve their expert knowledge and skills, while observing a code of conduct befitting security professionals.
Structure
To provide seamless security services of the highest quality, 24 hours a day, 365 days a year, our R&D, manufacturing, sales, installation, training, control center, security operations, and other departments cooperate closely, working ceaselessly to improve the services we offer.
SECOM on-line security systems
SECOM on-line security systems include the installation of sensors and other monitoring equipment and around-the-clock monitoring by a SECOM control center via telecommunications circuits. In the event an intruder, fire or other irregularity is detected, control center staff dispatch security personnel from the nearest SECOM emergency depot and, if necessary, notify the police and/or fire department.
In 1966, SECOM began selling Japan's first remote monitoring system. Instead of simply selling and installing security devices, SECOM's services include monitoring and emergency response. This breadth of service is based on our conviction that "true safety can only be provided by conducting emergency response and ensuring the safety of our customer." Based on this belief, SECOM constantly gains feedback from our customers and strives to further improve our service quality.
As a result, SECOM on-line security systems with on-site responses are highly recognized by customers in Japan and abroad. The system possesses the highest number of contracts in the world.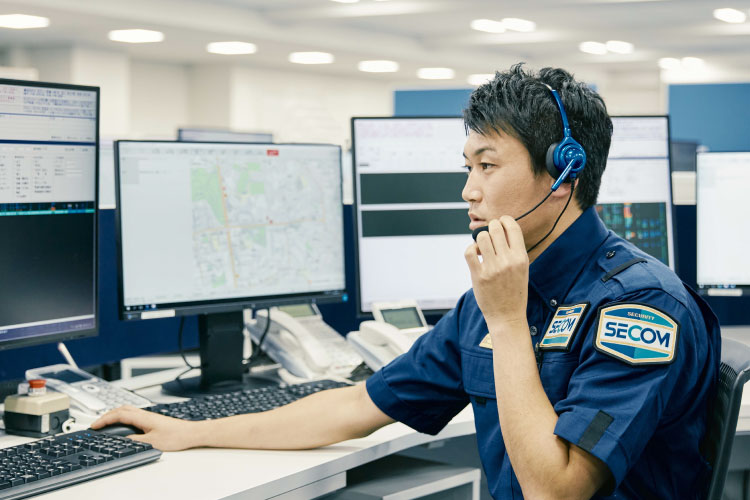 Around-the-clock monitoring by a SECOM control center
Total Package System
SECOM has established the Total Package System as a unique integrated service framework for providing high-quality security systems. The SECOM Group handles everything, including R&D, manufacturing, sales, security planning, installation, around-the-clock monitoring, emergency response services, and maintenance.
SECOM takes responsibility for all facets of this integrated system, ensuring system reliability and performing trustworthy operation and management.
We also principally use a rental format, which enables us to take responsibility for the maintenance and upkeep of security equipment, guaranteeing both the quality and stability of our services.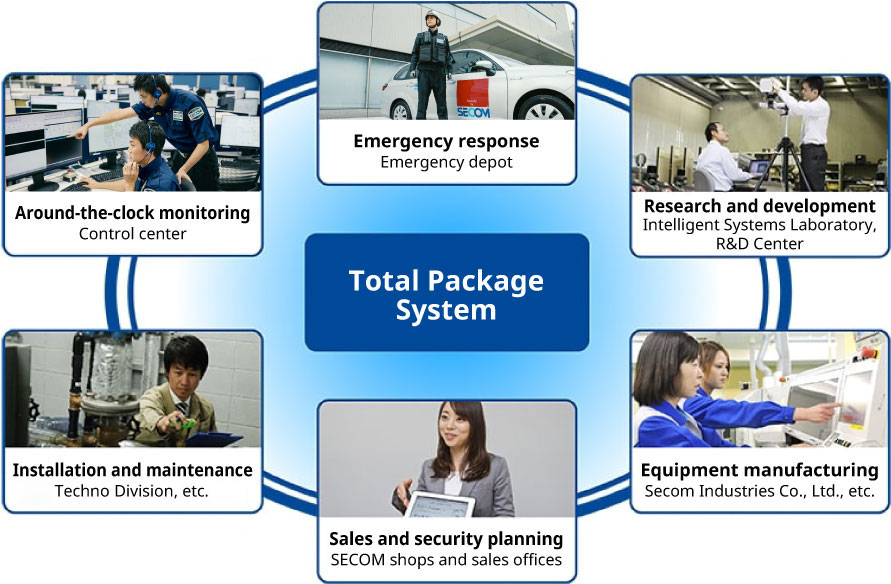 Business process
SECOM Group's efforts to improve quality
Research and development

Basic technology research
Development of original services and products
Ensuring safety based on the SECOM Group Equipment Standard Specifications
Understanding technology trends and social issues/needs
Improving equipment by incorporating customer requests and feedback to enhance operability and safety
Ensuring quality through process audits and witness inspections at equipment manufacturing divisions and contractors
Proper display and disclosure of information related to product quality and safety
Compliance with relevant laws and regulations such as the Product Liability (PL) Act

Equipment manufacturing

Pursuing high quality, safety, and reliability through the SECOM Group Equipment Standard Specifications
Adhering to SECOM's green engineering guidelines, including its own strict standards prohibiting the use of hazardous chemicals
Construction and operation of a quality management system (acquired ISO9001 certification) at Secom Industries Co., Ltd., our equipment manufacturing subsidiary

Sales and security planning

Information on optimal services and products that meet customer needs
Fair sales activities
Easy-to-understand expressions and accurate information display on packages and advertisements, etc.
Planning with consideration for the privacy of the contractor and their surroundings

Installation and maintenance

Safety management based on the SECOM's safe work handbook
Strict installation criteria
Creation of easy-to-understand instruction manuals for correct usage
Careful explanations of how to use the product

Around-the-clock monitoring

Skilled operations control staff (SECOM control center, COCO-SECOM operations center, SECOM customer service center, etc.)
Establishing a system for wide-area and large-scale disasters

Emergency response

Systematic Behavior for providing safety
Trained safety professionals
Security Driving
Appointing Top Support Leaders (TSL)
Initiatives for improving skills and services
SECOM is working to develop human resources with the aim of further improving its business execution capabilities, technical capabilities, and customer service as security professionals in order to provide customers with high-quality services.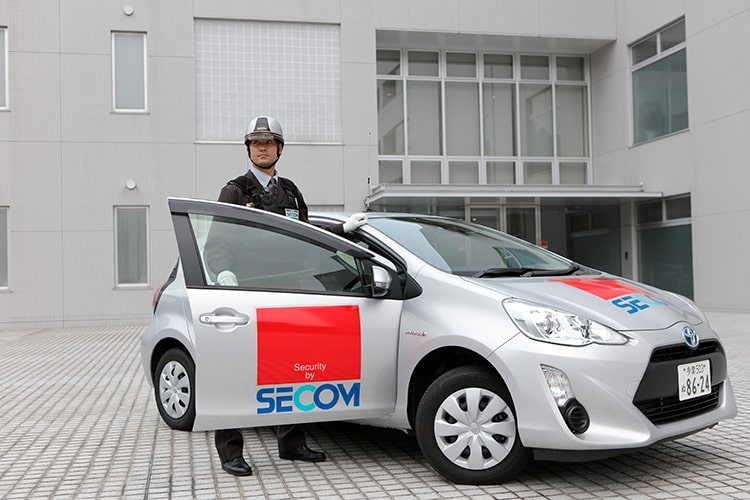 Emergency response staff trained as security professionals
Grade Education system
Security professionals must have practical knowledge, advanced technical skills, and accurate business execution capabilities. For this reason, SECOM security staff are provided with Grade Education to enhance the knowledge and skills necessary for their respective work.
There are four levels of staff learning, from grades 1 to 4, based on examinations given at appropriate times. Each staff member improves their knowledge and skills every day, aiming for the highest grade 4 that is the proof of a true professional. The results of the examinations are reflected in salary and promotions.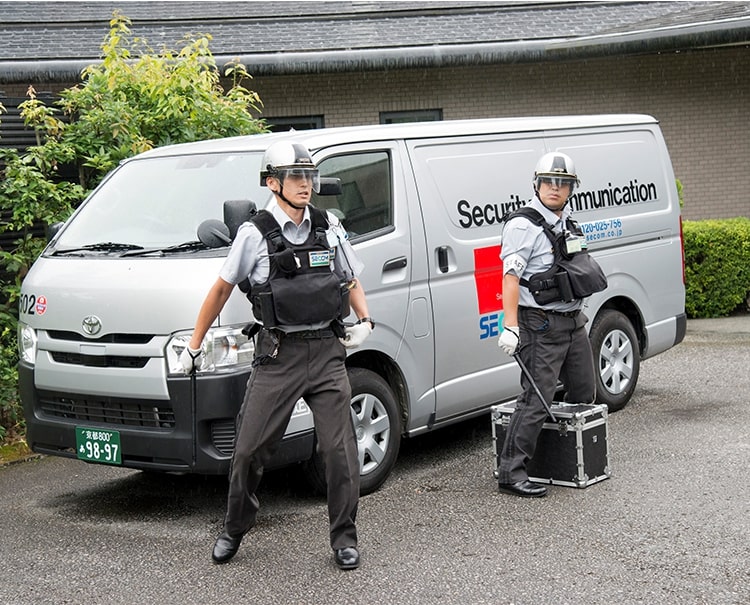 An armored car personnel takes part in "vigilant action" training during grade education.
Systematic Behavior contest
Systematic Behavior refers to a series of behaviors SECOM has established to ensure that security staff protect customers' and their own safety. At SECOM, we have established our own Systematic Behavior standard, which makes use of many years of experience and stipulates in detail everything from basic operations to the handling of equipment, performing of checks, and communication with customers. We offer regular training and strive to improve the skills of our staff as part of a series of codes of practice, which provide customers with peace of mind and deter crime.
In order to confirm the results of these efforts, SECOM holds the Systematic Behavior contest every year to determine the highest performing staff in Japan. The winners are awarded through the internal awards system, and the results of the contest are reflected in promotions.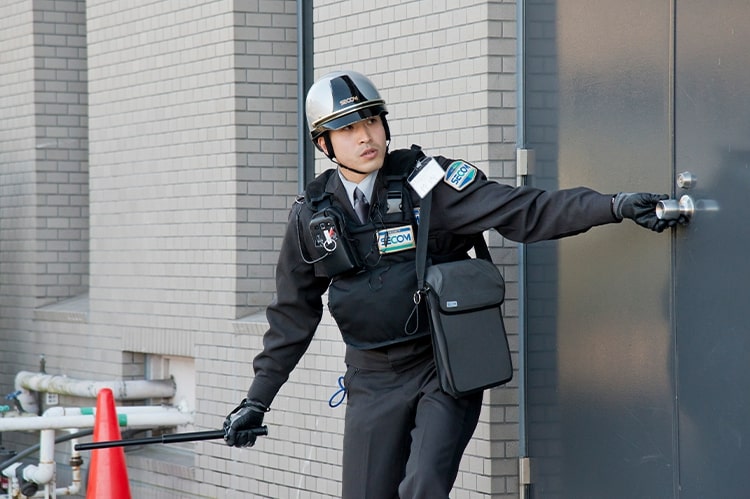 Examination of periphery inspection during the Systematic Behavior contest
Top Support Leader initiatives
In our Top Support Leader (TSL) initiatives, which foster self-driven employee growth, security staff members support top organization personnel, while also serving as leaders who make progress themselves.
Every year, members on the front lines who are directly providing security services and have received exceptionally high grades are appointed TSLs. Over the course of a year, they are responsible for measures to establish a professional dedication to perfect quality and pride in SECOM throughout the organization. Even after their term as TSLs has finished, they continue supporting the activities of their junior colleagues.
Product safety and quality assurance initiatives
Quality assurance system
SECOM handles all production processes, from design to operation, within the SECOM Group. This makes it possible to perform prompt follow-up at every stage, in the event of a problem with a product or service. We have created a system for investigating issues, determining their causes, and solving problems.
In our new product design and development, we use our own check list, which includes confirmation of whether the product complies with relevant laws and regulations (Electrical Appliances and Materials Safety Act, Fire Service Act, etc.), whether to consider warnings on equipment and in instruction manuals about risks that remain after essential safety design and safeguarding as requirements, and other check-list items. We conduct design reviews to confirm that these imperatives have been met, that reoccurrence prevention measures based on past issues have been employed, etc.
In our product development, we also ensure the safety of our products in various environments with testing using combined cycle testers that check for salt-induced corrosion of equipment to be installed in coastal areas, lightning surge tolerance testing to study the impact of lightning strikes on equipment, and other types of testing.
In our product design, we promote environment-friendly design from the perspectives of both hardware and software, which takes into consideration energy savings, resource savings, improved recyclability, and other environmental factors. In particular, we have defined the green engineering guidelines for hazardous chemicals and perform management in accordance with our own strict criteria.
In fiscal 2019, there were no violations of product safety-related laws or regulations, no product recalls, and no other similar issues.
Secom Industries' quality improvement initiatives
Secom Industries Co., Ltd. designs and manufactures SECOM security equipment. Since its founding, it has worked to increase both productivity and quality. Recently, to deal with labor shortages at manufacturing sites and to reduce the burden placed on workers, the company has focused on creating smart factories*.
For example, we are promoting efforts to transform the product inspection (operation confirmation) done as the final step in the production process from inspection by human personnel to inspection by robots, to enable unattended operation 24 hours a day.
This not only reduces the burden on employees and alleviates labor shortages through continuous unattended operation but also prevents the accidental shipping of products that do not meet inspection criteria, thereby contributing to significant improvements in quality and productivity. Since the operation programs, robot inspection benches, and other components used in these inspections, which differ by product, have all been developed in-house, we have also accumulated know-how regarding unattended inspection.
With our goal of utilizing robots for work that they can perform, while using people exclusively for work that can be performed only by humans, we will continue to strive to improve productivity and quality, as we create smart factories.
Smart factory: A factory that realizes efficient production through such means as installing robots in manufacturing lines and connecting manufacturing lines to the Internet to monitor operating conditions in detail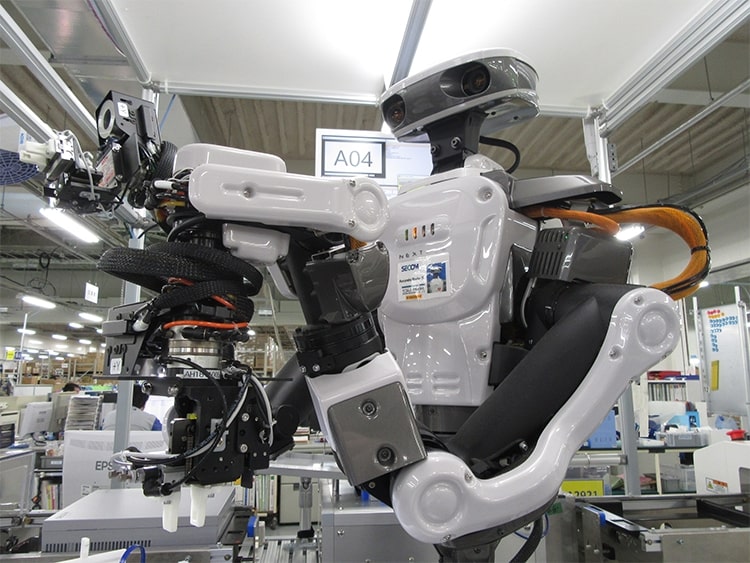 A robot performs unattended product inspection 24 hours a day.
Products and services with consideration for privacy
SECOM, which operates in accordance with the Privacy Policy (Personal Information Protection Policy), has received PrivacyMark certification. We also emphasize training related to privacy protection and regularly offer personal information protection e-learning and administer confirmation tests to all our employees.
We have established our own strict criteria regarding the installation of security equipment, etc., and take great care to ensure that the privacy of customers and members of the community is not violated.
Furthermore, we use universal design in our product and service pamphlets (such as in the choice of fonts) and take into account the text and colors in our websites, striving to provide service to a diverse range of customers.
Details regarding PrivacyMark (protection of personal information)"Risk Management"
Appropriate labeling and fair sales activities
SECOM creates product instruction manuals, packages, advertisements, etc., to communicate information accurately and clearly to customers, preventing misunderstandings and operation errors.
We comply with all relevant laws and regulations, including the Act on Specified Commercial Transactions and the Antimonopoly Act, and constantly monitor our compliance with various laws and regulations.
The SECOM employees' special code concerning sales activities stipulates matters related to accurately and clearly proposing optimal services and products to meet our customers' needs, strictly managing our customers' confidential information, prohibiting bid rigging and bribery, and all other matters related to the SECOM Group's sales activities that all our employees must comply with. We provide education through group training sessions and various other opportunities to instill this code firmly in each and every employee.