External Assessments and Awards
Environment
"A−" rating for "Leadership Level" from CDP
The "CDP Climate Change Report 2019 (Japan edition)" was released by CDP, an international environmental NGO based in England. This report is a survey of measures taken by corporations to address climate change. CDP completed the report on behalf of 525 institutional investors whose operating assets exceed US$96 trillion. SECOM received an "A−" rating, the second highest of eight levels in the report.
Disaster relief
Grand Prize in the Japan Resilience Awards 2020
In March 2020, in the Japan Resilience Awards 2020, sponsored by the Association for Resilience Japan, the Grand Prize was awarded to SECOM Disaster Portal Services, which provides the functions required by customers' disaster task forces via cloud services. In addition, TOMAHAWK JET S, SECOM's automated fire extinguisher for use in small restaurants, received an Excellence Award. Moreover, SECOM Anshin Film, SECOM Anshin Glass, etc., which prevent broken glass from scattering in a disaster, as well as injuries from broken glass, received Distinguished Quality Awards.
Diversity
Grand Prize in the Diversity TOKYO App Awards
The Mago Channel with SECOM service, developed as a collaboration between SECOM and the IoT startup Chikaku Inc., was awarded the Grand Prize in the App Category of the Diversity TOKYO App Awards, organized by the Tokyo Metropolitan Government. These awards are presented as part of the Tokyo Metropolitan Government's efforts to realize "Society 5.0," which seeks to both encourage economic development and solve social issues by implementing technologies from the Fourth Industrial Revolution (big data, AI, etc.) in society.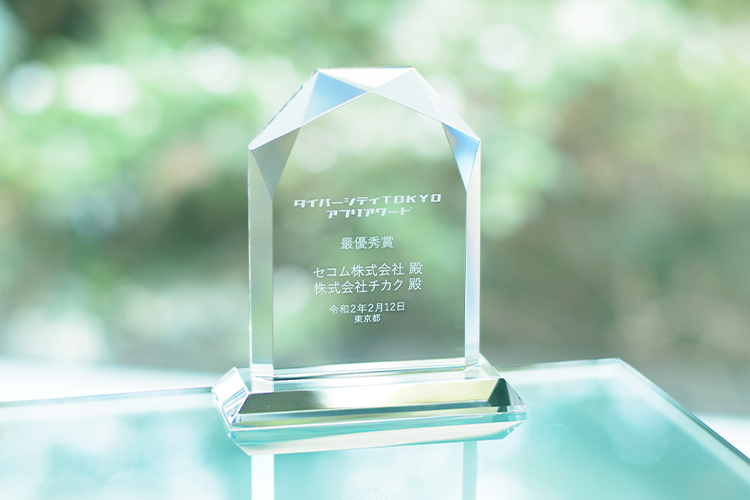 ESG index
SECOM has been selected as a constituent of a number of key global ESG investment indices, including all four indices for Japanese equities used by Japan's Government Pension Investment Fund (GPIF)*, as of September 2020.
The four ESG investment indices used by GPIF are the FTSE Blossom Japan Index, the MSCI Japan ESG Select Leaders Index, the MSCI Japan Empowering Women Index (WIN), and the S&P/JPX Carbon Efficient Index.


The inclusion of SECOM CO., LTD. in any MSCI Index, and the use of MSCI logos, trademarks, service marks or index names herein, do not constitute a sponsorship, endorsement or promotion of SECOM CO., LTD. by MSCI or any of its affiliates. The MSCI indexes are the exclusive property of MSCI. MSCI and the MSCI index names and logos are trademarks or service marks of MSCI or its affiliates.